Friday, October 25, 2019 1:36 PM (GMT + 7)
(Billiards news) Winning "Jeremy of Billiards" Jeremy Bury and holding the biggest "crazy muscle" of the 2019 Veghel World Cup, goalkeeper Tran Quyet Chien is unbelievably eliminated after the group stage.
Video of the victory of "France's number 1 monster" at the 2019 Veghel World Cup
Tran Quyet Chien (7th place in the world – TG) is the only Vietnamese player to be seeded at the Veghel World Cup 2019 star fruit tournament in the Netherlands. In the first match of the official group stage, Quyet Chien made fans extremely worried when they suddenly lost to former young European champions Montes Antonio with a score of 28-40 after 22 turns.
Quyet Chien has been unbelievably eliminated despite having 2 convincing wins
However, shortly thereafter, the "Vietnamese king of billiards" shocked the World Cup tournament with a series of points in the match against Belgian star Roland Forthomme (19th class TG). When the opponent was a two-time World Cup champion in the lead 21-22, "King Billiards Vietnam" suddenly launched "madness" 19 points, winning 40-24 after just 17 turns. This is also the highest series of the Veghel 2019 World Cup so far and will probably be the record of this tournament.
Continuing the excitement, Quyet Chien defeated France's first "Billiards Monster" Bury Jeremy (10th) after 22 turns with 40-18. However, the dark thing happened when the Vietnamese representative, despite having two convincing victories, was suddenly eliminated.
Specifically, Quyet Chien had the same 4 points (2 wins) with Bury Jeremy and Montes Antonio, but lost the scoring performance, respectively 0.07 and 0.06, then lost interest and went to both opponents. An extremely shocking and regretful result for Vietnamese pool fans.
The 3-band Veghel World Cup 2019 billiards tournament takes place from October 20-26 in the city of Veghel (Netherlands), with a total prize pool of € 106,500 (€ 2.73 billion), in which the champion will receive € 16,000 (€ 410). million dong). The tournament brought together 193 players, including the most powerful hands in the world to participate.
Vietnam has 6 representatives participating in this tournament, including Tran Quyet Chien (7th in the world), Nguyen Quoc Nguyen (18th in the world), Ngo Dinh Nai (22nd in the world), Do Nguyen Trung Hau (35th in the world). ), Nguyen Duc Anh Chien (40th in the world) and Ma Xuan Cuong (75th in the world).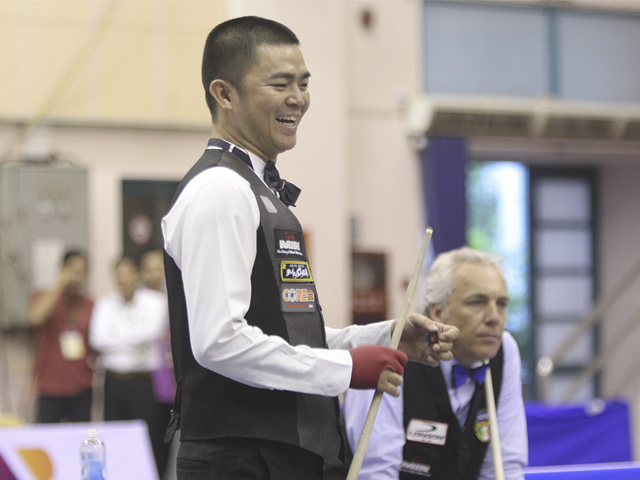 Quoc Nguyen beat "Billiard prodigy" Cho Myung Woo at the 2019 Veghel World Cup.