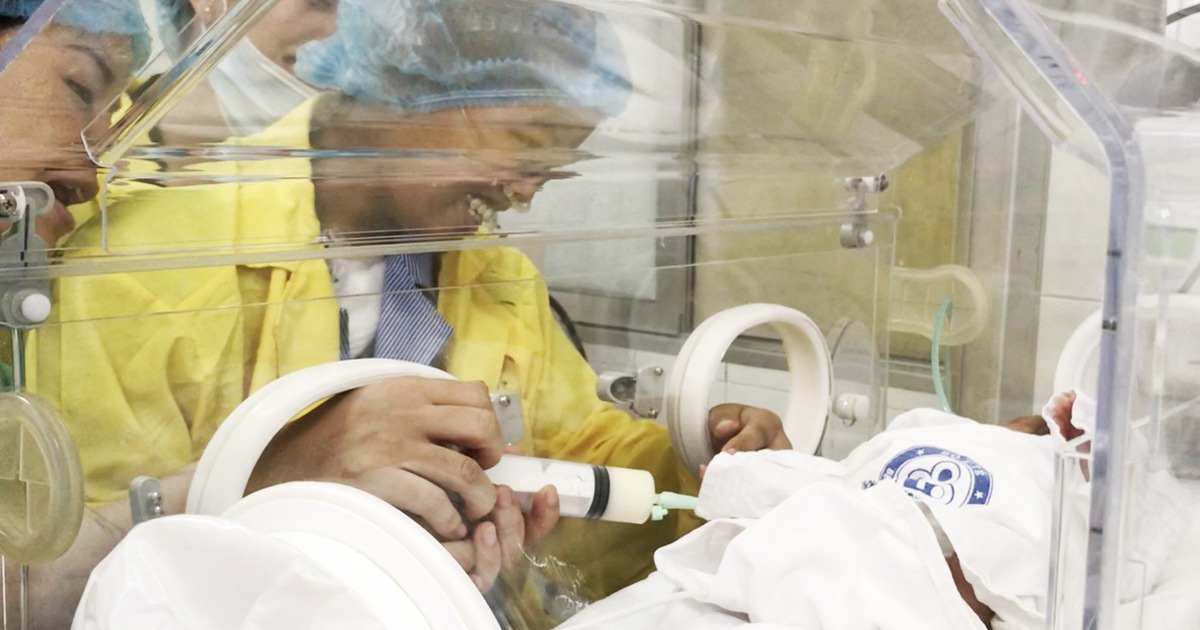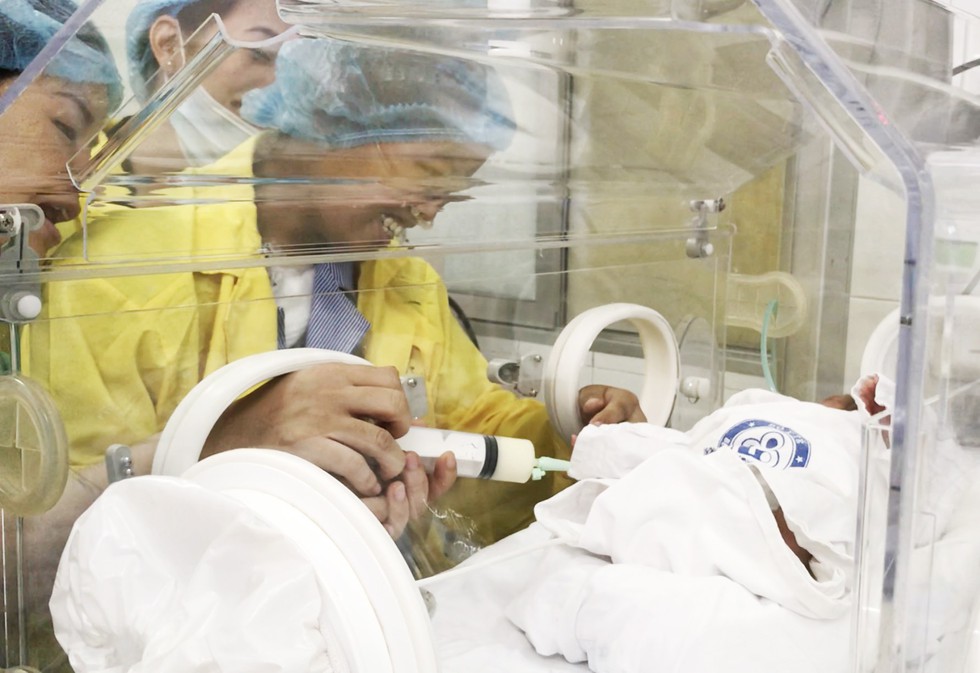 The moment of happiness of Ms. Lien when she first saw her face – Photo: Hospital K
This is a real feat because in the early days after the operation, Mrs. Lien was very weak, had coma days, doctors thought she would not have the opportunity to see her child. But then the day she wished, came …
Special meeting day
In order for Lien to arrive at the Central Obstetrics Hospital around nine o'clock in the morning, the whole hospital of the K-Hospital was awake early to consult and prepare nervously. Mr. Tran Van Thuan – the director of K-Hospital – was sitting in the ambulance with Mrs. Lien for Central Obstetrics Hospital.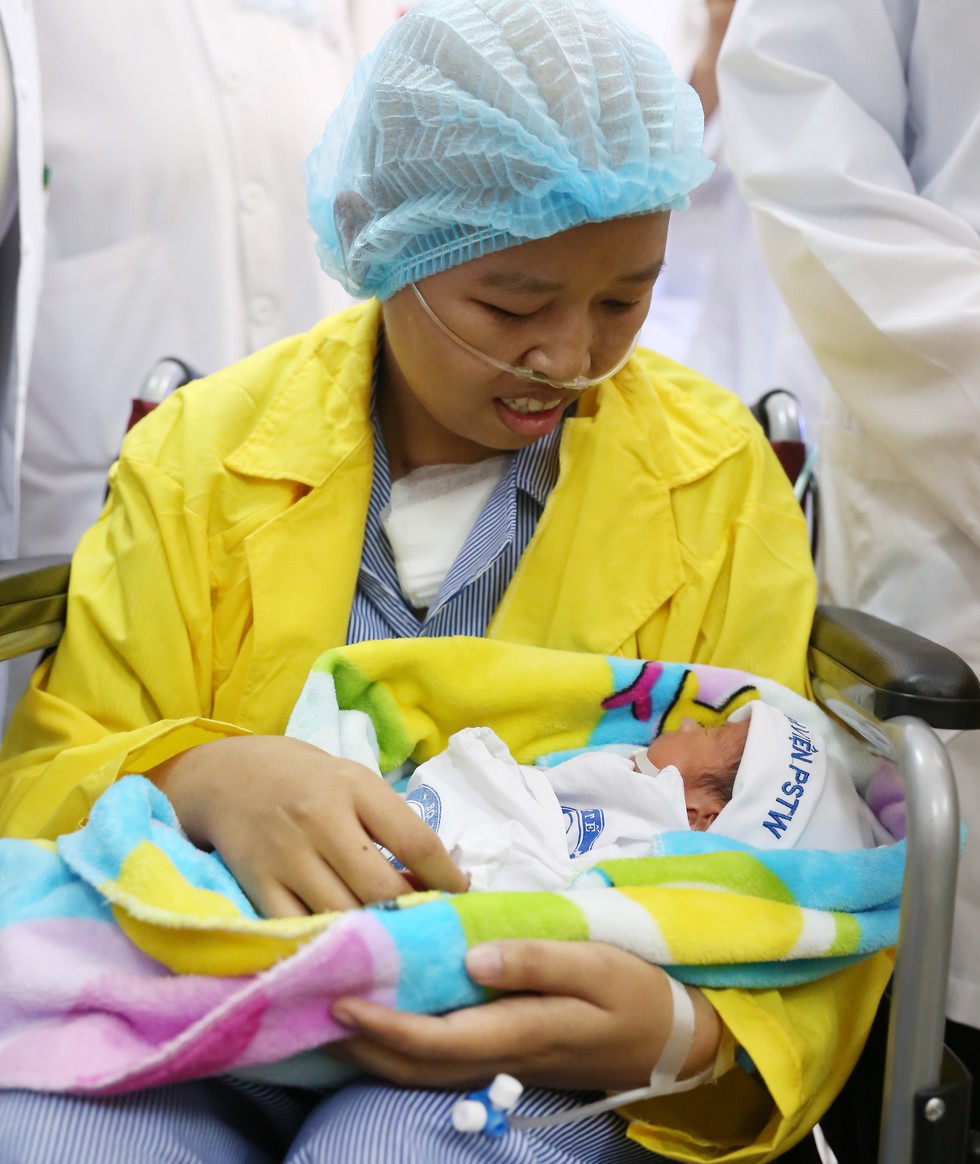 The first time Ms. Lien was holding Binh A baby in her heart, Binh An's health improved well, she increased about 250g compared to the first day of hospitalization – Photo: K Hospital
The road about 10 km down the road is exciting because Ms. Lien spent 31 weeks pregnant while suffering from metastatic cancer in addition to a cesarean section when the disease is in advanced stage.
To get to the Central Obstetrics Hospital in the city center where the Newborn Care and Treatment Center where her son was born had a heavy burden, it was a long road for her. Only spiritual power helped her to overcome.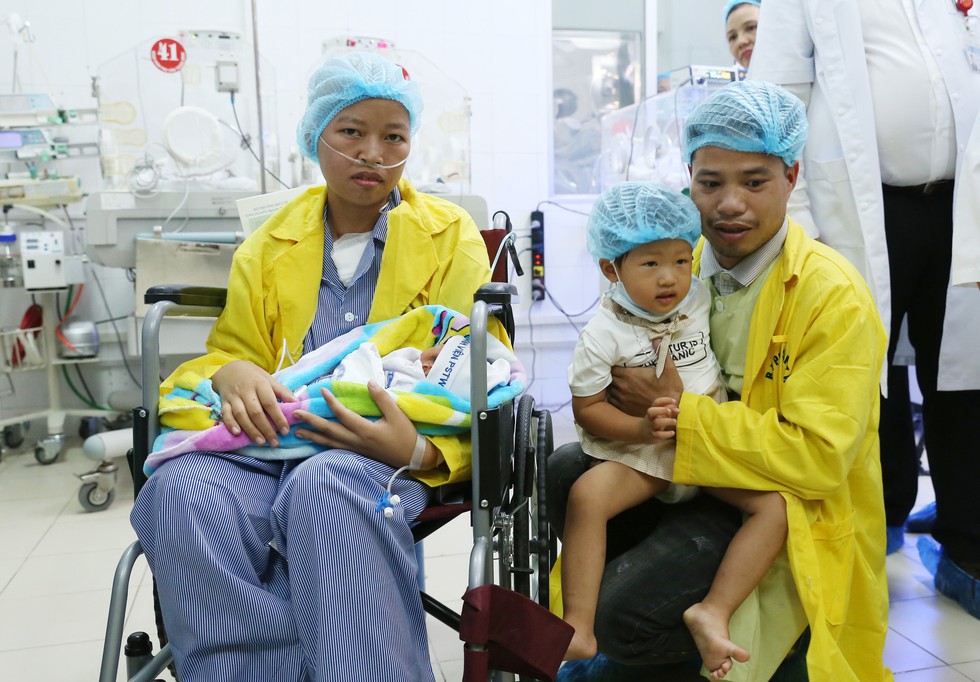 Lien family in a souvenir photo – Photo: K Hospital
Around nine o'clock in the morning, the Central Obstetrics Hospital was enraged when the ambulance took Miss. Lien to the place. When Mr. From Van Hung, Lien's husband, pulled the wheelchair to his wife, his face and brother shone with emotion: "My mother has been waiting for this moment for a long time."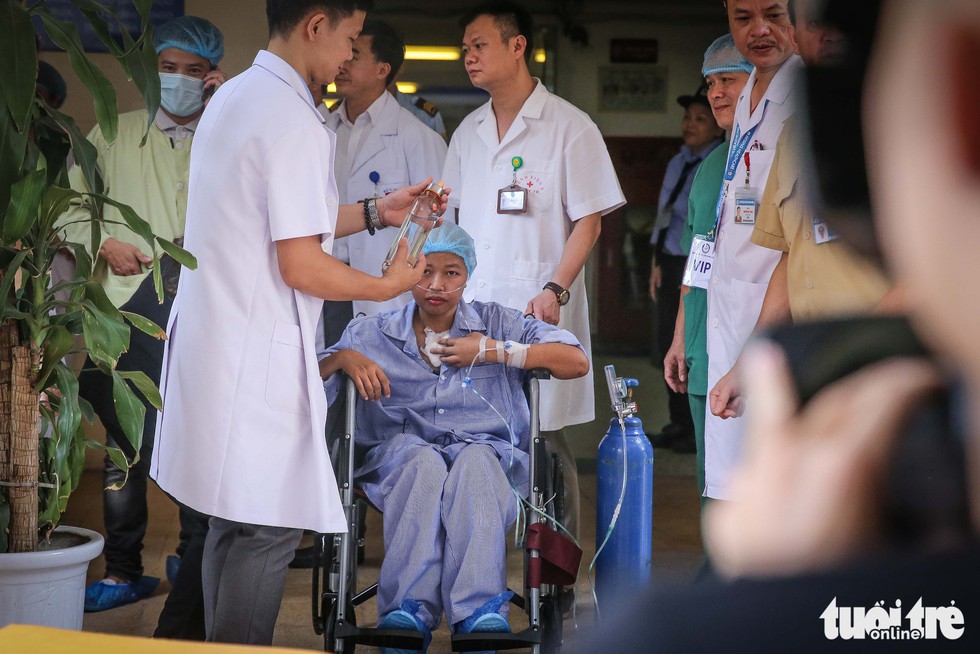 Around 9:30 AM, Ms. Lien was at the Central Obstetrics Hospital to find her child for the first time after childbirth – Photo: Nguyen Khanh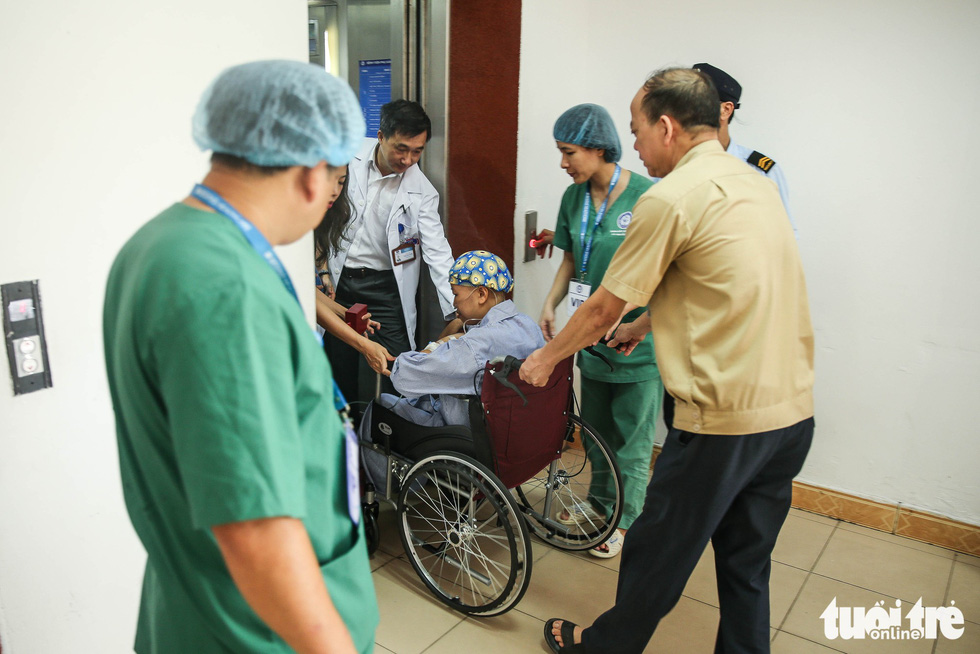 Lien was taken by wheelchair to meet her son at the Center for Neonatal Treatment and Treatment of Central Obstetrics Hospital – Photo: NGUYEN KHANH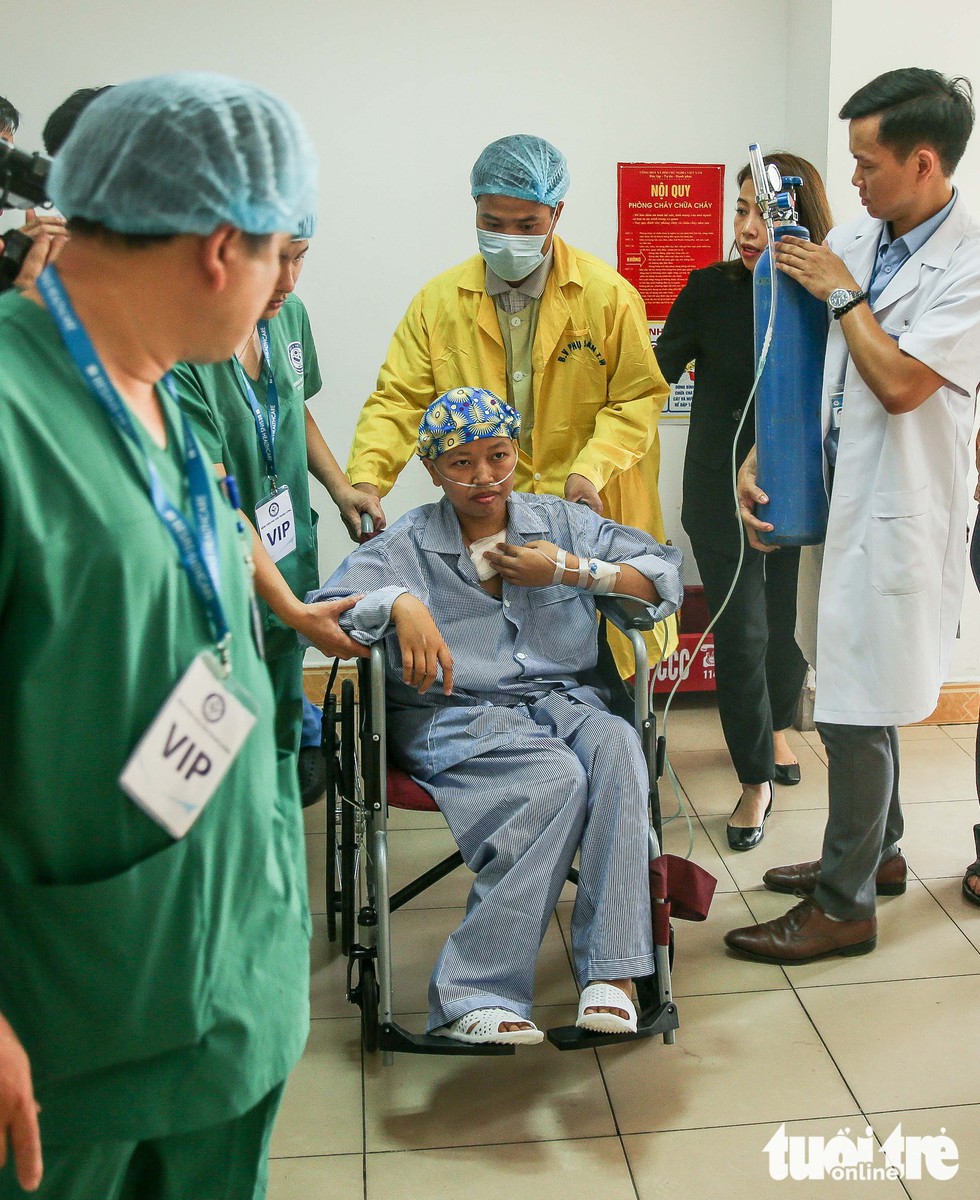 Next to Mrs. Lien, there was always a medical staff at K Hospital to support her, an oxygen tank was also placed beside her, although her health was more stable, her health risk was great after moving. Long distance transfer – Photo: NGUYEN KHANH
An employee of the Neonatal Care and Treatment Center, the Central Obstetrics and Gynecology Hospital witnessed the moment when his mother and daughter met, saying that because of the weak power, Lien could only nod to his son. And for the first time since she gave birth to Binh An, she has hugged her son in her heart, although the process was only 7-8 minutes. Her tears were tearful.
3-4 days ago, the great girl also came to visit her mother, and this time she visited me. At Central Obstetrics Hospital, her family took a beautiful photo, a reunion photo, with her grandmother, her husband and his wife Lien, their eldest daughter and a newborn son.
A normal family photo, but a wish, is something special for your family.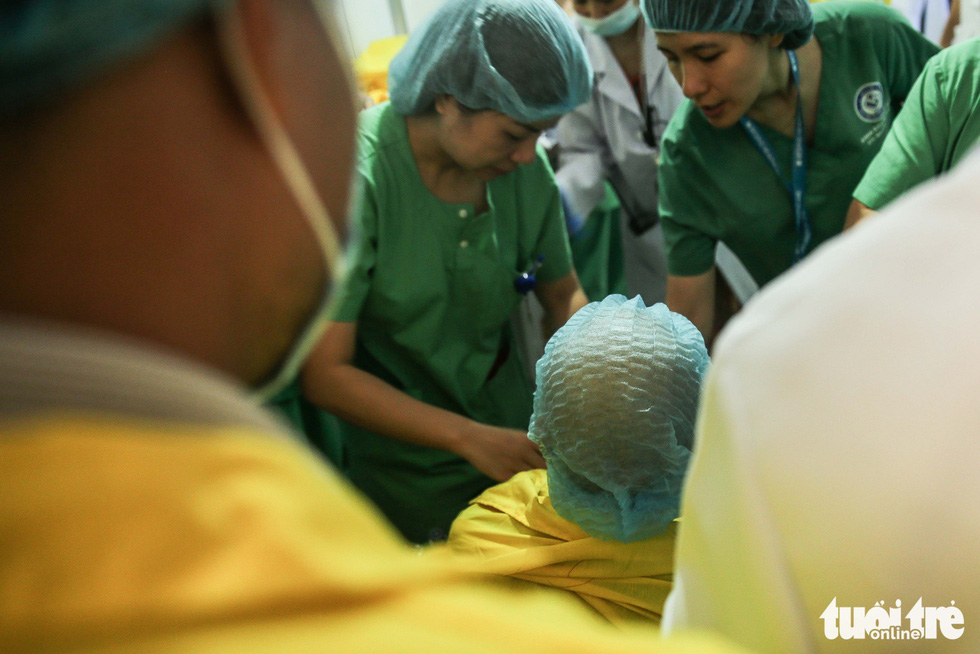 Ms. Lien was supported by nurses wearing protective clothing to enter the room for the first time to visit her children – Photo: Nguyen Khanh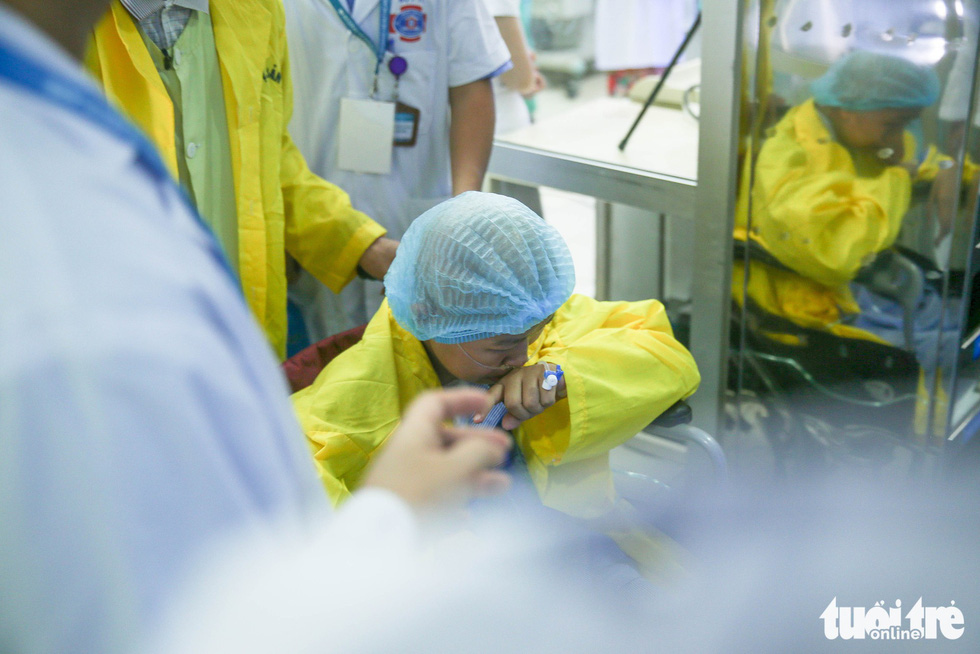 Ms. Lien began crying in a happy moment when she first visited her son after the "extraordinary" shift – Photo: Nguyen Khanh
I hope it's good for mother and son.
After a special trip, Lien returned to treatment at hospital K. Two days ago, her husband, Van Hung, said her health is still progressing positively, eating three main meals and drinking milk every day. as well as active drug treatment. Mrs. Lien was also able to stand, which the family did not dare to think about.
And the boy Binh An, seems to understand the desire of the whole family, the baby had spectacular changes in more than 20 days of birth: from the weight of 1,500g at birth, to 14-6 babies weighed 1,750g.
Each day, he eats 8 meals of milk, 40ml each, when he is born, he only eats … 2ml / meal. Baby also does not need to breathe, just need oxygen support, baby is in change every day.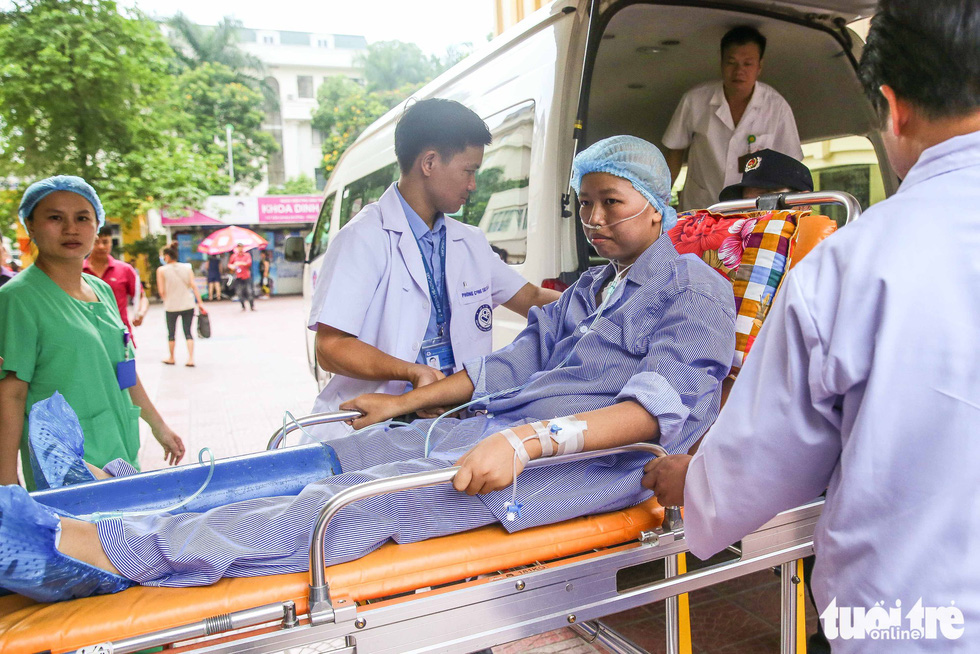 After about 30 minutes, Ms. Lien was transferred to the car to return to Hospital K more than 10 km away – Photo: NGUYEN KHANH
Two weeks ago, when Miss Lien gave birth to Binh An, she coughed a lot, sometimes fell in love. The doctor had to pick it up and worried her: "Maybe Lien can not come and visit her." But now she did something miraculous: standing with her feet and sometimes she could take the first steps of the new journey and was embraced by her son.
"Now I look forward to the day when my mother and my grandson Binh An are together, and my sister is waiting at home," Hung said.
Let there be a good thing for Lien's mother and daughter, for this little family. For more than 20 days, since the story of the mother Nguyen Thi Lien and her son Binh An have been published, there have been many prayers for her, many eyes watching.
Today, on the morning of the weekend, we send people who watch the story a happy ending: the emotional reunion between mother and child.
I hope it's good for mother and child!
Source link