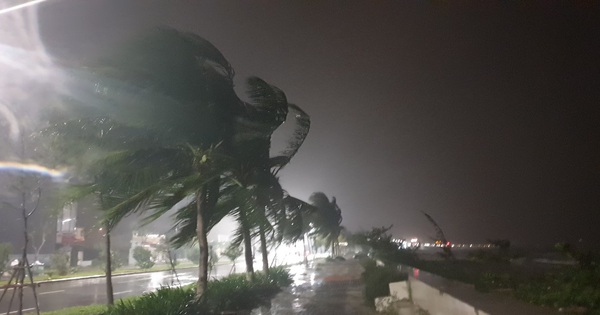 At 5:30 am on October 28, direct information from Ly Son showed that the wind started to appear in Ly Son from 10 pm last night and then became stronger. At about 5 am this morning (October 28), the storm reached level 15, reaching 15, causing many houses to accelerate their roofs, trees to fall, waves more than 6 meters high.
Very strong wind clip in Ly Son at 5:00 this morning (Van Tinh)
A very strong wind clip in Ly Son at 5:10 am (Van Tinh)
Very strong wind clip in Ly Son at 5:00 this morning (Van Tinh)
While, At 5:00 am on the same day, typhoon No. 9 was close to shore, causing strong continuous winds in Quang Ngai province.
Recorded at 5:00 am, 28-10m in the Quang Ngai city area, it has continuous strong winds. In particular, in coastal and coastal communes, strong gusts of wind appeared, accompanied by hissing sounds, lightning, heavy rain over a large area … Many places in Quang Ngai province have experienced power cuts.
Mr Nham Xuan Sy, Director of the Quang Ngai Hydrometeorological Station, said at 4am this morning (28 October), in Ly Son, strong winds were measured at 20m / s (level 8), pushing 30m / s (level 11) ; On the island of Con Co, winds measured 14m / s (level 7) and 21m / s (level 9). In the Quang Ngai province area, there are strong winds of 8-9, level 11, with heavy rain over a large area.
In the city of Tam Ky, in the province of Quang Nam, recorded at 5:40 am on October 28, showing that the wind has gradually increased, but not very strong. The rain occurs in waves, although not very strong, but it tends to increase gradually with time.
In Hoi An City, Nguyen The Hung, vice chairman of the People's City Committee, said the wind had started to get stronger. In the maritime area of ​​Cua Dai, strong winds cause the row of coconuts to slope, high waves continually reach the coast. In the past few days, the city of Hoi An has mobilized thousands of people to reinforce the coast of Cua Dai, but many people fear that typhoon number 9 will continue to make the coast fall into ruins.
Clip of Cua Dai, Hoi An started taking the storm
According to the forecast report from the Quang Nam Meteorological and Hydrometeorological Station, broadcast at 2:30 am on October 28, on the same day, in Quang Nam, there will be severe storms up to level 8 – level 10, level 12 In the coastal area (from Hoi An city to Nui Thanh district), there are strong winds from level 11 – level 13, level 15.
Clip: big waves continually hit Cua Dai beach
Quang Nam Waters: There are storms and storms, in a storm, watch out for whirlpools, lightning and strong winds. Strong storms from level 9 – level 11, then increase to level 13, shock level 15. Waves from 6 to 8 m high, rough sea. The level 9 natural disaster risk is level 4.
Binh Dinh, 5h 28-7, in the urban area of ​​Quy Nhon, the rain started to be small compared to before, but the wind was much stronger. The wind howling, hissing long, shaking each time seemed longer and stronger. In some residential areas, the roof appeared and was flown in many places. Not a single person on the street; Many billboards and advertising signs have been destroyed or torn; Some trees that could not resist strong winds were uprooted. Before that, about 1 hour on the same day, in the province of Binh Dinh, electricity was cut off on a large scale.
According to the Binh Dinh Hydro-Meteorological Station, today the local coastal area with a likelihood of increased storms is 0.5-1.5 m high. Preventing strong waves and strong winds and high risks of causing landslides, coastal structures, aquaculture cages to slip, Quy Nhon port. Strong winds on the continent, level 11-13, shock level 15. Time with the strongest winds on the continent, from early morning until late afternoon, the same day.
Loading…
Data is updated automatically later
s …
Climb