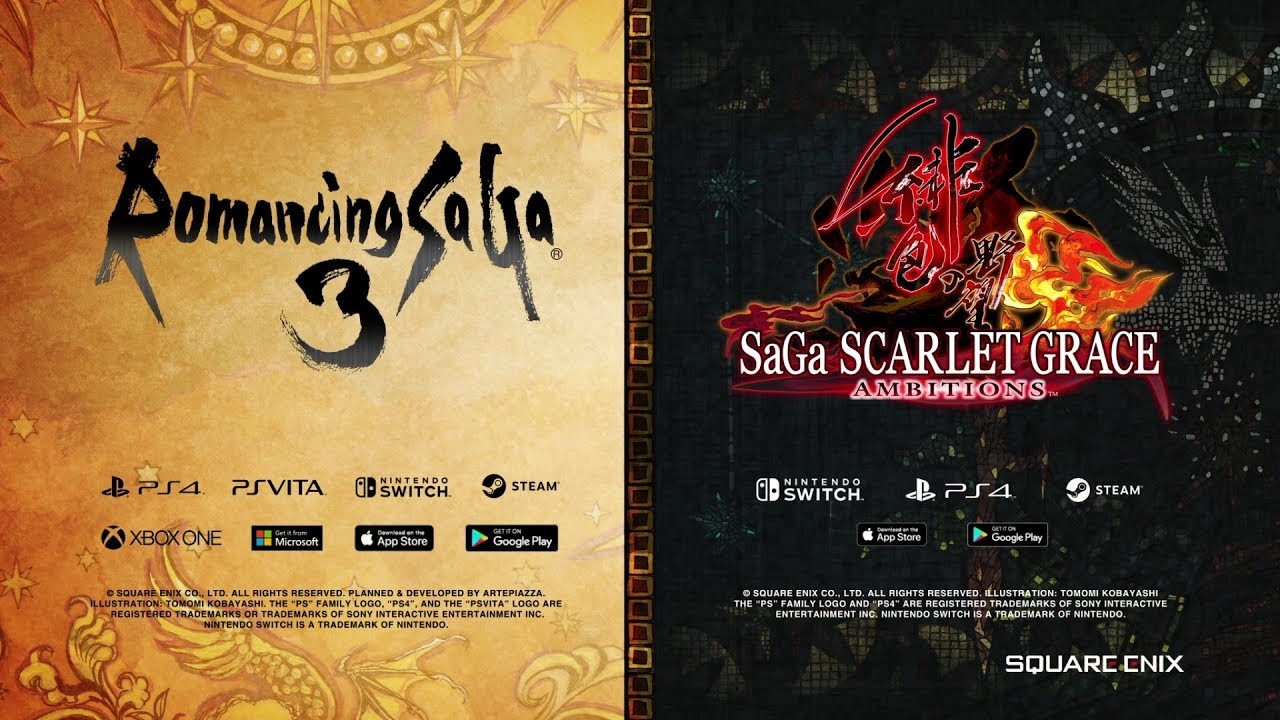 [ad_1]
Square Enix announces launch platforms for two video games that will be released with improvements.
Taking advantage of the fame of the Romancing SaGa franchise in Japan, Square Enix wanted to shelter the debut of two chapters of the series in the western territory for multiple platforms. The J-RPG chosen by the company has been Romancing Saga 3 and Scarlett Grace Ambitions Saga.
The first, in fact, takes the classic 16-bit originally released in 1995 and expands it with extra content (new dungeons, additional scenarios and new games + functions) in the original adventure. A production that will delight fans of the most classic J-RPGs and guarantees a debut on the PC, PS4, Xbox One, Nintendo Switch, iOS and Android with optimized graphics.
SaGa: Scarlet Grace Ambitions, in turn, is a revised version of SaGa: Scarlet Grace, a title released for PS Vita in the Japanese market three years ago. Square Enix promises in its announcement several improvements and additions to the original, such as better graphics, voice-overs for the characters, weapons, skills, etc. Enter the PC, PS4, Nintendo Switch and iOS and Android devices.
At the moment, the date of your releases is unknown.
More about: Romancing SaGa 3, Scarlett Grace Ambition Saga, Square Enix and E3 2019.
var nugg4webedia=''; var nuggrid = encodeURIComponent(top.location.href); var nuggn = 2069349029; var nuggsid = 919551733; var nuggsub ='//webedia-es'; var nuggscr = document.createElement('script');nuggscr.type = 'text/javascript'; nuggscr.src = nuggsub + '.nuggad.net/rc?nuggn=' + nuggn + '&nuggsid=' + nuggsid + '&nuggrid=' + nuggrid; var n = document.getElementsByTagName('script')[0]; n.parentNode.insertBefore(nuggscr, n);
googletag.cmd.push(function() { var g = '/21727618831/3DJuegos/homepage/news';
googletag.defineSlot(g, [[1,1], [728,90], [1008,350], [970,250], [980,250], [980,90], [2,1]], 'dfp-masthead').setTargeting('Pos', ['top']).addService(googletag.pubads());// masthead googletag.defineSlot(g, [[300,250], [300,600]], 'dfp-atf').setTargeting('Pos', ['1']).addService(googletag.pubads()); // mpu atf googletag.defineSlot(g, [[300,250], [300,600]], 'dfp-mtf').setTargeting('Pos', ['2']).addService(googletag.pubads()); // mpu mtf googletag.defineSlot(g, [[300,250], [300,600]], 'dfp-btf').setTargeting('Pos', ['3']).addService(googletag.pubads()); // mpu btf googletag.defineSlot(g, [[980,90], [970,90], [728,90]], 'dfp-footer').setTargeting('Pos', ['footer']).addService(googletag.pubads()); // masthead_footer googletag.defineSlot(g, [[1,1]], 'dfp-thin').setTargeting('Pos', ['thin']).addService(googletag.pubads()); // thin_Banner[624,78] googletag.defineSlot(g, [[1,1]], 'dfp-inread').setTargeting('Pos', ['inread']).addService(googletag.pubads()); // inread googletag.defineSlot(g, [[1,1]], 'dfp-interstitial').setTargeting('Pos', ['interstitial']).addService(googletag.pubads()); // interstitial googletag.defineSlot(g, [[1,1]], 'dfp-oop').setTargeting('Pos', ['oop']).addService(googletag.pubads()); // out_of_page googletag.pubads().enableSingleRequest(); googletag.pubads().setTargeting("console_name", ["ps4"]).setTargeting("publisher", ["square-enix"]).setTargeting("genre", ["rol","combate-por-turnos"]).setTargeting('game', ["romancing-saga-3"]).setTargeting('url_sha1', '6376bba7e823804a5b6d5d1ada58eae7b738b3c7');
if (Krux.user) googletag.pubads().setTargeting("kuid", Krux.user).setTargeting("ksg", Krux.segments);
googletag.enableServices();
if (typeof NUGGjson === "object") { for (var nuggkey in NUGGjson) { googletag.pubads().setTargeting(nuggkey, NUGGjson[nuggkey]); } }
});
(function(n,v,g){o='Navegg';if(!n[o]){ a=v.createElement('script');a.src=g;b=document.getElementsByTagName('script')[0]; b.parentNode.insertBefore(a,b);n[o]=n[o]||function(parms){ n[o].q=n[o].q||[];n[o].q.push([this, parms])};} }) (window, document, 'https://tag.navdmp.com/universal.min.js'); window.naveggReady = window.naveggReady||[]; window.nvg51819 = new Navegg({ acc: 51819 });
!function(f,b,e,v,n,t,s) {if(f.fbq)return;n=f.fbq=function(){n.callMethod?n.callMethod.apply(n,arguments):n.queue.push(arguments)}; if(!f._fbq)f._fbq=n;n.push=n;n.loaded=!0;n.version='2.0'; n.queue=[];t=b.createElement(e);t.async=!0; t.src=v;s=b.getElementsByTagName(e)[0];s.parentNode.insertBefore(t,s)}(window,document,'script','https://connect.facebook.net/en_US/fbevents.js'); fbq('init','494368117634623'); fbq('track','PageView');
[ad_2]
Source link