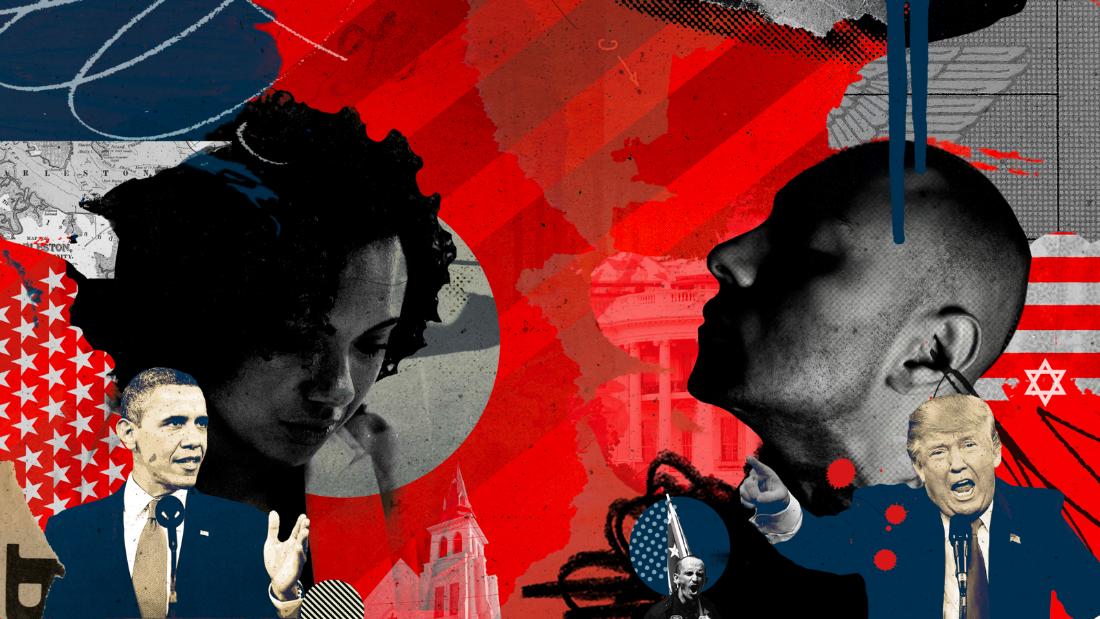 [ad_1]

For millions of Americans, Obama raised the nation. To the white supremacists, he lit a barrel of gunpowder.
His election overwhelmed the divisions that had existed since the birth of the country.
Hate created two Americas. Two realities. Split-screen reactions to the same events that continued and were exacerbated with President Trump's victory and time in office.
When much of America was horrified at the neo-Nazi view on its streets in 2017, supporters of white supremacy were almost happy that their views were at the front and center.
And when a gunslinger stormed a synagogue last month, declaring that "all Jews must die," Americans wept over the deadliest anti-Semitic attack in US history. But the white supremacists breathed a sigh of relief. One of his biggest targets was successfully attacked.
The era that began with hope and change has now become a hatred without remorse.
Very different war cries
Most African Americans interviewed immediately after the 2008 election called Obama's victory a "dream come true," something they never expected to see in their life.
Not all Americans saw it that way. Racists saw a black man in power as a sign of America's darkening. It was the sight they feared most. They were terrified and enraged.
The white supremacists, Klansmen and others began to vent, plot and act. As Obama asked people to unite, they used their existence to alienate the nation.
His war cry became "We have a black man in the White House and you need to do something about it," according to Ken Parker, then a KKK Grand Dragon and neo-Nazi.
"We even play among ourselves, we're going to send President Obama an honorary affiliation for the Klan because he's our … greatest recruiting tool."
Some racism has been exposed – especially one directed at Obama and his family.
The former president was shown as a wizard and often photoshopped on "Uncle Ben" rice. His face was superimposed on the body of a chimpanzee. His wife and former First Lady Michelle Obama was called "High Heels".
Donald Trump, then a private citizen, questioned whether the first black president was born in America. Some repeated the lie that Obama was a Muslim, as if he wanted to exaggerate his "otherness."
This trend of racism came as the country faced a split Washington and economic crisis after the Great Recession.
Kevin Nelson, a pastor in Kentucky, knew the reality of being black in America. More likely to be considered a thief. To be pulled. To be a target. The pastor knew that a black man rising to the highest office could not magically change what happened on the spot, in the neighborhoods where attitudes were so deeply rooted.
However, Nelson was among the cautiously optimistic: "I think that, like most people, I have celebrated the fact that our country has reached the point where we did not allow the pigmentation of a person's skin to prevent them from reaching the Oval Hall ". told CNN recently.
Any hope of progress toward racial harmony was struck by a seemingly endless wave of black men, mostly young and unarmed, being killed by police officers.
Trayvon Martin, Michael Brown, Laquan McDonald and Tamir Rice. Walter Scott. Alton Sterling. Activists post an abrupt message: "Black lives matter". Critics have rebuffed "blue lives matter" in support of law enforcement or just "all lives matter".
The white supremacists went further. The neo-Nazi website Daily Stormer has published stories stating, "Not really, Black Lives Do not Matter." They called Darren Wilson, the officer who shot Michael Brown, a "heroic killer" of Brown, whom they called a "black terrorist," with no evidence at all.
Then came Charleston and a man trying to start a racial war.
He entered Mother Emanuel's church and sat down next to the black shepherd to study the Bible. For more than an hour, the worshipers prayed and talked about the scriptures. They welcomed the stranger. Then he took out his gun and fired at them. He reloaded and fired again. Because they were black. Because he believed that black people were inherently violent. And that they were always raping white women.
President Obama went to Charleston to comfort America and again try to heal some racial wounds. He sang "Amazing Grace" after delivering a compliment and emphasized United States of America.
But online, the racists were applauding the killer.
"They had a Klan hotline and pre-recorded message, clearly saying we needed more warriors like the Dylann Roof," said Parker, the former Klansman player.
The message ended simply: "Hail Dylann Roof, save the victory."
In a neo-Nazi chat room, readers of the Daily Stormer used different symbols to celebrate attacks against non-whites, similar to Facebook's "liking" button. The haircut from the Charleston Killer Basin became one of them. A caricature of one Jew's face was another. A gas chamber button too.
Again, it was clear that the black churches were not safe. That, as in the dark days of the Civil Rights movement and the killing of four little girls in an Alabama church bombing, believers could be the target of skin color.
In Kentucky, Pastor Nelson began locking the church doors. He could never know that he would save the lives of his worshipers.
No black and white
The Obama presidency lasted a time of multiplier and complicated hatred.
Between September 12, 2001 and the end of 2016, extreme right-wing extremists accounted for 73 percent of extremist attacks, although the numbers killed by extreme right-wing extremists and Islamists were similar, according to government statistics.
There was no single target, cause or perpetrator for extremist attacks. A Muslim couple in California who had pledged allegiance to the Islamic state killed 14 people at a party in San Bernardino. Another American Muslim massacred 49 at a gay club in Orlando. A black man who told negotiators that he was angry with the police shooting and that he wanted to kill white people, especially white officers, murdered five police officers in Dallas.
Obama would recognize reality as he tried to bolster optimism in his final speech as president.
"After my election, there were talks about a post-racial America. Such a view, however well-intentioned, was never realistic," he admitted. "Because race continues to be a powerful and often divisive force in our society. I lived long enough to know that race relations are better than they were 10, 20, or 30 years ago."
When Obama stepped down, more than half of the Americans interviewed said they believed racial relations between whites and blacks worsened – even more than after the church attack in Charleston.
Donald Trump's rhetoric in the 2016 election campaign seemed to bring these divisions to the surface. Trump received great support in perceived and outwardly racist language. From his request for a so-called Muslim ban, to denigrate the Mexicans in his campaign announcement, Trump shook the cauldron of diversity and hatred of the United States emerged.
It was not just race. Jews, Muslims, Latinos, gays, immigrants and other minority groups have seen themselves as targets for hatred – both online and in real life.
When Trump declared that he would make America great again, the racists heard a trumpet. White supremacists realized the message as it was time to make America "white" again.
Trump's victory coincided with the growth of readership on white supremacist internet sites and language on forums like 4chan and Reddit became increasingly vitriolic. A report by the Southern Poverty Law Center analyzing hate groups in 2017 found that there were over 600 groups adhering to some form of white supremacist ideology. Within this category, neo-Nazis had the highest growth last year, from 99 to 121 groups.
Less than a month after the election, the white nationalists led by Richard Spencer shouted in support of their new president.
"Hail to our people, save the victory!" Spencer shrieked as the right-alt supporters – indeed just renamed white nationalists – raised their arms in a Nazi salute.
Lawyers for a man convicted of conspiring to use a weapon of mass destruction to kill Muslim Somali refugees the day after the election now argue that he should receive indulgence when he was involved in Trump's rhetoric.
The ugly words of the campaign seemed to echo in the streets, in the shops, and even in schools. Day after day, stories of people becoming victims of hate incidents seemed to emerge. White school students telling classmates with darker skin to return to Mexico. Swastika painted with spray on temples and cars in Jewish neighborhoods. Muslims wearing head covers attacked the streets. Videos of shared incidents online and bouncing around the world.
The FBI reported that hate crimes increased in 2016 and 2017, although it only has access to classified incidents and reported voluntarily by local agencies. A broader review by the Bureau of Justice Statistics estimates that there were 250,000 hate crimes per year between 2004 and 2015.
Each incident sparked outrage in the mainstream, which helped recruiters into the hate movement. Parker was one such recruiter for the Klan and the National Socialist Movement. He was vulnerable when he left the Navy after 11 years of submarine torpedo service and returned home in awful condition in a collapse of the wedding.
When he contacted, seeking to fill a void, a Klansman returned to him in 15 minutes and began to sow hatred. Parker was hooked, ended up tattooing a swastika on his chest, a white power symbol on one leg, and two SS lightning on the other, a reference to Hitler's elite paramilitary force is now a common image for white supremacists.
And he would also recruit, saying that the goal was to "wake up the white race, let them know we have a problem with minorities, the Jewish people running it all."
His hatred has spread in real life.
"If I and one of my fellow white supremacists were in the grocery store and we saw a Jew, … we would start mocking them," he explains. "Like, oh, that sticky Jewish nose over there, you know, probably looking for pennies," he said. "Where you see a Muslim in the grocery store, we start talking about Mohammed's new design … sometimes we think about getting a bacon package and throwing it in the shopping cart and walking out."
As he vomited his insults, sites like the Daily Stormer increased their readership; The site is now visited more than 2.5 million times a month, according to data from analytics company SimilarWeb. YouTube channels and podcasts dedicated to white supremacy began to grow exponentially, creating an easy way to spread racist and religious hate propaganda.
Anti-Semitic pamphlets began to appear on campuses as an attempt to influence young minds. Banners were tied up on roads.
"By race and nation," we read. "Diversity is a code word for white genocide," another said. "Danger: Sanctuary City Ahead," read another. "You will not replace us, stop immigration now," said another.
The goal, as always, Parker explained, was to increase the number of people who felt the same way.
"You can not get into a battle with five people," he said. "So that was the perspective they were looking at, we're going to have a racial war one day, and the more people on our side, the better."
Looking for a fight
If there was a war, the preliminary battle seemed to be Charlottesville.
"I'm not going to lie, as if there were all sorts of people who went to Charlottesville who knew there would be a lot of conflicts and that they were just waiting a little bit to be able to defend themselves with, like, extremely excessive force," Parker said.
While traveling in a van to Charlottesville, Jacksonville, Florida, with "all sorts of white nationalists, Southern nationalists, Nazis, anything," he thought of George Lincoln Rockwell, the founder of the American Nazi Party. Rockwell had used a "hate bus" to harass the Freedom Riders in the 1960s. Parker liked the similarities and nicknamed his "race bus" transportation.
"On paper, we were going there to defend the white race and defend our heritage, to keep the [Confederate] monuments of descent, "says Parker of those who participated in the rally Unite the Right." But honestly, I think everyone would fight. "
Charlottesville followed numerous protests across the country on campuses and public parks where small groups held flags declaring white supremacy, sometimes in nominal support to keep the Confederate statues in tribute to American history.
In Charlottesville, the white supremacists' longstanding hatred of the Jews and their perceived control of the levers of power also manifested itself.
A group of white men carrying torches marched around the city shouting "Jews will not replace us." Some sang Nazi slogans and carried Nazi flags.
It was the most obvious demonstration of anti-Semitism in years and icy Jews in America, who had long felt safe in the United States, even as they remembered the struggles and mass murder of the Holocaust. There was an increase in hateful rhetoric and anti-Semitic acts in the Jewish neighborhoods tracked by the ADL, but this was open-hatred with a crowd of followers.
The next day, anti-protesters gathered to challenge the rally Unite the Right. Most were peaceful, but there were violent clashes between the two sides, with Antifa extremists joining opponents.
A car was driven to a crowd of counter-demonstrators, allegedly by a man fascinated by Nazism, killing Heather Heyer and injuring others.
The death of Heyer brought appeals to end the violent hatred that plagues the country. But for some like Parker, the recruiter of the hate group, this brought joy. Someone who opposed his views had died.
"It was like a jubilation with all white nationalists when that happened," Parker said.
He finally renounced white supremacy and his odious views after meeting a Muslim filmmaker in Charlottesville. After spending some time together, Parker realized he did not hate his wife. He now says he regrets his opinions and actions.
The joy of Charlottesville was magnified by President Trump's contradictory responses to the event. When he said there was "guilt on both sides" and "good people" among the original protesters, the white supremacists saw it as a nod of support.
Those who look to vomit hate felt that they were justified – and continue to quote Trump's words to this day.
Some victims felt that lack of condemnation would leave hatred unchecked and increase the possibility of more violence.
"The current administration has never stood up and said, stop hating," said Millard Braunstein, a 91-year-old resident of Cherry Hill, New Jersey. "In Charlottesville, the president said, there are good people on both sides. Show me a good neo-Nazi and show me a good Ku Klux Klansmen, I mean, it's just not there."
A racial war did not erupt after Charlottesville.
But even though America has not seen the repetition of a great manifestation of white supremacy, it is debatable that no place is safe from hatred.
An Indian engineer was shot dead in a bar in Olathe, Kansas, by a man who would have shouted "Get out of my country."
A 17-year-old Virginia boy allegedly killed his girlfriend's parents after the couple tried to get their daughter to stop dating him because of her suspicions of neo-Nazi visions.
Even the dead could not rest in peace.
Braunstein, 91, of New Jersey, found that his mother's tombstone was among the 100 graves desecrated at Mount Carmel Cemetery in Philadelphia in February 2017. Many were toppled and cracked.
"How could this happen in America today? That was my first thought," Braunstein said.
For the Jews, the America they saw as a sanctuary, in many cases it was gone. Anti-Semitic acts in 2017 were the second highest since the Anti-Defamation League began tracking it in 1979.
Barry Werber knew what it meant to have a refuge as a Jew.
"This was the land of milk and honey," he said. "This was where everything would be right."
Some of Werber's cousins ​​died in Nazi concentration camps. Those who survived were permanently scarred – by numbers tattooed on their arms, and worse still.
Werber tells the story of a cousin. "It was used by German scientists for experiments to find out if the muscles will regenerate when you cut them off an arm. They literally cut off the muscles in your arms to see if they would grow back," Werber recalled, beginning to choke. above. "And he had to live with it. Thank God I never had to go through with it."
Werber's dose of hell would come unexpectedly, 73 years after the Holocaust, and on American soil.
He went to the temple to tell the Kaddish of the Mourner by his mother, when an armed man entered and crossed the building. Eleven of his fellow worshipers died in the deadliest anti-Semitic attack in American history, according to ADL.
He buried many friends in just a week. And always with a growing fear that, instead of the "Never Again" refrain that followed the Holocaust, there will be a "Again". He fears that people may be afraid to associate with the Jews as they become frequent targets. This resembles the Shtetls, the ghettos and small villages where the Jews were grouped together before the Nazis came to them.
"This can happen again? Unfortunately, it can happen if the error continues to grow, and the permission of any leadership to allow it to grow," says Werber. "There are always people willing to jump into bandwagons of hatred and that's exactly what it is."
The Pittsburgh shooter was in Gab, a social media site preferred by followers of alt-right, which is a frequent source of hate speech and images, especially for Jews.
Moments before the massacre, he issued an anti-Semitic message, saying, "I can not sit down and see my people be slaughtered. I screwed up their optics, I'm going in." According to an official on the radio, the gunman told police, "All these Jews must die."
Locked but not locked
The doors of First Baptist Church in Jeffersontown, Kentucky, are locked.
Pastor Nelson wants it to be an open paradise, like the temple in Pittsburgh or how Mother Emanuel had been in Charleston.
But since the black church was attacked, the doors were closed in this house of worship that serves the largest and oldest black congregation in the area, surrounded by predominantly white suburbs.
And the locked doors probably changed the history of the church.
Last month, the parishioners were in when a man approached, apparently determined to do harm.
"Cameras catch him trying to get in and at the door of the sanctuary," says Pastor Nelson. "He knocks him and pulls him up and he backs up, puts his hand on the gun, so whoever opened it could possibly have been shot and killed."
Unable to enter, the man left. The locked doors may have saved some of Nelson's herds, but they did not stop their hatred.
The stranger went to a nearby supermarket. He walked through the crowded hallways. He could have shot at many people, but he did not. He chose two. They were black. Before being captured, the shooter said to a spectator: "Whites do not shoot whites".
His intention was clear. He sought to take black people's lives. One of them was Vickie Jones, who was shopping for the night when she was shot dead.
His nephew Kevin Gunn says he can not believe his aunt survived breast cancer just to die at the hands of hatred.
"It hurts to think that there are people out there who just do not like people because they are different, be it skin color or race, gender, sexual orientation," he says.
He blames the political rhetoric and the proliferation of online hatred for culture that seems to allow hatred to develop.
"We used to meet people in the middle and agree to disagree," says Gunn.
Pastor Nelson also believes that things are on a dangerous course. But he saw where we were and, as a Negro living in the south, there is little more that surprises him.
"I'm not shocked or surprised by anything because of everything we've gone through and we keep going," he says. "I am always saddened that in 2018 and on the verge of 2019 has not improved anything yet."
Still, he tries to convey a positive message to his parishioners.
"Although things and people get worse, we do not have to get any worse at all."
Gunn, who has lost his aunt, can not think what worse still seems.
"I have to sleep at night," he says.
But he can not help being afraid.
"I think the more we try to fight racism, it seems to come back twice now," Gunn says.
"It's like Hydra," says Gunn, comparing racists to the multiple-headed serpent of Greek mythology.
"You cut one and then … two more appear in your place."
Parker, the now repentant former Nazi, is taking his laser tattoos. As with America, the stain of hatred can take a long time to disappear and eventually heal.
Jason Kravarik of CNN contributed to this story. Eleanor Shakespeare illustration
[ad_2]

Source link