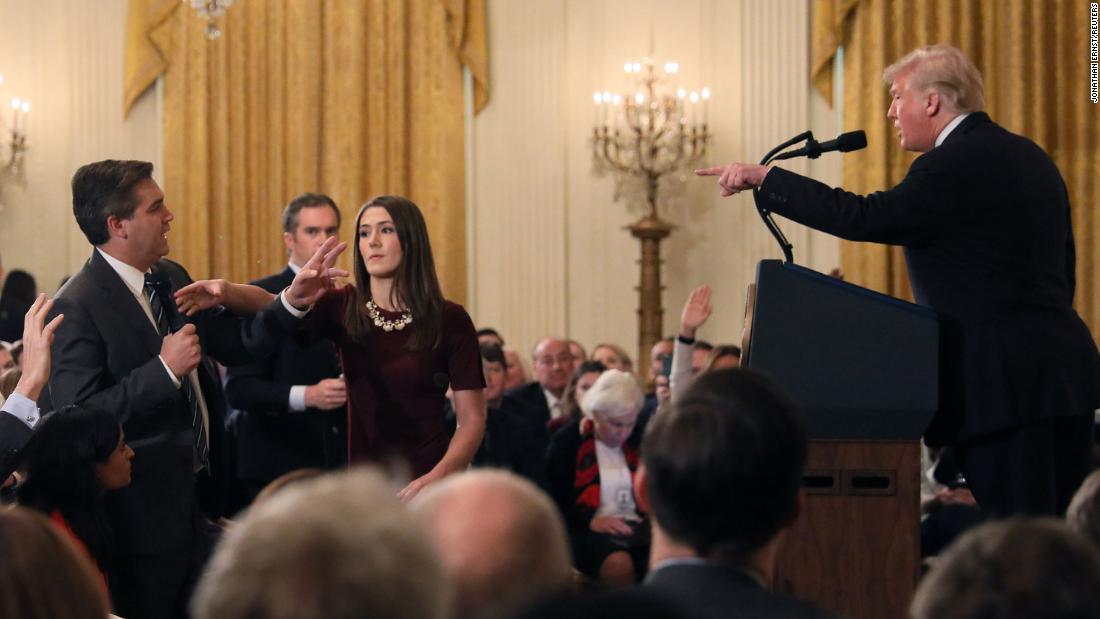 [ad_1]

At 7:00 pm On Wednesday, Acosta was stopped at the Pennsylvania Avenue gate at the White House, where reporters usually come in. He was returning to the White House for a live chance of "Anderson Cooper 360".
"I've just been denied entry to WH," Acosta tweeted. "The Secret Service just informed me that I can not enter WH's gardens for my attack at 8 o'clock."
Acosta posted a video of a Secret Service official removing his pass.
"I was told to do this," the officer said on the tape.
"Now I'm giving my hard pass to the Secret Service," Acosta said.
Reporters who regularly cover the White House routinely receive "difficult passes" to facilitate entry and exit to the terrain. It is unclear whether Acosta will receive another type of entry pass for his work. But on Wednesday night, he was sent away at the gate.
The removal of his pass is a sharp escalation of tensions between the Trump administration and CNN. It immediately stirred up concerns within the White House press corps.
Peter Baker, the White House's top correspondent in The New York Times, said on Twitter: "This is something I've never seen since I started covering the White House in 1996. Other presidents have not feared difficult questions."
The White House Correspondents Association (WHCA), which defends the press, issued a statement shortly after Acosta's entry was denied, calling the revocation of his access "unacceptable."
"Journalists can use a variety of approaches to get their work done, and WHCA does not scrutinize the tone or frequency of questions their members ask of powerful government officials, including the president," the association said. "Such interactions, however uncomfortable they may seem, help to define the strength of our national institutions. We urge the White House to immediately reverse this weak and misguided action."
Acosta has been one of the most aggressive reporters to beat Trump, winning a large number of fans, but also a large number of critics.
During Wednesday's press conference, many people on social networks thanked Acosta for trying to blame the president for his words and actions.
But others condemned the correspondent. Some supporters of Trump said that Acosta's credentials should be revoked. And the pro-Trump media have published stories claiming that the reporter had mistreated the White House aide who tried to take a microphone from him at the press conference.
Sanders repeated that statement in his statement.
"President Trump believes in a free press and hopes and welcomes difficult issues about him and his administration," she said. "We, however, will never tolerate a reporter putting his hands on a young woman who is just trying to do her job as a White House trainee, and that is absolutely unacceptable."
CNN producer Allie Malloy replied to Sanders via Twitter: "This is a complete lie." The woman grabbed Jim's arm repeatedly and he never touched her, "Actually, at one point," Acosta says politely, me, mama "his arm."
Acosta also tweeted that Sanders' description of the incident was a "lie."
At the news conference, Trump criticized the press, called reporters "rude" for asking questions and made unfounded claims about political research.
"Such a hostile media. It's so sad," he said, keeping his campaign of years against the people who cover him.
Trump's most contentious exchange was with Acosta. Immediately afterwards, CNN said in a statement: "The president's continued attacks on the press have gone too far. They are not only dangerous, they are disturbingly anti-American."
"Although President Trump has made it clear that he does not respect a free press, he has an obligation to protect it," CNN added. "A free press is vital to democracy, and we support Jim Acosta and his fellow journalists everywhere."
The press conference was broadcast live on CNN and all other cable news channels and broadcast networks. Media critics and Democrats have said that Trump's combative bent – telling reporters to "sit down" and insult some of them – could be part of a strategy to divert attention from Democratic victories in mandates.
"Trump wants to make his story against the media, not him being kicked in the House. This press conference is going straight to that narrative," tweeted former Obama aide Tommy Vietor.
Acosta was one of the first reporters that Trump invited. "Thank you, Mr. President," he said. "I want to challenge you on one of the statements you made at the end of the campaign."
Trump leaned into the microphone and said, "Here we go" – apparently savoring the confrontation.
Acosta brought the migrants who traveled from Central America to the southern US border, and the racist ad referring to them that the Trump campaign released last week.
"As you know, Mr. President, the caravan is not an invasion," Acosta said. "It's a group of migrants moving from Central America to the border with the US …"
Trump sarcastically replied, "Thanks for telling me this, I appreciate that."
Acosta: "Why did you characterize it as such?"
"Because I consider it an invasion. You and I have a difference of opinion."
"But do you think it demonized the immigrants?"
"No, no, I want them to enter the country, but they have to come legally."
This is what the migrants are trying to do – they say they intend to seek asylum.
Acosta called the misleading advertisement and said, "They are hundreds of miles away, however, and they are hundreds and hundreds of miles away, this is not an invasion."
"You know what? I think you should," Trump began to say, pointing at Acosta. "Honestly, I think you should let me run the country, you command CNN, and if you do it well, your audience will be much better."
"Okay, that's enough," Trump said as Acosta tried to ask another question.
A White House official rushed to pick up the microphone and take it to the next reporter that Trump chose, Peter Alexander of NBC.
"If I can ask another question, you're worried–"
Acosta tried to point out that other reporters also asked several questions.
"That's enough," Trump said.
The White House official tried to get Acosta's microphone, but he held it.
"Forgive me, ma'am," he said, as she looked at Trump, then dodged the vision of the camera.
"Peter, come on," Trump said, trying to move on to Alexander.
"If I may ask, in Russia's investigation," said Acosta, "you are concerned that you may have indictments coming …"
"I'm not worried about anything with the Russian investigation because it's a scam," Trump said. "That's enough, put the microphone down."
Trump stepped back from the podium for a moment, signaling that he was ready while Acosta asked the question again and then released the microphone.
As Alexander began to ask his question, Trump said, "I tell you, CNN should be ashamed of itself, have you working for them." He pointed to Acosta: "You're a rude and terrible person. You should not be working for CNN."
Then he turned to Alexander, "Go ahead." But he turned his focus to Acosta: "You're a very rude person, the way you treat Sarah Huckabee Sanders is awful." The way you treat other people is horrible, you should not treat people like that.
"Go ahead," Trump said to Alexander. The NBC reporter then spoke in defense of Acosta: "I traveled with him and watched him, he is a diligent reporter who breaks his ass like the rest of us."
"Well, I'm not a huge fan of yours either, to be honest," Trump said, teasing laughter in the room. He depreciates NBC almost as often as CNN.
"So, let me ask you a question," Alexander said, not slowing.
Acosta got up and spoke. His comments were not fully audible on live TV, but Acosta could be heard asking about the dangers of Trump's anti-media attacks, such as the use of the term "enemy of the people."
"When you report false news, what CNN does, a lot, you're the enemy of the people," Trump said, turning to Alexander.
The press conference lasted 1 hour and 26 minutes.
Trump's treatment of the press varied from minute to minute. As in previous press conferences, he showed contempt by reporters in a minute, complaining that the questioners "jumped out of their seats shouting questions at me," then suggested he was enjoying it all the time.
"Shall we continue this for a while?" he asked, an hour after the session, causing some of the reporters to say "yes!"
When a reporter from a Japanese news agency asked a question, Trump said, "Say hello to Shinzo," referring to Japanese Prime Minister Shinzo Abe.
The press conference gave great prominence to the different styles of the different White House correspondents. Some, like April Ryan, tried to ask questions without being explicitly called.
"Sit down, please," Trump said to her. "I did not call you, I did not call you, I did not call you."
Ryan was trying to ask about concerns about voter suppression. In response, Trump falsely said that CNN's searches were a form of suppression.
Trump often condemns so-called "suppression polls," alluding to a conspiracy theory that says news agencies distort search results to discourage people from voting. He raised the idea again later at the press conference, despite the lack of evidence for the idea.
Near the end of the event, Yamiche Alcindor, a PBS correspondent "NewsHour," asked Trump about the widely shared view that his rhetoric encouraged white nationalists.
"This is a racist issue," Trump said repeatedly in response.
Social media was outraged by Trump's contempt. Alcindor, who is black, moved on.
She later tweeted, "I followed the president by calling my question of" racist "with a political question about the middle-class tax cut because that's what journalists do.We focus on the privilege of asking questions to make a living.We do the work. "
Here is the complete White House statement:
"President Trump believes in a free press and waits and welcomes difficult issues about him and his administration, but we will never tolerate a reporter laying his hands on a young woman trying to do her job as a White House intern. unacceptable. It is also completely disrespectful for the reporter's colleagues not to allow them an opportunity to ask a question. President Trump gave the press more access than any President in history. Contrary to CNN's assertions, there is no further demonstration of the president to a free press than the event he held today, would only attack the president for not supporting a free press in the middle of it, taking 68 questions from 35 different reporters for an hour and a half, including several from the reporter in question. of CNN to be proud of how your employee behaved is not just disgusting, is an example of his ultra disrespect for all, including young women, who work in this government. As a result of today's incident, the White House is suspending the hard pass of the reporter involved until further notice. "- Sarah Sanders
[ad_2]

Source link