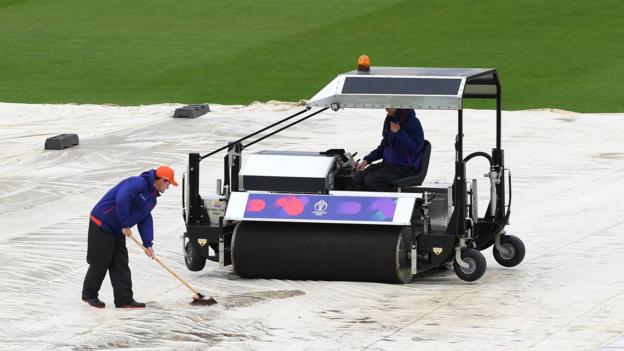 [ad_1]
A third World Cup match was abandoned because of the rain when Bangladesh's game against Sri Lanka was canceled without a ball being thrown.
With persistent rain falling on Bristol, the match – which should start at 10:30 am BST – was canceled shortly before 14:00.
The Sri Lankan game against Pakistan in Bristol on June 7 was also eliminated.
Only 7.3 overs were possible in the West Indies match with South Africa in Southampton on Monday.
The highest number of abandoned games in a World Cup was two in 1992 and 2003.
"There is a lot of frustration for all the teams – getting to the ground and not playing is disappointing," said Bangladesh captain Mashrafe Mortaza.
Sri Lankan captain Dimuth Karunaratne said: "We have played poker, playing some cards."
The rain is scheduled for Taunton on Wednesday, when Australia play against Pakistan, and also on Thursday in Trent Bridge, where India faces New Zealand.
The forecast is best for England's encounter with the West Indies in Southampton on Friday.
With both teams scoring on Tuesday, Sri Lanka moved up to fifth on the table and Bangladesh moved up to seventh place. The top four teams qualify for the semifinals.
Sri Lankan sailor Lasith Malinga will fly to Colombo for his mother-in-law's funeral, but is expected to return for Saturday's game against Australia at The Oval.
Bangladesh plays West Indies in Taunton on Monday.
Mortaza said: "It's a do-or-die game for us and we're going to need them all. We have to play hard and we'll see what happens."
[ad_2]
Source link