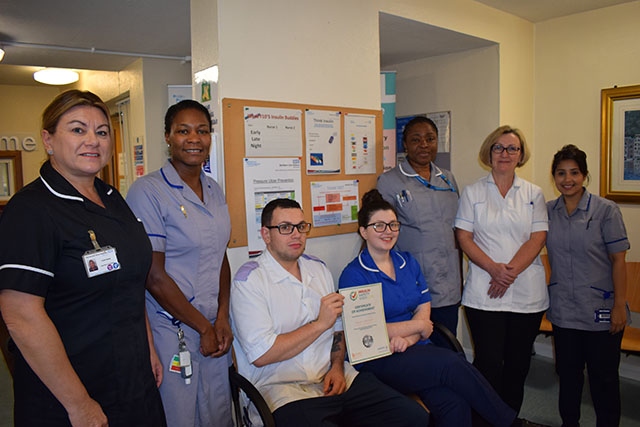 [ad_1]

Publication date: November 26, 2018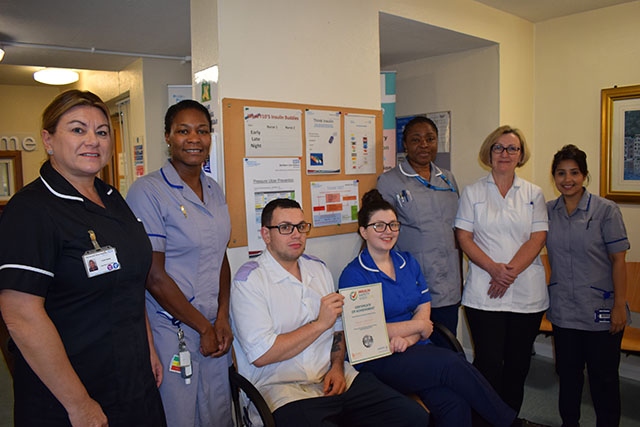 In the photo are (from left to right): Linda Adams, Diabetes Chief Nurse Judith Muir, Diabetes Nurse Specialist, Mike Markham, Diabetes Nurse Link F7 Nurse, Chelsea Tindall, F10 Ward Nurse Margaret Idaewor, Nurse Specialist in Diabetes, Paula Yates, Clinical Lead – Podiatry and Ascia Bibi, Nurse Specialist in Diabetes
The Diabetes team at Royal Oldham Hospital is celebrating after being awarded the runner-up prize at this year's Insulin Safety Week Award for 2018.
The team was praised by the panel of jurors for "going beyond" their patients and for their hard work in promoting the importance of awareness of insulin safety to patients and staff.
Diabetes Specialist Hospital nurses have been working hard to raise awareness of the importance of insulin being properly administered at meal times to help patients avoid medication errors that occur during their stay in the hospital.
Insulin errors are the third most common cause of serious injury or death in hospitals.
One in six people in the hospital has diabetes and one-third of hospitalized patients with diabetes have a medication error during their stay. As a result, insulin safety is a high priority for many hospitals.
The Diabetes team has been improving care for hospitalized patients as part of a quality improvement initiative, which has focused heavily on how patients with diabetes are treated during their hospital stay.
The team has been working with two test wings at Oldham (F7 and F10 wings) and three wards at Fairfield General Hospital (wings 7, 20 and 24) to offer improvements and more personalized care for patients with diabetes.
Key improvements introduced for patients with diabetes include:
1. All patients with diabetes are clearly identified with the use of a red apple in the patient's chart. This acts as an alert for the hospital staff to check blood glucose levels and ensure that the medication is properly administered at mealtime.
2. The introduction of a "companion insulin" system, which ensures that patients receive their insulin to match their meals. At delivery, insulin partners work with a qualified nurse to identify patients who need insulin therapy. They assist in checking and administering insulin to patients during meals to ensure they receive insulin at the right time. There is a very short period of 20 minutes for patients to receive their insulin at mealtime for insulin to be effective and to avoid variability in blood glucose levels.
3. Encourage patients to self-administer and administer their own medication. The nursing team is working with the pharmacy staff to conduct a review of patient medication as part of the initial administration procedures when a patient arrives at the hospital, which assesses the patient's medication needs and encourages them to administer their own medications, when possible.
4. Ensure that all inpatients with diabetes have a complete foot evaluation to identify any potential problems and ensure that they are promptly referred to podiatry services when necessary.
5. Directed training on diabetes care and treatment for the general nursing team to increase knowledge and use of best practices.
The Diabetes team is happy to have their efforts to improve nationally recognized insulin safety.
Linda Adams, Diabetes's chief nurse, said, "We are excited to have the work we do nationally recognized.
As a team, we set ambitious goals to reduce the number of patients affected by diabetes-related injuries, and the test wings help us introduce a number of improvements in the care received by patients with diabetes.
"We are working hard to raise awareness about insulin safety between patients and staff.
"It plays such an important role in ensuring that patients receive high-quality, safe and personalized care when they enter the hospital, and initiatives like the insulin pooling system are helping to ensure that patients with diabetes stay safe and well."
---
Do you have a story for us? Would you like to tell us about something happening in and around Oldham? Let us know by sending an e-mail to [email protected] by calling our office in Oldham at 0161 633 2121, sending us a tweet @oldhamchronicle or sending us messages through our Facebook page. All contact will be treated in confidence.
[ad_2]

Source link