[ad_1]

Scandinavians know a lot about thrillers and horror. However, not only movies or novels, but also football games are atmospheric. It is so today – this scenario would become a worldwide bestseller.
Norway lost in the first round, then needed even glasses. This explains (as well as the home status of the fight) the activity of the Lagerbäck wings, both in the first time and immediately after the break.
Johnsen first finished the ball in the net after an attack by the Norwegians and a blow / pass of the king. And then Joshua himself tossed the gates of the Swedes with his head after Henriksen's enormous work.
It all threatened the surrender of the Swedes, but Andersson's wings did in time. In a way, this match echoed the match with the first round participation, but it was the Swedes who acted as the victim, not the adversary. And, in fact, the Swedes had the character of saving, which was not enough for the Romanians in Solo. Although in today's game, the last word, running ahead, is still not for Sweden.
Then we fixed: three goals in twenty minutes lifted the Swedes from the abyss to the sky. Granqvist did not notice a penalty won during a quick and instinctive attack. But when he finished, Klasson played well. After that, Quayson took over the deal: his long-range strike was successfully rectified by Nordtveit's rebound to the Swedes and then Karton's hard transfer found his leg.
Sweden was close to an incredible win, but Lars Lagerbäck had no moral right to lose to his compatriots like that. His substitute played and saved for Norway a credit point, and at the same time – and honor. Although Kamara's head kicked after a corner in the 90th minute + 6 brought the hosts just a draw, the stadium bleachers were frantically crazy. It was emotional.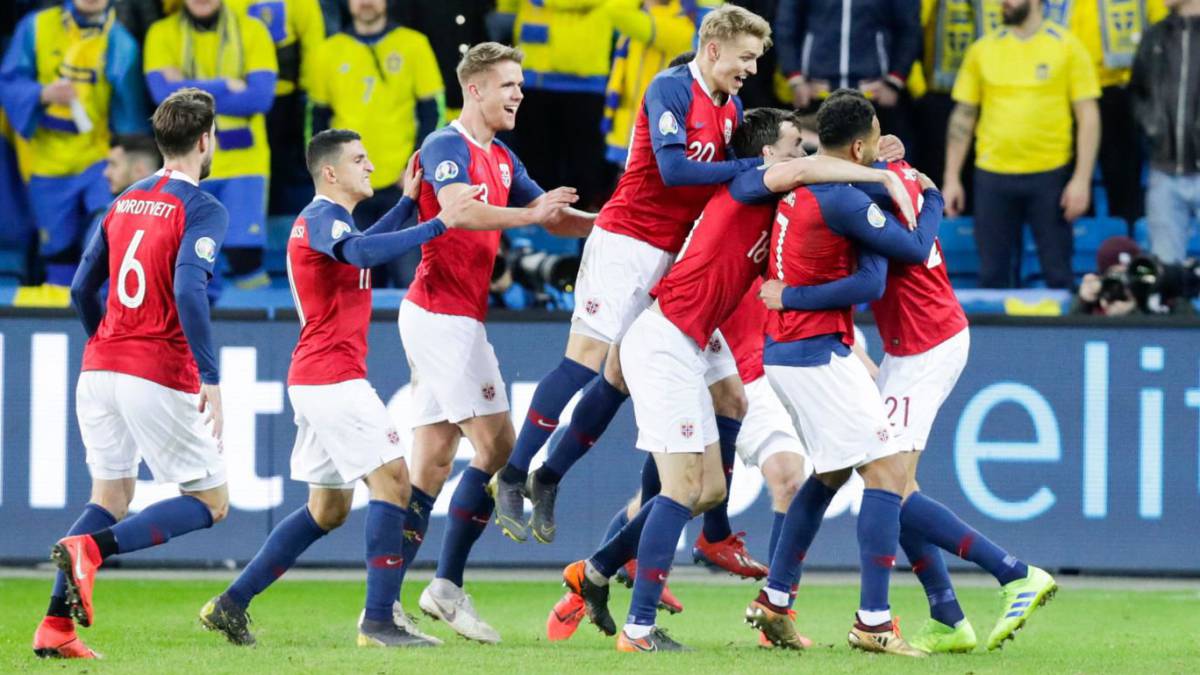 A game that will remain for a long time in the history of this Scandinavian confrontation.
Selection for Euro 2020. Second round
Group F. 3/26/2019
Norway Oslo "Ullevol"
Norway – Sweden 3: 3
Goals: Johnsen 41, King 59, Chamber 90 + 6 – Klasson 70, Quyson 86, Quyson 90 + 1
Norway: Yarstein – Elablawei, Nordtveit, Ayer, Alice – Edegor, Selnes, Henriksen, M. Elyanussi (Kamara 72) – Johnsen (Sorlof 87), king
Sweden: Ulsen – Kraft, Helander, Grange, Augustinsson – Larsson (Isak 62), Ekdal (Svendsson 66), Ulsson (Andresson 90 + 5), Klasson – Quyson, Berg
Warnings: Selnès 28, Nordtveit 52, Johnsen 62, Ayer 69 – Ulsson 29, Klasson 55, Helander 72
Lost penalty: Granquist 70
| # | Team | AND | In | H | F | M | RM | Oh |
| --- | --- | --- | --- | --- | --- | --- | --- | --- |
| 1 | Spain | 2 | 2 | 0 | 0 | 4-1 | +3 | 6 |
| 2 | Sweden | 2 | 1 | 1 | 0 | 5-4 | +1 | 4 |
| 3 | Romania | 2 | 1 | 0 | 1 | 5-3 | +2 | 3 |
| 4 | Malta | 2 | 1 | 0 | 1 | 2-3 | -1 | 3 |
| 5 | Norway | 2 | 0 | 1 | 1 | 4-5 | -1 | 1 |
| 6 | Faroe Islands | 2 | 0 | 0 | 2 | 2-6 | -4 | 0 |
[ad_2]

Source link