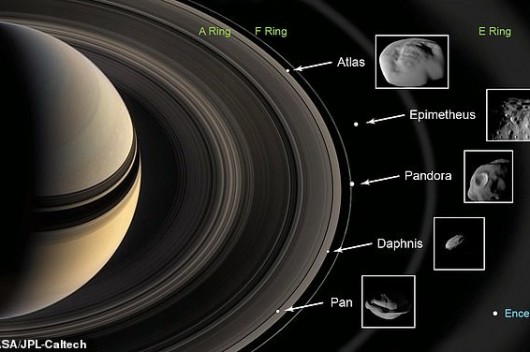 The Cassini mission during its last mission on the planet Saturn provided invaluable data on when and how the planet's distinctive rings were formed.
Scientists say that Saturn's numerous moons and their "small moons" are responsible for the formation of distinct rings around them.
Scientists previously believed that the very gravity of the planet itself had led to the emergence of this unique configuration around it, but new data from Cassini revealed that the complex interaction between ice, dust and rocky bodies in the system was behind the formation of the rings.
The rings are composed mostly of water ice molecules ranging in size from the smallest grain of sand to the largest of the great mountains.
The ring system extends 282,000 kilometers from the planet, and despite its huge width, its thickness is very thin, about 10 meters in most places.
An international team, including experts at the Sagan Center for the Study of Life in the Universe and Queen Mary University in London, is studying data from the space probe for clues on how to make these rings.
They found that the structure of the main rings of Saturn, a vast tropical disk of orbital particles, is formed by gravitational reactions with small moons orbiting near or inside the rings.
Scientists have also noted that Saturn's moons interact with surrounding particles in the same way as a new planet.
The study also suggested a series of thin lines at the outer edge of Saturn's rings as they struck a group of rocks orbiting the planet at the same time.
Scientists have found that the interaction of the particles that surround the planet with the large satellites causes disturbances in these rings, which leads to distinct differences in the ring sizes captured by the Cassini vehicle.
"This mission leaves a rich legacy of discoveries that have changed our view of the Saturn system, how solar systems are formed and the potential of extraterrestrial life," the team wrote.
Data for our planet.
Source: Daily Mail