The United Arab Emirates National Dietary Guidelines, prepared by the Ministry of Health and Community Protection, revealed that the UAE's per capita daily consumption of sugar-added beverages was 1.1 packs.
The guide pointed to the most important findings about the eating habits of 18-year-olds between 2017 and 2018, especially those associated with the consumption of fat, salt and sugar, because these substances play an effective role in affecting community health.
The eating habits guide was based on the results of the United Arab Emirates Health Survey 2018, conducted by the Ministry of Health and Community Protection, in collaboration with various entities in the country, covering approximately 8,214 participants from all emirates.
The guide explained that the habits of fat consumption among individuals and groups from different societies of the country showed great awareness and went up to the consumption of healthy fats up to 95%, pointing out that olive oil is the most consumed species, followed by oil. sunflower and then by corn oil.
Evidence has shown that there is a high awareness of the healthy way of preparing food, where about 48.9% of people go for grilled food, while 31.7% prefer cooked food, while about 15.5% of people Individuals prefer the frying method to prepare food.
The guide explained that the consumption of fat is not only through oils, where there are other products consumed daily by the individual, including cheese, which ended up being the average consumption of 38.8% white cheese and 17.5% cream cheese. and 15.6% cheese The least consumed cheese was low fat cheese, with 5.9%.
Whole milk was the best for the UAE community, consuming 56.7%.
Salts
The guide pointed out that 40.6% of UAE community members add salt permanently while eating, and in terms of consuming high salt products or foods such as ready-made soups, the use rate of 31.1% and 33% of the UAE community Sometimes processed high salt meals are prepared.
Bread and Breakfast Cereal
The guide pointed out that the percentage of refined bread and morning cereal consumption in the morning is 68.8%, while the priority choice is for chicken meat group, up to 45.6%, followed by fish and red meat.
For vegetable or fruit consumption, 82.8% of the population consumes less than the WHO recommended 5-portion rate.
Selective Tax
Beginning in December, the state will begin to apply a 50% selective tax on beverages sweetened with added sugar and any product added to a sugar source or other sweetener, and is produced for the purpose of drinking as either liquid or concentrate or powder or extract, or any image Can be converted to drink to reduce consumption of these products, promote healthy lifestyles in the community and reduce rates of obesity and chronic disease in general.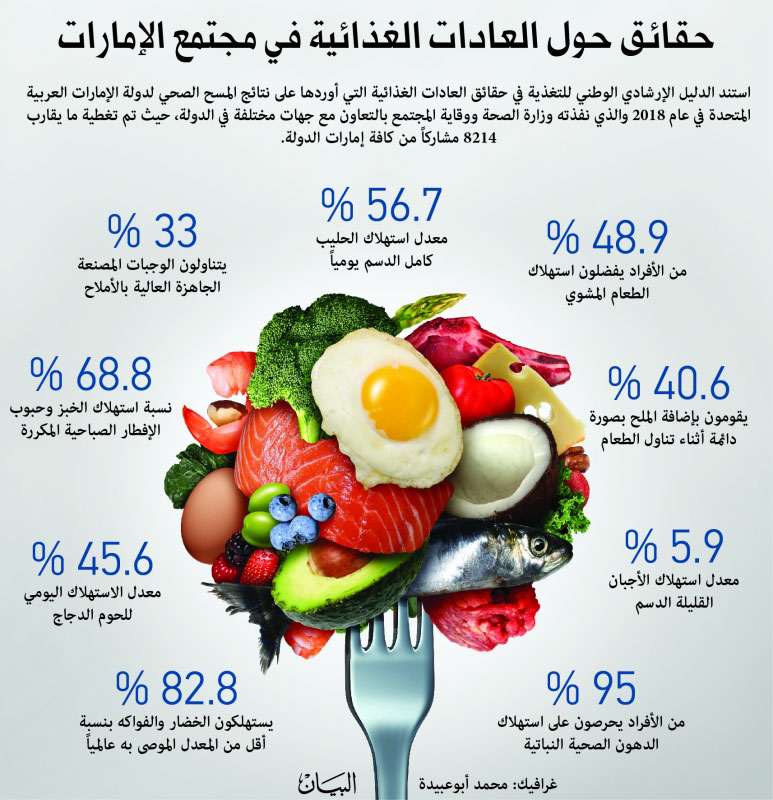 Source link