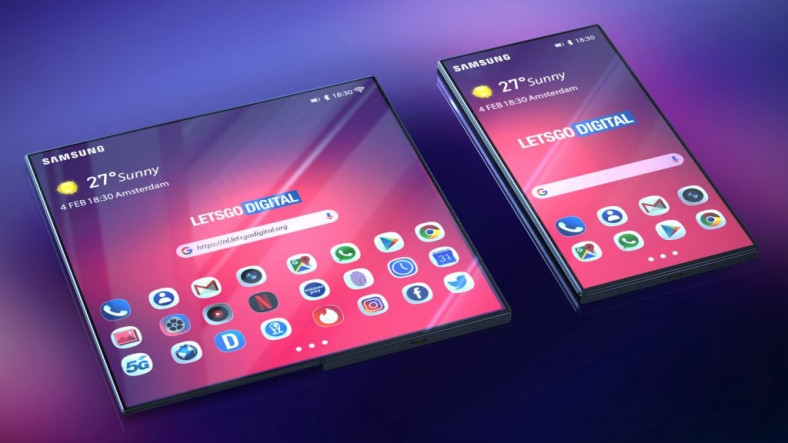 [ad_1]

LetsGoDigital shares the most realistic conceptual design of Samsung's foldable smartphone to date.
LetsGoDigital, the first collapsible smartphone from South Korean technology giant Samsung, the new conceptual design images for Galaxy X or Galaxy F shared images. The biggest difference between the new shared images and the previous conceptual designs is that it is video-based introduction shared by Samsung's official Vietnamese channel on YouTube.
The foldable smartphone, shown in the SDC 2018, was a bit disappointing for those eagerly waiting for a foldable smartphone with framed design and thickness. The video shared by Samsung Vietnam caused an enthusiasm for the foldable smartphone.
Referring to this video, LetsGoDigital shows us how the folding smartphone, which we do not know exactly, will be much thinner and much more stylish than the prototype shown in SDC 2018. Screen frames are as thin as a standard banner . In addition, the thickness of the device is significantly improved according to the prototype.
On the outside of Samsung's foldable smartphone, there will be a 4.58-inch display with a resolution of 840 × 1960 pixels that allows you to use it when the device is folded. When the device is turned on, a huge screen with a resolution of 1536 × 2152 QXGA + will be displayed. Then you will literally be combined with your tablet experience, smartphone experience.
Kaynak : https://androidcommunity.com/samsung-galaxy-f-foldable-smartphone-images-rendered-anew-20190206/
$ (Function () {
// Facebook window.fbAsyncInit = function () { fb.init ({ appId: & # 39; 1037724072951294 & # 39 ;, xfbml: true version: & # 39; v2.5 & # 39; }); };
(function (d, s, id) { var js, fjs = d.getElementsByTagName (s)[0]; if (d.getElementById (id)) {return;} js = d.createElement (s); js.id = id; js.src = "http://connect.facebook.net/en_US/sdk.js"; fjs.parentNode.insertBefore (js, fjs); } (document, & # 39; script & # 39 ;, & # 39; facebook-jssdk & # 39;));
(& # 39; Body & # 39;). Ten ({ click: function () { // save button on facebook ajax If fb.xfbml.p (); } }, & # 39; .facebook-save & # 39;);
// share scroll if ($ (& # 39;. content-sticky & # 39;). length> 0) { if ($ (window) .width ()> = 768) $ (window) .on (& # 39; scroll & # 39 ;, function () { has scrollTop = $ (this) .scrollTop (); $ (& # 39; article & # 39;). each (function () { if (scrollTop> = ($ (this) .find (& # 39;. content-body & # 39;) offset (). $ (This) .find (& # 39; The sticky content. & # 39;) AddClass (& # 39; sticky. & # 39;); (($ (this) .find (& # 39; .content-body & # 39;)) offset (). top + $ (this) .find (& # 39; ) - ($ (this .find (& # 39; content-sticky & # 39;) height () + 92))) { $ (This) .find (& # 39; The Sticky Content. & # 39;) RemoveClass (& # 39; sticky. & # 39;); $ (this) .find (& # 39; content-sticky & # 39;). css (& # 39; bottom & # 39;: & # 39; top & # 39 ;, & # 39; auto & # 39; } more { $ (This) .find (& # 39; The sticky content & # 39;). AddClass (& quot; sticky & quot;). Css ({ & # 39; bottom & # 39 ;: & # 39 ;, & # 39; & Numsp; & numsp; & numsp; & numsp; & numsp; & numsp; & numsp; & numsp; }); } } { $ (this) .find (& # 39; content-sticky & # 39;). removeClass (& # 39; sticky & # 39;). css (& # 39; bottom & # 39;: & # 39 ;, & # 39; top & # 39; 0 & # 39; 0 & # 39;}}); } }); }); } }
// share click (& # 39; Body & # 39;). Ten ({ click: function () { var $ this = $ (this), dataShareType = $ this.attr (& # 39; type of data sharing & # 39;), dataType = $ this.attr (& # 39; data type & # 39;), dataId = $ this.attr (& # 39; data id & # 39;), dataPostUrl = $ this.attr (& # 39; data-post-url & # 39;), dataTitle = $ this.attr (& # 39; data-title & # 39;), dataSef = $ this.attr (& # 39; data-sef & # 39;);
switch (dataShareType) { case & # 39; facebook & # 39; fb.u of ({ method: & # 39; share & # 39; href: dataSef, }, function (response) { if (response &&! response.error_message) { updatehit (); } });
break;
case & # 39; twitter & # 39 ;: shareWindow (& # 39; https: //twitter.com/intent/tweet? via = webtekno & text = & # 39; + encodeURIComponent (dataTitle) + & # 39;% E2% 96% B6 & # 39; + encodeURIComponent (dataSef )); updatehit (); break;
case & # 39; gplus & # 39 ;: shareWindow (& # 39; https: //plus.google.com/share? url = & # 39; + encodeURIComponent (dataSef)); updatehit (); break;
case & # 39; mail & # 39; window.location.href = & # 39; mailto:? subject = & # 39; + encodeURIComponent (dataTitle) + & # 39; & body = & # 39; + encodeURIComponent (dataSef); // updatehit (); break;
case & # 39; whatsapp & # 39; window.location.href = & # 39; whatsapp: // send? text = & # 39; + encodeURIComponent (dataTitle) + & # 39;% E2% 96% B6 & # 39; + encodeURIComponent (dataSef); updatehit (); break; }
function shareWindow (url) { window.open (url, "_blank", "toolbar = yes, scrollbars = yes, resizable = yes, top = 500, left = 500, width = 400, height = 400"); }
function updateHit () { $ .Ajax ({ type: "POST", url: dataPostUrl, data: {contentId: dataId, contentType: dataType, shareType: dataShareType}, success: function (data) {
if ($ (& # 39;. video-showcase & # 39;). length> 0) { var $ container = $ (& # 39 ;. video-showcase & # 39;); } else if ($ (& # 39; article[data-id="' + dataId + '"]& # 39;). Length> 0) { var $ container = $ (& # 39; item[data-id="' + dataId + '"]& # 39;); } else if ($ (& # 39; .wt-share-item[data-id="' + dataId + '"]& # 39;). Length> 0) { var $ container = $ (& # 39; .wt-share-item[data-id="' + dataId + '"]& # 39;); } more { $ container = null; }
// var $ container = dataType == & # 39; video & # 39;? $ (& # 39; .video-showcase & # 39;): $ (& # 39; article[data-id="' + dataId + '"]& # 39;);
if ($ container! = null && $ container.length> 0) { var $ badged = $ container.find (& # 39; .wt-share-badge - & # 39; + dataShareType);
find $ headerCount = $ (& # 39; .content-header & # 39;). find (& # 39; .wt-share-count & # 39;), $ containerCount = $ container.find (& # 39; .wt-share-count & # 39;), value = parseInt ($ containerCount.html ()) + 1;
$ container.data (& # 39; share & # 39 ;, value); //$containercount.html(valu A);
if ($ headerCount.length> 0) { //$headercount.html(valu A); }
if ($ badged.length> 0 && (dataShareType == & # 39; facebook & # 39; || dataShareType == & # 39; twitter & # 39;)) if ($ badged.hasClass (& # 39; is-visible & # 39;)) { //$badged.html(dat A); } more { //$badged.addclass('is-visible').html(dat A); } } }
} }); } } }, & # 39; .wt-share-button & # 39;) });
[ad_2]

Source link