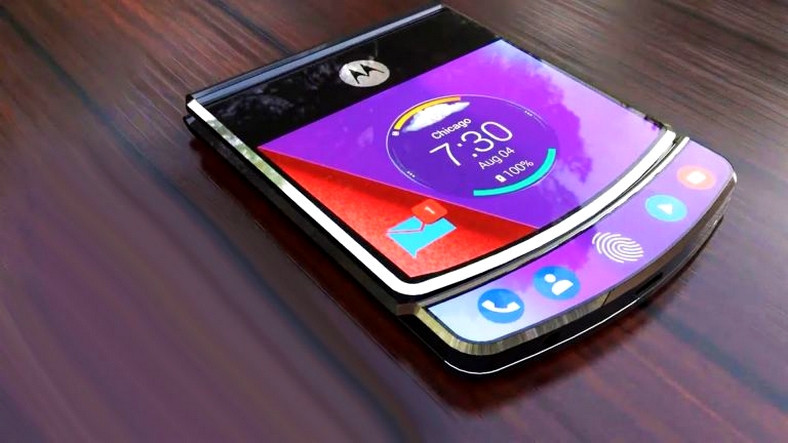 [ad_1]

Dan Dery, vice president of Motorola's Global Products Division, has confirmed that the company is working on a long-lasting collapsible phone.
Previously, there were reports that Motorola was working on folding phones. At first, the patent on the phone appeared, followed by a Wall Street Journal article claiming that Motorola was working on folding phones.
Dan Dery, Motorola's global vice president of products, confirmed the rumors earlier this week in an interview. Dery DWe have started working on folding phones for a long time and we have tried Kat many times he said.
Although Dery's statements in his interview do not contain any certainty, some predictions can be made. For example, Dery said: iylewe do not intend to be late in the market " he said. Samsung Galaxy Fold un april, Huawei X Companion in mid-2019, considering the future; The Motorola folding phone can also be planned in the summer.
Bir The screen approach on Samsung and Huawei folding phones is a good solution, says Kirill Dery. In relation to Dery, Mate X and Galaxy Fold,We tested plastic OLED devices with plastic wrap on top. When you touch the fingernail screens, the surface of the screen is scraped. It has a very short life, begins to wear out of the box. But it looks so beautiful Ancak he said.
Dery also said that Motorola also reviewed the possibilities bent. This means that the phone can be folded twice, that is, one-third of the screen can be used when switching from tablet mode to phone mode.
Giving information on some companies besides Motorola, Dery said that only Motorola is not working on the concept of double hinge, some Chinese manufacturers are working on this project, and that these companies are not very visible in the MWC. The design in the form of & # 39; Z & # 39; double-hinged vice president of the company mentions a number of technical challenges, impractical for the first folding phone.
From the statements used in the interview, the company tried several models of foldable phones and eliminated some of them. According to Dan Dery, Motorola is poised to enter the folding phone market with a bold move and attract some users with its innovative design.
Kaynak : https://www.engadget.com/2019/02/27/motorola-confirms-its-foldable-phone-is-coming/
$ (Function () {
// Facebook window.fbAsyncInit = function () { fb.init ({ appId: & # 39; 1037724072951294 & # 39 ;, xfbml: true version: & # 39; v2.5 & # 39; }); };
(function (d, s, id) { var js, fjs = d.getElementsByTagName (s)[0]; if (d.getElementById (id)) {return;} js = d.createElement (s); js.id = id; js.src = "http://connect.facebook.net/en_US/sdk.js"; fjs.parentNode.insertBefore (js, fjs); } (document, & # 39; script & # 39 ;, & # 39; facebook-jssdk & # 39;));
(& # 39; Body & # 39;). Ten ({ click: function () { // save button on facebook ajax If fb.xfbml.p (); } }, & # 39; .facebook-save & # 39;);
// share scroll if ($ (& # 39;. content-sticky & # 39;). length> 0) { if ($ (window) .width ()> = 768) $ (window) .on (& # 39; scroll & # 39 ;, function () { has scrollTop = $ (this) .scrollTop (); $ (& # 39; article & # 39;). each (function () { if (scrollTop> = ($ (this) .find (& # 39;. content-body & # 39;) offset (). $ (This) .find (& # 39; The sticky content. & # 39;) AddClass (& # 39; sticky. & # 39;); offset (). top + $ (this) .find (& # 39;. content-body & # 39;). height () - ($ (this .find (& # 39;. content-sticky & # 39;) height () + 92) $ (This) .find (& # 39; The Sticky Content. & # 39;) RemoveClass (& # 39; sticky. & # 39;); $ (this) .find (& # 39; content-sticky & # 39;). css (& # 39; bottom & # 39;: & # 39; top & # 39 ;, & # 39; auto & # 39; } more { $ (This) .find (& # 39; The sticky content & # 39;). AddClass (& quot; sticky & quot;). Css ({ & # 39; bottom & # 39 ;: & # 39 ;, & # 39; & Numsp; & numsp; & numsp; & numsp; & numsp; & numsp; & numsp; & numsp; }); } } more { $ (this) .find (& # 39; content-sticky & # 39;). removeClass (& # 39; sticky & # 39;). css (& # 39; bottom & # 39;: & # 39 ;, & # 39; top & # 39; 0 & # 39; 0 & # 39;}}); } }); }); } }
// share click (& # 39; Body & # 39;). Ten ({ click: function () { var $ this = $ (this), dataShareType = $ this.attr (& # 39; type of data sharing & # 39;), dataType = $ this.attr (& # 39; data type & # 39;), dataId = $ this.attr (& # 39; data id & # 39;), dataPostUrl = $ this.attr (& # 39; data-post-url & # 39;), dataTitle = $ this.attr (& # 39; data-title & # 39;), dataSef = $ this.attr (& # 39; data-sef & # 39;);
switch (dataShareType) { case & # 39; facebook & # 39; fb.u of ({ method: & # 39; share & # 39 ;, href: dataSef, }, function (response) { if (response &&! response.error_message) { updatehit (); } });
break;
case & # 39; twitter & # 39 ;: shareWindow (& # 39; https: //twitter.com/intent/tweet? via = webtekno & text = & # 39; + encodeURIComponent (dataTitle) + & # 39;% E2% 96% B6 & # 39; + encodeURIComponent (dataSef )); updatehit (); break;
case & # 39; gplus & # 39 ;: shareWindow (& # 39; https: //plus.google.com/share? url = & # 39; + encodeURIComponent (dataSef)); updatehit (); break;
case & # 39; mail & # 39; window.location.href = & # 39; mailto:? subject = & # 39; + encodeURIComponent (dataTitle) + & # 39; & body = & # 39; + encodeURIComponent (dataSef); // updatehit (); break;
case & # 39; whatsapp & # 39; window.location.href = & # 39; whatsapp: // send? text = & # 39; + encodeURIComponent (dataTitle) + & # 39;% E2% 96% B6 & # 39; + encodeURIComponent (dataSef); updatehit (); break; }
function shareWindow (url) { window.open (url, "_blank", "toolbar = yes, scrollbars = yes, resizable = yes, top = 500, left = 500, width = 400, height = 400"); }
function updateHit () { $ .Ajax ({ type: "POST", url: dataPostUrl, data: {contentId: dataId, contentType: dataType, shareType: dataShareType}, success: function (data) {
if ($ (& # 39;. video-showcase & # 39;). length> 0) { var $ container = $ (& # 39 ;. video-showcase & # 39;); } else if ($ (& # 39; article[data-id="' + dataId + '"]& # 39;). Length> 0) { var $ container = $ (& # 39; item[data-id="' + dataId + '"]& # 39;); } else if ($ (& # 39; .wt-share-item[data-id="' + dataId + '"]& # 39;). Length> 0) { var $ container = $ (& # 39; .wt-share-item[data-id="' + dataId + '"]& # 39;); } more { $ container = null; }
// var $ container = dataType == & # 39; video & # 39;? $ (& # 39; .video-showcase & # 39;): $ (& # 39; article[data-id="' + dataId + '"]& # 39;);
if ($ container! = null && $ container.length> 0) { var $ badged = $ container.find (& # 39; .wt-share-badge - & # 39; + dataShareType);
find $ headerCount = $ (& # 39; .content-header & # 39;). find (& # 39; .wt-share-count & # 39;), $ containerCount = $ container.find (& # 39; .wt-share-count & # 39;), value = parseInt ($ containerCount.html ()) + 1;
$ container.data (& # 39; share & # 39 ;, value); //$containercount.html(valu A);
if ($ headerCount.length> 0) { //$headercount.html(valu A); }
if ($ badged.length> 0 && (dataShareType == & # 39; facebook & # 39; || dataShareType == & # 39; twitter & # 39;)) if ($ badged.hasClass (& # 39; is-visible & # 39;)) { //$badged.html(dat A); } more { //$badged.addclass('is-visible').html(dat A); } } }
} }); } } }, & # 39; .wt-share-button & # 39;) });
[ad_2]

Source link