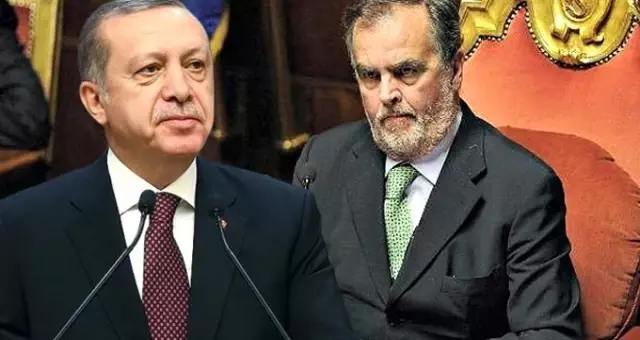 Italian Senator Roberto Calderoli, after sharing our two players, "if they want to return to their country if they want a war," he said.
"If Demiral and Ünder want to do nationalism and defend the Turks against the Kurds, their home is in Istanbul or AnkaraLet them come back. Turkeywill be very well received. They go to Besiktas, Fenerbahce or Galatasaray and celebrate under Erdogan's balcony. Roma and Juventus fans have done well by asking them to take off their shirts and leave the team, "said outrageous statements.
"SIDE OF ERDOĞAN"
who urged the need to terminate the two-player contract club, Roberto Calderoli, "let them out the millionaires who won the Italian club and they went to Turkey. is Italy democracy and peace in the country, is the independence of the country is the country that respected the lives of others. If anyone would disagree, for Turkey, Erdogan back to "he continued to disrespect the thoughts of the two players.
SOCCER PLAYERS SUPPORT MEHMETÇİK
Community football, to destroy Turkey's southern border corridor are trying to establish a terrorist, who attended the launch of Operation Spring Peace to bring peace and tranquility supported the soldiers.
Mars of players representing Turkey abroad DEMİRAL, Hakan Çalhanoğlu, Enes Unal as well Okay Yokuşlu the Premier League, many players wearing jersey, took the Turkish army side with messages of support.
Italian soccer player Juventus Merih Demiral, for his part, "Peace at Home, Peace in the World" by Gazi Mustafa Kemal Ataturk, gave the floor in English.
young players, "Turkey has a terror corridors of the 911-kilometer border with Syria. PKK / YPG, women, children and babies responsible for the deaths of 40,000 people, which included. Turkey's mission is to clear the terror corridor in southern border and bring peace to the region. Also, ensure that 2 million Syrians settle in the safe zone. " he said.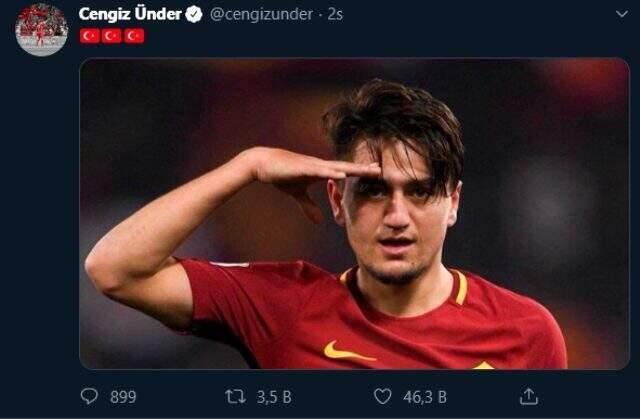 MERİH AND HAKAN SHARE THE SAME LOOK
Merih Demiral, the Turkish flag in the hands of Turkish soldiers joyfully welcoming the soldiers, and the children's compassionate approach to children also included photos.
Hakan Çalhanoğlu, who played for Milan in Italy, shared the same look with Merih Demiral. The Real Valladolid team from Spain, wearing the Enes Unal uniform "Turkish Armed Forces and hero Mehmetçikimizimiz always, we pray with you," shared.
Ok Yokuşlu, who plays for the Spanish Celta Vigo team, also shared: "We are with hero Mehmetçiğimiz and our army. Prayers with you." he said.
On the other hand, Altay Bayındır, Hasan Ali Pavement, Harun Tekin, Ahmet Calik, Emre Akbaba, Dogukan Sinik, Aytac Kara, Arda Turan, Emre Colak, Guray Vural, Oguzhan Ozyakup, Efecan Karaca and Abdulkadir Omur also support the soldier. Turkish. he gave.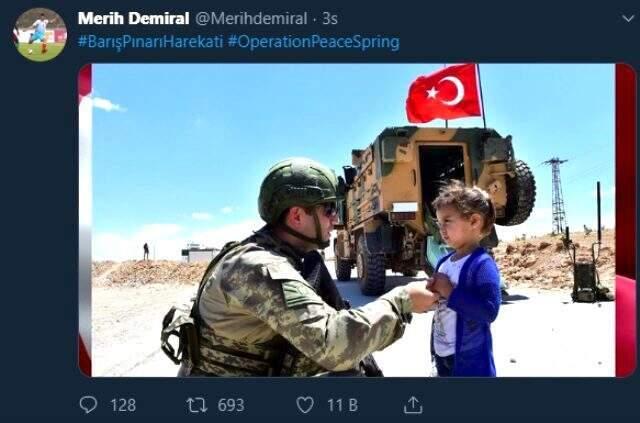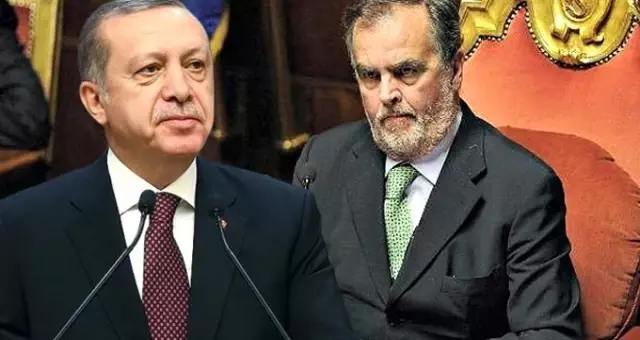 Source link