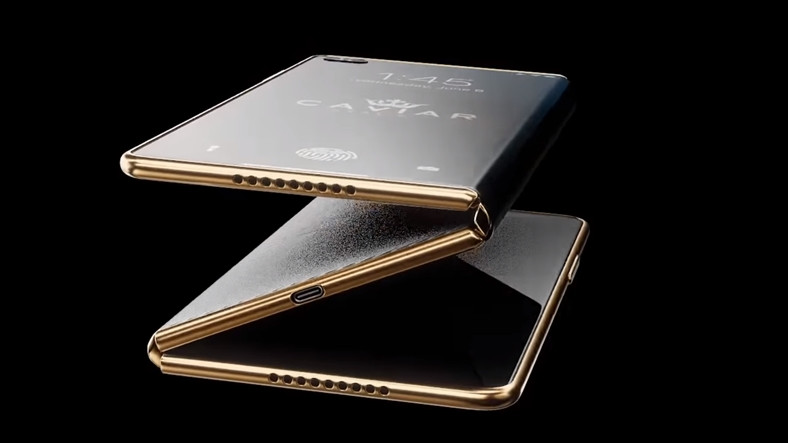 [ad_1]

Apple has not yet taken a step towards the new category of smartphones, the folding smartphones. But Caviar shared a video of what Apple would produce a collapsible smartphone.
If you think Apple is selling expensive iPhone models, we recommend you do not comment on Caviar until you see custom iPhone models and prices, but our current position is not a model of the iPhone redesigned by Caviar;
While companies like Samsung and Huawei are launching a foldable smartphone, Apple remains silent about it. Currently, Turkey launch if we consider the criticism of that real Samsung Galaxy Apple's Order Folder, the foldable phone technology will not be surprising to remove a model until it is fully fitted.
While it is unlikely that Apple will be able to introduce a foldable iPhone model until 2021, Caviar has launched the concept device called iPhone Z to show how a foldable iPhone model could be. With a three-fold screen, the iPhone Z offers exactly what you expect from fold-up phones.
With four different modes of use, the iPhone Z screen in tablet mode is 10.4 inches. Considering the Galaxy Fold is only 7.3 inches, it is a very large screen. The classic iPhone mode screen is 6.6 inches. Caviar also thought of a keyboard mode and a selfie mode.
Although it is not known whether today's technology is sufficient to develop such a luxurious iPhone Z model, Caviar believes that an iPhone Z with these features will cost $ 2,900. Thus, Apple's foldable iPhone model will be more expensive than an entry-level Mac Pro.
Kaynak : https://www.cultofmac.com/620310/crazy-iphone-z-concept-takes-folding-phones-to-a-new-level/
$ (Function () {
// Facebook window.fbAsyncInit = function () { fb.init ({ appId: & # 39; 1037724072951294 & # 39 ;, xfbml: true version: & # 39; v2.5 & # 39; }); };
(function (d, s, id) { var js, fjs = d.getElementsByTagName (s)[0]; if (d.getElementById (id)) {return;} js = d.createElement (s); js.id = id; js.src = "http://connect.facebook.net/en_US/sdk.js"; fjs.parentNode.insertBefore (js, fjs); } (document, & # 39; script & # 39 ;, & # 39; facebook-jssdk & # 39;));
(& # 39; Body & # 39;). Ten ({ click: function () { // save button on facebook ajax If fb.xfbml.p (); } }, & # 39; .facebook-save & # 39;);
// share scroll if ($ (& # 39;. content-sticky & # 39;). length> 0) { if ($ (window) .width ()> = 768) $ (window) .on (& # 39; scroll & # 39 ;, function () { has scrollTop = $ (this) .scrollTop (); $ (& # 39; article & # 39;). each (function () { if (scrollTop> = ($ (this) .find (& # 39;. content-body & # 39;) offset (). $ (This) .find (& # 39; The sticky content. & # 39;) AddClass (& # 39; sticky. & # 39;); (($ (this) .find (& # 39; .content-body & # 39;)) offset (). top + $ (this) .find (& # 39; ) - ($ (this .find (& # 39; content-sticky & # 39;) height () + 92))) { $ (This) .find (& # 39; The Sticky Content. & # 39;) RemoveClass (& # 39; sticky. & # 39;); $ (this) .find (& # 39; content-sticky & # 39;). css (& # 39; bottom & # 39;: & # 39; top & # 39 ;, & # 39; auto & # 39; } more { $ (This) .find (& # 39; The sticky content & # 39;). AddClass (& quot; sticky & quot;). Css ({ & # 39; bottom & # 39 ;: & # 39 ;, & # 39; & Numsp; & numsp; & numsp; & numsp; & numsp; & numsp; & numsp; & numsp; }); } } more { $ (this) .find (& # 39; content-sticky & # 39;). removeClass (& # 39; sticky & # 39;). css (& # 39; bottom & # 39;: & # 39 ;, & # 39; top & # 39; 0 & # 39; 0 & # 39;}}); } }); }); } }
// share click (& # 39; Body & # 39;). Ten ({ click: function () { var $ this = $ (this), dataShareType = $ this.attr (& # 39; type of data sharing & # 39;), dataType = $ this.attr (& # 39; data type & # 39;), dataId = $ this.attr (& # 39; data id & # 39;), dataPostUrl = $ this.attr (& # 39; data-post-url & # 39;), dataTitle = $ this.attr (& # 39; data-title & # 39;), dataSef = $ this.attr (& # 39; data-sef & # 39;);
switch (dataShareType) { case & # 39; facebook & # 39; fb.u of ({ method: & # 39; share & # 39 ;, href: dataSef, }, function (response) { if (response &&! response.error_message) { updatehit (); } });
break;
case & # 39; twitter & # 39 ;: shareWindow (& # 39; https: //twitter.com/intent/tweet? via = webtekno & text = & # 39; + encodeURIComponent (dataTitle) + & # 39;% E2% 96% B6 & # 39; + encodeURIComponent (dataSef )); updatehit (); break;
case & # 39; gplus & # 39 ;: shareWindow (& # 39; https: //plus.google.com/share? url = & # 39; + encodeURIComponent (dataSef)); updatehit (); break;
case & # 39; mail & # 39; window.location.href = & # 39; mailto:? subject = & # 39; + encodeURIComponent (dataTitle) + & # 39; & body = & # 39; + encodeURIComponent (dataSef); // updatehit (); break;
case & # 39; whatsapp & # 39; window.location.href = & # 39; whatsapp: // send? text = & # 39; + encodeURIComponent (dataTitle) + & # 39;% E2% 96% B6 & # 39; + encodeURIComponent (dataSef); updatehit (); break; }
function shareWindow (url) { window.open (url, "_blank", "toolbar = yes, scrollbars = yes, resizable = yes, top = 500, left = 500, width = 400, height = 400"); }
function updateHit () { $ .Ajax ({ type: "POST", url: dataPostUrl, data: {contentId: dataId, contentType: dataType, shareType: dataShareType}, success: function (data) {
if ($ (& # 39;. video-showcase & # 39;). length> 0) { var $ container = $ (& # 39 ;. video-showcase & # 39;); } else if ($ (& # 39; article[data-id="' + dataId + '"]& # 39;). Length> 0) { var $ container = $ (& # 39; item[data-id="' + dataId + '"]& # 39;); } else if ($ (& # 39; .wt-share-item[data-id="' + dataId + '"]& # 39;). Length> 0) { var $ container = $ (& # 39; .wt-share-item[data-id="' + dataId + '"]& # 39;); } more { $ container = null; }
// var $ container = dataType == & # 39; video & # 39;? $ (& # 39; .video-showcase & # 39;): $ (& # 39; article[data-id="' + dataId + '"]& # 39;);
if ($ container! = null && $ container.length> 0) { var $ badged = $ container.find (& # 39; .wt-share-badge - & # 39; + dataShareType);
find $ headerCount = $ (& # 39; .content-header & # 39;). find (& # 39; .wt-share-count & # 39;), $ containerCount = $ container.find (& # 39; .wt-share-count & # 39;), value = parseInt ($ containerCount.html ()) + 1;
$ container.data (& # 39; share & # 39 ;, value); //$containercount.html(valu A);
if ($ headerCount.length> 0) { //$headercount.html(valu A); }
if ($ badged.length> 0 && (dataShareType == & # 39; facebook & # 39; || dataShareType == & # 39; twitter & # 39;)) if ($ badged.hasClass (& # 39; is-visible & # 39;)) { //$badged.html(dat A); } more { //$badged.addclass('is-visible').html(dat A); } } }
} }); } } }, & # 39; .wt-share-button & # 39;) });
[ad_2]

Source link