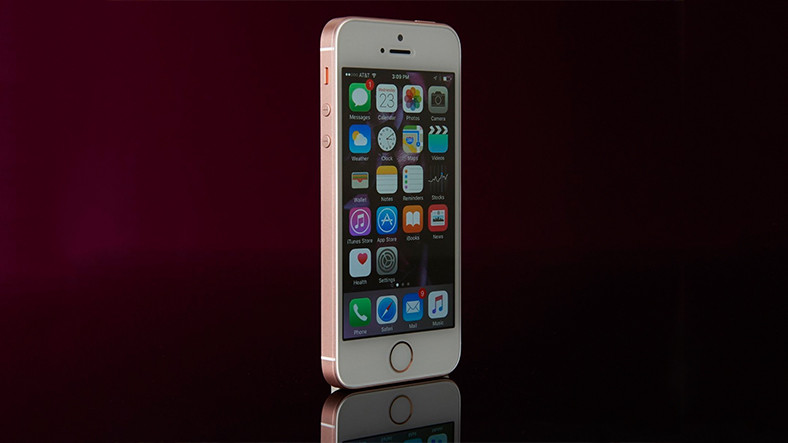 Apple, which is smaller than the standard iPhone Special Edition devices on the site, put a discount.
The iPhone Special Edition has chosen a large and small design for a 4-inch monitor. Apple had removed this phone a long time ago. At the moment, a new model is released for those who prefer this phone.
Apple's US online store puts iPhone OSs at a discounted price. The 32GB model is priced at $ 249, while the model price of 128GB is $ 299. If you think the original price is $ 349 on a 32GB model and $ 449 on a 128GB model, we can say that Apple has made a serious reduction.
The iPhone SE, powered by the A9 chipset, also attracts attention with its 12MP rear camera and features Touch ID, Live Photos and 4K. The phone currently uses the latest version of iOS.
Although the motive behind the Apple sales revival is not clear at the moment, small phone users are not satisfied with the situation, so currently there are no bad comments.
TAKE YOUR INTEREST
Udemy course you can learn full Java to start programming is £ 24.99 instead of TL 409
Kaynak : https://www.neowin.net/news/apple-is-selling-the-iphone-se-at-a-clearance-sale-for-249
$ (Function () {
// Facebook window.fbAsyncInit = function () { fb.init ({ appId: & # 39; 1037724072951294 & # 39 ;, xfbml: true version: & # 39; v2.5 & # 39; }); };
(function (d, s, id) { var js, fjs = d.getElementsByTagName (s)[0]; if (d.getElementById (id)) {return;} js = d.createElement (s); js.id = id; js.src = "http://connect.facebook.net/en_US/sdk.js"; fjs.parentNode.insertBefore (js, fjs); } (document, & # 39; script & # 39 ;, & # 39; facebook-jssdk & # 39;));
(& # 39; Body & # 39;). Ten ({ click: function () { // save button on facebook ajax If fb.xfbml.p (); } }, & # 39; .facebook-save & # 39;);
// share scroll if ($ (& # 39;. content-sticky & # 39;). length> 0) { if ($ (window) .width ()> = 768) $ (window) .on (& # 39; scroll & # 39 ;, function () { has scrollTop = $ (this) .scrollTop (); $ (& # 39; article & # 39;). each (function () { if (scrollTop> = ($ (this) .find (& # 39;. content-body & # 39;) offset (). $ (This) .find (& # 39; The sticky content. & # 39;) AddClass (& # 39; sticky. & # 39;); (($ (this) .find (& # 39; .content-body & # 39;)) offset (). top + $ (this) .find (& # 39; ) - ($ (this .find (& # 39; content-sticky & # 39;) height () + 92))) { $ (This) .find (& # 39; The Sticky Content. & # 39;) RemoveClass (& # 39; sticky. & # 39;); $ (this) .find (& # 39; content-sticky & # 39;). css (& # 39; bottom & # 39;: & # 39; top & # 39 ;, & # 39; auto & # 39; } more { $ (This) .find (& # 39; The sticky content & # 39;). AddClass (& quot; sticky & quot;). Css ({ & # 39; bottom & # 39 ;: & # 39 ;, & # 39; & Numsp; & numsp; & numsp; & numsp; & numsp; & numsp; & numsp; & numsp; }); } } more { $ (this) .find (& # 39; content-sticky & # 39;). removeClass (& # 39; sticky & # 39;). css (& # 39; bottom & # 39;: & # 39 ;, & # 39; top & # 39; 0 & # 39; 0 & # 39;}}); } }); }); } }
// share click (& # 39; Body & # 39;). Ten ({ click: function () { var $ this = $ (this), dataShareType = $ this.attr (& # 39; type of data sharing & # 39;), dataType = $ this.attr (& # 39; data type & # 39;), dataId = $ this.attr (& # 39; data id & # 39;), dataPostUrl = $ this.attr (& # 39; data-post-url & # 39;), dataTitle = $ this.attr (& # 39; data-title & # 39;), dataSef = $ this.attr (& # 39; data-sef & # 39;);
switch (dataShareType) { case & # 39; facebook & # 39; fb.u of ({ method: & # 39; share & # 39 ;, href: dataSef }, function (response) { if (response &&! response.error_message) { updatehit (); } });
break;
case & # 39; twitter & # 39 ;: shareWindow (& # 39; https: //twitter.com/intent/tweet? via = webtekno & text = & # 39; + encodeURIComponent (dataTitle) + & # 39;% E2% 96% B6 & # 39; + encodeURIComponent (dataSef )); updatehit (); break;
case & # 39; gplus & # 39 ;: shareWindow (& # 39; https: //plus.google.com/share? url = & # 39; + encodeURIComponent (dataSef)); updatehit (); break;
case & # 39; mail & # 39; window.location.href = & # 39; mailto:? subject = & # 39; + encodeURIComponent (dataTitle) + & # 39; & body = & # 39; + encodeURIComponent (dataSef); // updatehit (); break;
case & # 39; whatsapp & # 39; window.location.href = & # 39; whatsapp: // send? text = & # 39; + encodeURIComponent (dataTitle) + & # 39;% E2% 96% B6 & # 39; + encodeURIComponent (dataSef); updatehit (); break; }
function shareWindow (url) { window.open (url, "_blank", "toolbar = yes, scrollbars = yes, resizable = yes, top = 500, left = 500, width = 400, height = 400"); }
function updateHit () { $ .Ajax ({ type: "POST", url: dataPostUrl, data: {contentId: dataId, contentType: dataType, shareType: dataShareType}, success: function (data) {
if ($ (& # 39;. video-showcase & # 39;). length> 0) { var $ container = $ (& # 39 ;. video-showcase & # 39;); } else if ($ (& # 39; article[data-id="' + dataId + '"]& # 39;). Length> 0) { var $ container = $ (& # 39; item[data-id="' + dataId + '"]& # 39;); } else if ($ (& # 39; .wt-share-item[data-id="' + dataId + '"]& # 39;). Length> 0) { var $ container = $ (& # 39; .wt-share-item[data-id="' + dataId + '"]& # 39;); } more { $ container = null; }
// var $ container = dataType == & # 39; video & # 39;? $ (& # 39; .video-showcase & # 39;): $ (& # 39; article[data-id="' + dataId + '"]& # 39;);
if ($ container! = null && $ container.length> 0) { var $ badged = $ container.find (& # 39; .wt-share-badge - & # 39; + dataShareType);
find $ headerCount = $ (& # 39; .content-header & # 39;). find (& # 39; .wt-share-count & # 39;), $ containerCount = $ container.find (& # 39; .wt-share-count & # 39;), value = parseInt ($ containerCount.html ()) + 1;
$ container.data (& # 39; share & # 39 ;, value); //$containercount.html(valu A);
if ($ headerCount.length> 0) { //$headercount.html(valu A); }
if ($ badged.length> 0 && (dataShareType == & # 39; facebook & # 39; || dataShareType == & # 39; twitter & # 39;)) if ($ badged.hasClass (& # 39; is-visible & # 39;)) { //$badged.html(dat A); } more { //$badged.addclass('is-visible').html(dat A); } } }
} }); } } }, & # 39; .wt-share-button & # 39;) });
Source link