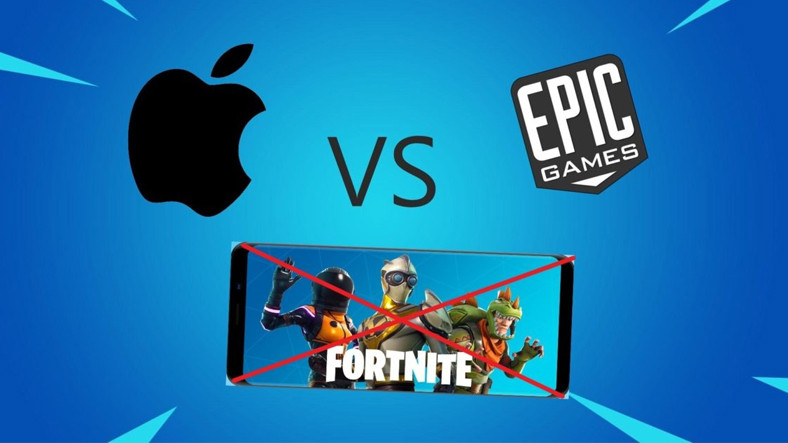 Epic Games stated in a recent court filing that Apple is not entitled to the fruits of Epic's labor. The two companies have been in a legal battle since August of last year and the mutual disputes continue.
Epic Games with Apple Although months have passed since the disagreements between the two countries, the mutual fights still continue. The two sides, which have been in a legal fight since the beginning of August, think they are right in the dispute.
As reported by The Verge, Epic Games is a recent in the court file He threw another rock at Apple, saying that Apple "is not entitled to the fruits of Epic's labor". There has been no response from Apple yet.
What happened?
Game developer and distributor Epic Games joined Apple last August. To avoid the 30% commission from the App Store Fortnite's mobile payment system has changed. After this change from Epic, Apple, removing the game from the App Store retaliated and Epic subsequently filed a lawsuit against Apple.
As the war between the two companies heats up, Epic Unreal Engine threatened to remove iOS support for This meant that future games for iOS or Mac would not be able to use Epic Games' Unreal Engine.
Epic Games Fortnite add again to the App Store refused your request. Thus, with Unreal Engine, the concerns of anyone developing products for Apple's iOS or Mac platforms are eliminated.
On the other hand, Apple's front is against Epic for allegedly violating the App Store contract. wrongdoing law said it will open. Application of the technology giant based in Cupertino, unfair enrichment and counterclaims for unfair interference in your customer relationships. At this point, Apple argues that it is right in its behavior, that Epic's actions and abuses have caused significant damage to the company.
RELATED NEWS
Trendyol reportedly working on a food ordering app: the app will be in service soon
Epic says in its most recent file that its actions are far from the irregularities that Apple claims. In other words, Epic's You didn't steal anything from Apple he believes. Apple has not yet responded to Epic's defense. US District Judge Yvonne Gonzalez Rogers said the case should go to a jury.
Source:
https://mobilesyrup.com/2020/10/25/epic-games-claims-apple-has-no-rights-epics-labour/
if(!isMobile) { $(function(){
//facebook window.fbAsyncInit = function() { FB.init({ appId : '1037724072951294', xfbml : true, version : 'v2.5' }); };
(function(d, s, id){ var js, fjs = d.getElementsByTagName(s)[0]; if (d.getElementById(id)) {return;} js = d.createElement(s); js.id = id; js.src = "https://connect.facebook.net/tr_TR/sdk.js"; fjs.parentNode.insertBefore(js, fjs); }(document, 'script', 'facebook-jssdk'));
$('body').on({ click: function() { // facebook save button ajax FB.XFBML.parse(); } }, '.facebook-save');
// share scroll if ($('.content-sticky').length > 0) { if ($(window).width() >= 768) { $(window).on('scroll', function () { var scrollTop = $(this).scrollTop(); $('article').each(function () { if (scrollTop >= ($(this).find('.content-body').offset().top - 76)) { $(this).find('.content-sticky').addClass('sticky'); if (scrollTop >= ($(this).find('.content-body').offset().top + $(this).find('.content-body').height() - ($(this).find('.content-sticky').height() + 92))) { $(this).find('.content-sticky').removeClass('sticky'); $(this).find('.content-sticky').css({'bottom': '0px', 'top': 'auto'}); } else { $(this).find('.content-sticky').addClass('sticky').css({ 'bottom': 'initial', 'top': '76px' }); } } else { $(this).find('.content-sticky').removeClass('sticky').css({'bottom': 'auto', 'top': '0'}); } }); }); } }
// share click $('body').on({ click: function (){ var $this = $(this), dataShareType = $this.attr('data-share-type'), dataType = $this.attr('data-type'), dataId = $this.attr('data-id'), dataPostUrl = $this.attr('data-post-url'), dataTitle = $this.attr('data-title'), dataSef = $this.attr('data-sef');
switch(dataShareType) { case 'facebook': FB.ui({ method: 'share', href: dataSef, }, function(response){ if (response && !response.error_message) { updateHit(); } });
break;
case 'twitter': shareWindow('https://twitter.com/intent/tweet?via=webtekno&text="+encodeURIComponent(dataTitle) + " %E2%96%B6 ' + encodeURIComponent(dataSef)); updateHit(); break;
case 'gplus': shareWindow('https://plus.google.com/share?url=" + encodeURIComponent(dataSef)); updateHit(); break;
case "mail': window.location.href="https://news.google.com/__i/rss/rd/articles/mailto:?subject=" + encodeURIComponent(dataTitle) +'&body='+ encodeURIComponent(dataSef); //updateHit(); break;
case 'whatsapp': window.location.href="whatsapp://send?text=" + encodeURIComponent(dataTitle) +' %E2%96%B6 '+ encodeURIComponent(dataSef); updateHit(); break; }
function shareWindow (url) { window.open(url, "_blank", "toolbar=yes, scrollbars=yes, resizable=yes, top=500, left=500, width=400, height=400"); }
function updateHit () { $.ajax({ type: "POST", url: dataPostUrl, data: {contentId: dataId, contentType: dataType, shareType: dataShareType}, success: function(data) {
if ($('.video-showcase').length > 0) { var $container = $('.video-showcase'); } else if ($('article[data-id="' + dataId + '"]').length > 0) { var $container = $('article[data-id="' + dataId + '"]'); } else if ($('.wt-share-item[data-id="' + dataId + '"]').length > 0) { var $container = $('.wt-share-item[data-id="' + dataId + '"]'); } else { $container = null; }
//var $container = dataType == 'video' ? $('.video-showcase') : $('article[data-id="' + dataId + '"]');
if ( $container != null && $container.length > 0 ) { var $badged = $container.find('.wt-share-badge-' + dataShareType);
var $headerCount = $('.content-header').find('.wt-share-count'), $containerCount = $container.find('.wt-share-count'), value = parseInt($containerCount.html()) + 1;
$container.data('share', value); //$containerCount.html(value);
if ($headerCount.length > 0) { //$headerCount.html(value); }
if ( $badged.length > 0 && (dataShareType == 'facebook' || dataShareType == 'twitter')) { if ($badged.hasClass('is-visible')) { //$badged.html(data); } else { //$badged.addClass('is-visible').html(data); } } }
} }); } } }, '.wt-share-button') }); }