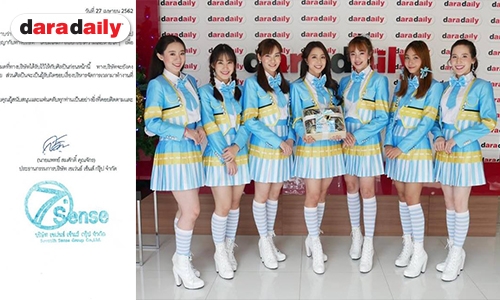 Ota Shock! 7th Sense agency has announced the end of the band's role
It may be called a new young idol group in the past to Seventh Sense That they have their own music "Fixed eyes" Let Ota fans follow each other. What works for girls Always been welcomed by the fans Recently there was a shock to the fans. Know because of the way "Jopphat Sanguansantikun"Band Executives Seventh Sense And Sevenths Group Co., Ltd. and "Khun Pim" Band Manager Seventh Sense Who provoked the girl's idol group Seventh Sense Announced his resignation from the previous Songkran festival In what way Khun Pim"He gave an interview with "Dara Daily" That she is worried about the members Worried about the fans Want to see the band succeed Which band will go to which direction to wait after Songkran
Read the following news:
Open the heart of "Pim," the former manager of the group 7th Sense, decided to announce the resignation of lightning.
Last night, yesterday (April 26), the agency published a letter via Facebook of the band that asked to close the next band, causing several members to comment on the post. What You Do not Know About This Before You Did A Little Drama In case of termination that has not been announced in advance, the "Dara Daily" will encourage the 7th Sense girls to attend on this occasion and if there is any progress, this issue will be hurried to be updated.
There's another story that interests you!
Related news