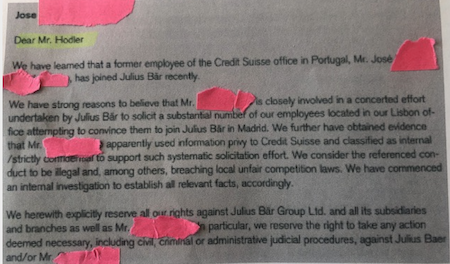 [ad_1]

two
Top CS people threaten Julius Baer boss, Bernhard Hodler, with more weight
Retaliation until criminal proceedings.
he
accompanies the former head of CS Private Banking Portugal
Sit down in Lisbon. This has been since the beginning of the year from – destination
Julius Baer Madrid.
From Spain, the new super bear consultant is working all over Iberia. CS wants to prevent this.
So far, so understandable. Worthy of note is the tone suggested by the CS letter writers who work for Iqbal Khan and his International Division of Asset Management.
They take the heavy club. There is strong evidence that the former employee is trying, in a "joint action", to pilot a "substantial number" of CS employees from Lisbon to Bear in Madrid.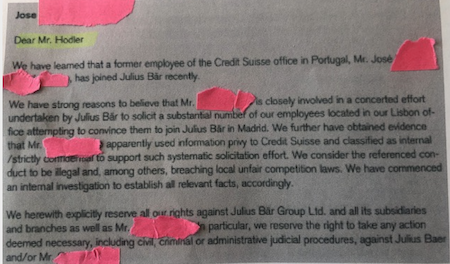 he
would mean "internal / strictly confidential"
use. They have an "internal investigation" initiated,
the two CS subscribers.
Interestingly, the CS letter writers act by the top man Iqbal Khan. The positions on the wish list of CEO of the new president of the bear, Romeo Lacher, to replace the hapless Bernhard Hodler as chief.
The CS will work with the letter in a quick way. He does not leave him for general admonitions, but threatens the Bär-Bank and his ex-banker with serious consequences, "criminal prosecution (…)".
In addition, the CS attackers claim that they put Finma on the case in the photo. The supervisor was informed "in this context".
Neither Bear nor CS wanted to comment. Inside Bär, these pressure tests belonged to the standard repertoire.
CS criminal complaint against Julius Baer, ​​denunciation of bank supervision in Bern: The tone and methods in the Zurich banking center are more difficult.
Gang Wars at the Stopover Camp, Made the Swiss Way Say: With armies of internal and external lawyers doing a thing above all else. They cost.
The letter, personally addressed to Bär CEO Bernie Hodler, shows how nerves in the private banks of the big banks are open. They do not behave more freely and reliably, but they beat wildly around themselves.
Similar postings
[ad_2]

Source link