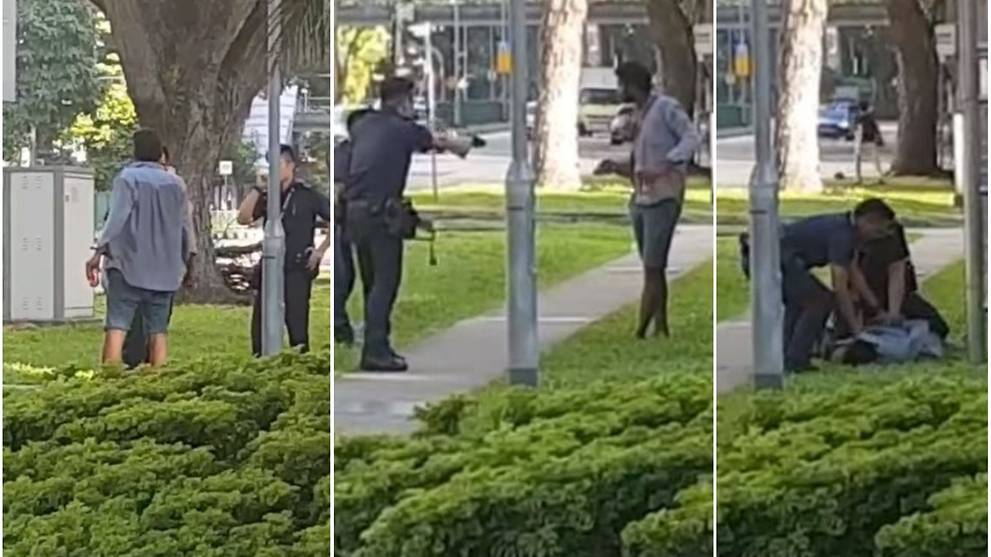 [ad_1]
A 25-year-old man who was filmed filing a clash with police at Everton Park on Sunday (June 9) was arrested for vandalism, among other alleged offenses, police said on Tuesday.
In a video shared on Facebook, the man was seen arguing with two policemen in the park. Shortly after, more police arrived and surrounded him.
The man was then seen attacking an officer, who pulled the staff in response. When ordered to stand up, the man seemed to resist until another officer unloaded his taser and he was arrested.
In a statement, police said they received several 999 calls around 4:45 pm, about a man who was damaging public property and causing disturbance to members of the public at Everton Park in the Outram area.
READ: Woman hijacked by police after attacking neighbor's apartment with helicopter on Christmas day
"For the safety of the police and the public, one of the policemen successfully discharged his taser on the man to incapacitate him," he said.
"The man was subsequently arrested for vandalism, causing hassle while drunk in a public place and using criminal force to prevent a public official from doing his duty."
The man was on bail at the time of the incident and has pending lawsuits for committing an assault with injuries, police said.
Investigations are under way.
[ad_2]
Source link