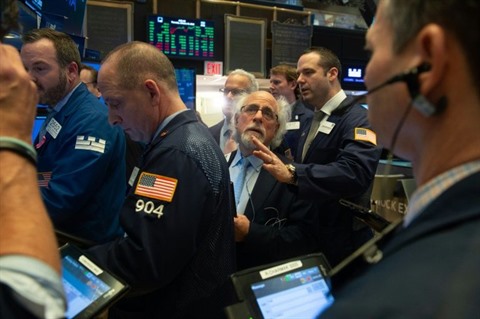 >> Wall Street falls on the fence, sealed by Caterpillar and Nvidia
>> Wall Street backed by results from IBM and United Technologies
Wall Street Affected by Concerns About Global Growth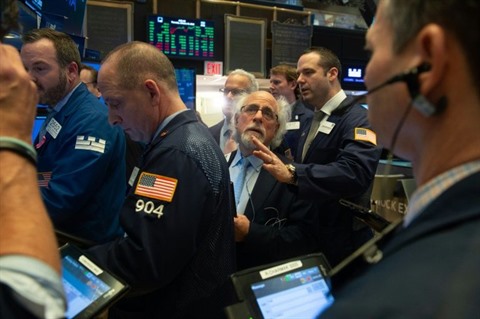 Traders on Wall Street. Photo: AFP / VNA / CVN
According to final closing results, Wall Street's main index lost 0.06% to 24,999.67 points.
The Nasdaq, with strong technological color, took 1.37% to 7,281.74 points.
The broad S & P 500 index also rose 0.86 percent to 2,704.10 points.
Markets first opened very slowly after a corporate results solution, before gradually recovering.
In the ranks of the groups seen after the announcement of their quarterly accounts, Facebook and General Electric stood out particularly, the social network assumed 10.82% and the former industrial conglomerate, 11.65%. MasterCard rose 3.48%, ConocoPhillips rose 3.04%, Mondelez rose 5.59% and UPS rose 4.16%.
In contrast, Microsoft (-1.83%), Visa (-1.88%), PayPal (-3.96%), Qualcomm (-1.30%) and Tesla (-0.57%) were sanctioned.
The fall of more than 9% of DowDuPont following the announcement of conservative forecasts weighed on the Dow Jones.
Despite its decline on Thursday, Jan. 31, Wall Street's main index ended the month of January with a 7.2% increase, the unprecedented one for the first month of the year in thirty years, thanks in particular to the results . globally well-received quarterly companies.
"They are not so bad that some people feared"responded Nate Thooft of Manulife AM.
He also cited the very flexible tone adopted by the US Federal Reserve on Wednesday, January 30, to justify the relatively good health indexes on Thursday, January 31. The Fed explicitly stated at the end of its monetary policy meeting that it would be "patient"vis-à-vis future rate increases.
"More and more observers are now thinking that the next step in Fed rates will not be to increase them, but to reduce them."Thooft noted.
In announcing a clear reversal of what prevailed in December and which provided for "future increasesFed Chairman Jerome Powell has provoked mixed comments from observers, with some denouncingcapitulation"facing the markets while others were falling"caution"of the monetary institute in the face of the economic slowdown.
In the bond market, the ten-year debt interest rate fell to 2.667% at around 21.30 GMT, compared to 2.668% on Wednesday, January 30 at the close and 30 years at 3.000% against 3.032% on the day previous.
AFP / VNA / CVN