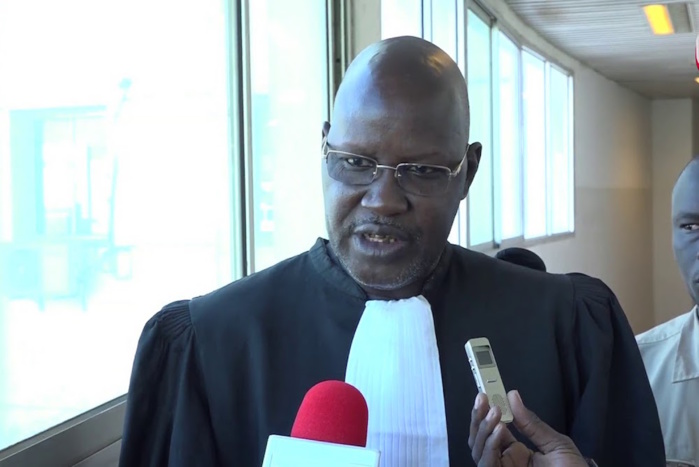 What is your reading of this case of the double murder of Medinatul Salam?
This test is a historical test, an unprecedented test, and a sensitive test. By God's grace, Sheikh Ahmadou Bamba said in Massalikoul Djinaan: "When you knock on the door insistently, it comes in." We insistently knock on the door of justice and end up entering with dignity, with humility. The charges were very heavy and there are seven, so the charges against the accused are very heavy. We look meticulously to place each other's responsibilities, to establish the guilt of each other. I said: Bara Sow and Ababachar Diagne were savages, they were savages and buried. One consultation happened, a nightly meeting was held to split the chores, to protect some and throw the shame at others. We denounce all this before the limit of this jurisdiction.
You also claimed $ 3 billion in damages, is not that a fancy thing?
As our court system allows and allows, I have said that for the heirs of Bara Sow and the heirs of Ababacar Diagne, no amount, however large, can repair the damage done to their families. to his heirs and his assignees. There was a pretium-doloris, we must not forget that Ababacar Diagne was buried alive. It was atrocious! Bara Sow was tortured, violently assaulted. It was painful! It was atrocious! As their lawyer, as their lawyer, because I had the honor to earn their trust, I had to play my score according to our rules, according to the law. Like his megaphone, I asked that the defendants be ordered to pay them in solidium, that is, jointly, the sum of 3 billion CFA francs. In the provocation, I said that these three billion will not be used to make poutie-paathie, but those three billion will be a worthy plate of resistance, a comfortable plate of resistance for those people who suffered injuries, who suffered economic damage, social damages, who suffered psychological and psychological blows, but who continue to live with dignity and honor. The victims left the children at an early age; your future must be assured. But no amount, I said, can repair the damage that was done.
And what do you remember hearing debates?
It hurt when I heard one of Sheikh Béthio Thioune's wives say that Cheikh Béthio is Sheikh Ahmadou Bamba. I said it's going a long way. Sheikh Béthio is not Sheikh Ahmadou Bamba and Sheikh Ahmadou Bamba is not Sheikh Béthio. Sheikh Ahmadou Bamba was much taller, much more spiritual. To say that Sheikh Béthio is Serigne Touba is an offense to the Murid community, it is a lack of respect, it is an offense to Sheikh Ahmadou Bamba, who is not Sheikh Béthio Thioune, whatever respect and consideration I have for him. Sheikh Béthio Thioune can not be Sheikh Ahmadou Bamba and Sheikh Ahmadou Bamba can not be Sheikh Béthio. Each of them has a specific field of application.
What do you expect from justice in this story-making case?
Roughly, and ultimately, we expect our justice to say the right; we hope in our justice that she cares a little about the widow and the orphan. We hope from our justice that it will rehabilitate morally, socially and sociologically Bara Sow and Ababacar Diagne. So the three billion I asked for fit perfectly into what can be called the categorization of pecuniary reparations. I did not make this request out of pure fantasy; I made this request based on the law, the facts.
Requires monetary repair. I could have asked for the symbolic franc, but it would be cheating on my part. It is to betray the confidence of my constituents who have asked me to attack with force, so that such atrocity will not happen again in this country, in this beautiful country, Senegal, where harmony, harmony and life in society are erected. as a rule of principle.
DAKARACTU
Source link