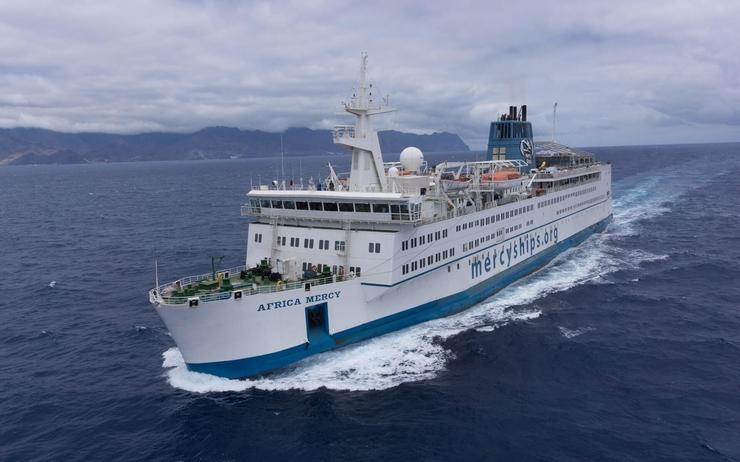 The Africa Mercy hospital ship, which operates along the African coast, is expected in Dakar on August 15 for a period of 10 months. With 400 volunteers on board, surgeons, nurses, mechanics, sailors and other specialists, this ship receives thousands of patients every year waiting for surgery.
According to a recent study, five billion people do not have sufficient access to essential surgical care. A Global Surgery 2030 study shows that in West and Sub-Saharan Africa, 93% of people are without surgical treatment. On average, there are two doctors per 10,000 inhabitants, compared with 32 in Europe, according to the World Health Organization. Life expectancy is only 52 years, compared with 74 in Europe. Since 1978, Mercy Ships has worked with governments and WHO to help meet this challenge.
The purpose of Mercy Ships hospital vessels is not only to meet the immediate surgical needs of the population, but also to offer medical training programs and health infrastructure reforms with the aim of improving health systems in the countries visited.
Mercy Ships is still visiting a country at the invitation of the government: before the ship arrives, the NGO collaborates with the Ministry of Health to define the needs and scope of assistance. to improve the health system. She does all this thanks to her donors.
The Africa Mercy, which is 152 meters long, is expected at the port of Dakar in August. The teams expect to perform between 3,000 and 4,000 surgeries during the ten months of the mission. The NGO offers free medical care in the areas of gynecology, ophthalmology, surgery and dental care.
The Navy of Hope has a team of 400 volunteers from 40 different countries, with 5 operating rooms, 82 beds, a scanner, a complete equipment for x-ray radios and a laboratory.
In its 40 years of existence, Mercy Ships performed 100,000 surgical procedures to treat diseases such as tumors, burns, cleft lip (cleft lip), orthopedic malformations (see video below), cataract …
By Gaëlle Picut https://lepetitjournal.com/
Source link