[ad_1]

Côte d'Ivoire, Burkina Faso and Mali concentrate 73.6% of the volume of operations
As of December 31, 2017, twenty-eight (28) mobile financial services deployments are listed in the Union, compared to thirty-three (33) a year earlier. This offer of services is supported by: 18 (eighteen) partnerships between banks and telecommunications operators; eight (8) electronic money institutions (EMI); two (2) microfinance institutions (MFIs). This is evident in the report released by the Central Bank of West African States (Bceao) at the beginning of April 2019.
The sector, currently characterized by declining partnerships between mobile operators and financial institutions, saw the arrival of new entrants such as MTN Mobile Money in Benin, Orange Money in Burkina, MTN MFS and Sgbci Yup in Côte. Côte d'Ivoire, Ecobank in partnership with the Orange Group in Guinea-Bissau, Bimao ​​and Sgbs-Yup in Senegal, as well as BTCI in Togo, but also the cessation of activities for Sgbci, UBA-CI and Ecobank-CI that were in partnership with the MTN group.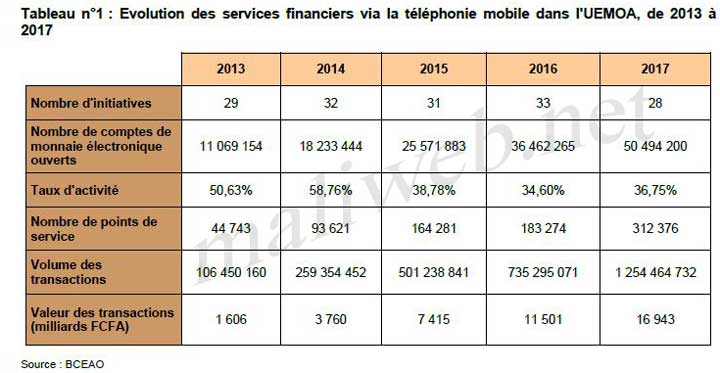 In fact, in favor of the new Instruction No. 008-05-2015, which governs the terms and conditions of the activities of the issuers of electronic money in the member states of the West African Monetary Union (Umoa), several companies of mobile telephony which were in partnership with banks for the provision of digital financial services, have broken their collaboration to create autonomous entities (EMEs), through its subsidiaries whose activity relates specifically to the issue and management of electronic money.
In the year 2017, the number of subscribers of electronic money accounts in UEMOA stood at 50.5 million, against 36.5 million in 2016, an increase of 38.48%. The number of transactions in 2017 was approximately 1,254.5 million versus 735.2 million the previous year, an increase of 70.6%.
Almost 3.5 million transactions were processed on average per day for all mobile payment platforms in the Union, compared to 2.0 million in 2016.
The value of these transactions increased over the review period from 11.501 billion FCFA in 2016 to 16.941 billion FCFA at the end of December 2017. The average daily value of operations is estimated at approximately € 47.1 billion. CFA francs in 2017, compared with CFAF 31.9 billion a year earlier, an increase of 47.6%.
The evolution of financial services can be explained in particular by the entry of new market players, the reinforcement of the acceptance network, the deployment of service points, as well as the communication strategies initiated by the participants, in particular the provision of new services.
Constant development of digital financial services in the Union countries, mainly in Côte d'Ivoire
Analysis of the available data shows that Côte d'Ivoire concentrates a significant part of the activity of digital financial services in the Union. It accounts for 37.9% of e-money accounts, or 19.15 million, an increase of 49.0 % compared to 2016. It is followed by Burkina Faso (13.8%) and Mali (13.5%). ) and Benin (13.0%).
Benin recorded a strong expansion of digital financial services activities, reflected by the growing number of users, which stood at 6.57 million in 2017, compared with 4.35 million in 2016. This trend is also observed in Senegal (5, 38 million against 4.40 million), Togo (2.98 million versus 1.44 million) and Guinea-Bissau (375 833 subscribers in 2017 as against 246 551 in 2016).
The evolution of e-currency subscription remained limited in Mali and Niger. In fact, a slight decline in the number of subscribers was observed in Mali (6.83 million, or -0.56%), in connection, in particular, with the socio-political context observed in Mali. Niger registered a slight increase of 2.8% (2.22 million versus 2.16 million in 2016).
The use of mobile telephony by the financial sector contributed significantly to raising the overall rate of utilization of financial services, which stood at 55.02% in 2017, to a strict 16.99% and increased by 35.88%.
Côte d'Ivoire, Burkina Faso and Mali represent 73.6% of the volume of transactions and 77.8% of the total value of transactions in the Union in 2017, compared to 76.6% and 82.9%, respectively. last year.
ABN Summary
Source: Today-Mali
Mamadou Makadji
[ad_2]

Source link