In a world full of uncertain hours, it is good to find a clock on which the right times can be unveiled. Even if you prefer to take all the risks, to cross all borders and to test the limit of the adrenaline, you like to feel the company of a guide, that gives you the time that the normal world moves. Perhaps this was the first challenge of Carlos Rosillo, when he created in 1992, with Bruno Belamich, Bell & Ross, of which he is president. The attraction for the air is part of his DNA and this soul has been maintained throughout the years, as Rosillo explains: "We are known for the originality, for the uniqueness of our products and for positioning ourselves in the segment of professional and technical watches. Our iconic Instrument model is a key model. When we use a BR01 or a BR03, we feel like we have a cockpit piece on the wrist, which makes people dream.
Bell & Ross was born in the world of historical and military clocks. Delimited your territory, are you thinking of new fields of action? The CEO of the brand dreams better: "Our goal is to create perfectly usable utility parts in a professional way." Our motto is to focus on functional design, which goes to the essence without leaving room for the superfluous. , perhaps the best examples of this concept because they have to answer certain specific questions. They must respond to certain very simple principles: a military watch must be legible at first sight, it must mechanical or quartz, it has to be reliable and extremely solid, and its functionality must be perfect.It is meeting these four criteria that we have created the DNA of Bell & Ross. " And then the design is pivotal: "One of the moments of my pride continues to be the creation of our iconic piece, the BR01. It comes from the very simple idea of ​​turning a clock from a cockpit instrument panel into a wristwatch . "
This connection to the world of aviation is central to the brand, as is visible in the new BR Bird. Carlos Rosillo looks to the future: "Our 2018 collection encourages us to always be 'Watch Beyond'. Driven by creativity, constant pursuit of performance and precision, and flying higher than ever. (pilots, automobile driver, diver), along with other unique models and exceptional parts.At the beginning, the world of aeronautics is an endless source of inspiration.This year we embark on a new adventure: The Aviation Speed ​​Race , with the BR Bird Concept A creative exercise of the creative department of the brand, which designed the BR Bird to be in this event, symbolizing B & R's passion for aviation and creativity, and was the starting point for the creation of two edition watches limited to 999 specimens each: the V1-92 and the V2-94 Racing Bird. We also drew a complication that is the demonstration of our creativity and a perfect illustration of our idea of ​​high rel The BR-X1 Skeleton Tourbillon Sapphire Black. In a deeply changing market, new challenges lie in distribution. Carlos Rosillo is aware of this: "Luxury is always changing, the challenge now is to continue to be bold, and the last example could be the launch of our exclusively sold online parts." Bell & Ross has always been a pioneer in digital and I believe that being a risk taker is the key to success, keeping us always faithful to techniques and manufacturing. "That is how we have become the ultimate reference in instrumental clocks."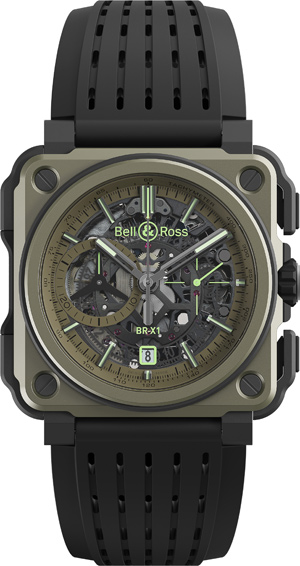 Strategy
Bell & Ross is constantly trying to glimpse the signs of the future. And for that, he draws a strategy, as Carlos Rosillo points out: "Innovation has always remained a linchpin of Bell & Ross's development. Previously, our collections were divided between Aviation (square watches) and Vintage (round watches) The Experimental sector includes our selection of chronograph skeletons, the BR-X1 as well as the Sapphire Turbillon trilogy, our most exciting development this year. " Strong bets for a market that is marked by many equations, such as trade wars and the growing importance of Chinese customers. Bell & Ross CEO: "I think the watch industry and high-end products are under pressure and we are witnessing some changes. We are witnessing a shift to 'Back to Basics' with more traditional products In a global economic climate, not too easy, consumers will tend to focus more on reliable and more affordable clocks, but I think we should paddle the tide and try to fight against this context by being more creative. which we made with the BR-X2 Toubillon Micro-Rotor, the second generation of our X collection, bringing another chapter to our BR saga. " For now, in Portugal, has a different partner (the Torres Distribution). For Rosillo, Portugal is still a young market for the brand and for this reason Bell & Ross needs to communicate its DNA and its history: "Our watches are quite different from the ones the Portuguese usually use on a daily basis. reference in Portugal and a great partner with whom we have shared this challenge for a year. "