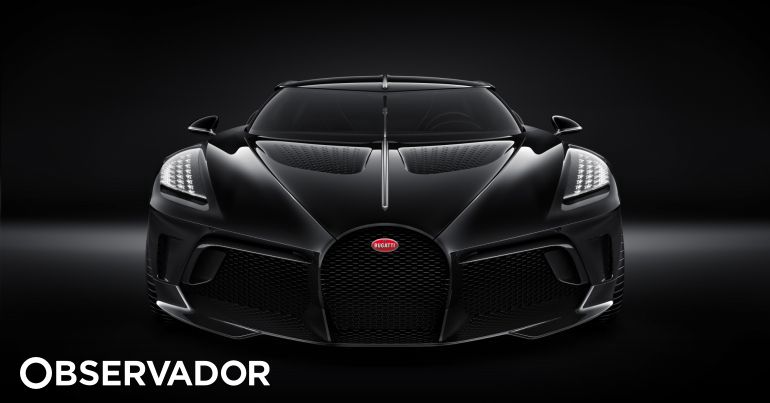 [ad_1]

Bugatti surprised everyone and everything in the last edition of the Geneva Motor Show, presenting a sporty one-off, completely black, which he called "La Voiture Noire". Molsheim's brand made a point of never divulging the name of the buyer who specifically ordered this creation, against the payment of 11 million euros before taxes, to become owner not only of an exclusive car, but also of the one who went to be the most expensive new car in history.
During the show, rumors spread in the corridors of Palexpo that the owner of such jewelry would be Ferdinand Piech, grandson of the founder of Porsche. Information that, however, has never been confirmed. Now, the Spanish newspaper Mundo Deportivo writes that "everything points to the Juventus player", although he assumes that Bugatti still does not pronounce on the buyer of the coupé of two places. That is, it does not confirm … nor does it deny.
Certainly, when he unveiled this unique creation, the brand said that the customer behind the order was not only a fan of the brand, but also an enthusiast "fascinated" by Jean Bugatti's Type 57 SC Atlantic. It is certain (and public) that Ronaldo fits the first premise, being a confessed admirer of Bugatti.
The Bugatti crusader's passion is such that his garage features not only a Veyron, but also the new Chiron – a terribly efficient supercar with production limited to 500 units. Plus, proving that the relationship between the Portuguese player and the French brand is beneficial to both sides, CR7 has even starred in a Bugatti promotional film.
Whether it is Piech, Ronaldo or any other, what is certain is that whoever paid € 11 million to have La Voiture Noire will take home a unique "machine": 1,500 hp of power and 1,600 Nm of torque , extracted from a quadriturbo 8.0 W16. A brutality and a preciousness.
Filter by brand, model, price, power and many other features, to find your perfect new car.
Try it now
function loginGoogle(){ gapi.load('auth2', function () { auth2 = gapi.auth2.init({ client_id: '439313482366-dvdj8tsff9tpi5csb410roen1r9g3m5q.apps.googleusercontent.com', cookiepolicy: 'single_host_origin', }); auth2.signIn().then( function (googleUser) { onGoogleSignIn(googleUser) }, function (error) { console.error(JSON.stringify(error)); })
}); } var reautorize = false; function loginFacebook(){ settings = {scope: ["public_profile","email","user_friends"],return_scopes: true}; if(reautorize){ settings["auth_type"] = 'rerequest'; } if(!document.getElementById("fbsdk")){ //If not loaded, load now, and return now var fbsdk = document.createElement("script") fbsdk.id ="fbsdk" fbsdk.src="https://connect.facebook.net/pt_PT/sdk.js#xfbml=1&version=v3.2&appId=1388666054753245&autoLogAppEvents=1" fbsdk.setAttribute("onload","loginFacebook()") document.body.insertAdjacentElement("beforeend",fbsdk) return; } //if the function did not returned early, it means the script is already loaded FB.login(function (response) { if (response.authResponse) {
var res = response.authResponse; var s = res.grantedScopes.split(","); if(s.indexOf("email") < 0 || s.indexOf("public_profile") < 0 ) { reautorize = true; $("form").find(".error-text.general-error").html('Para prosseguir é obrigatório partilhar o seu endereço de email. Volte a tentar'); } else { // Get and display the user profile data*/ onFacebookLogin(response.authResponse.accessToken); } }else { console.log('User cancelled login or did not fully authorize.'); } }, settings); }
[ad_2]

Source link