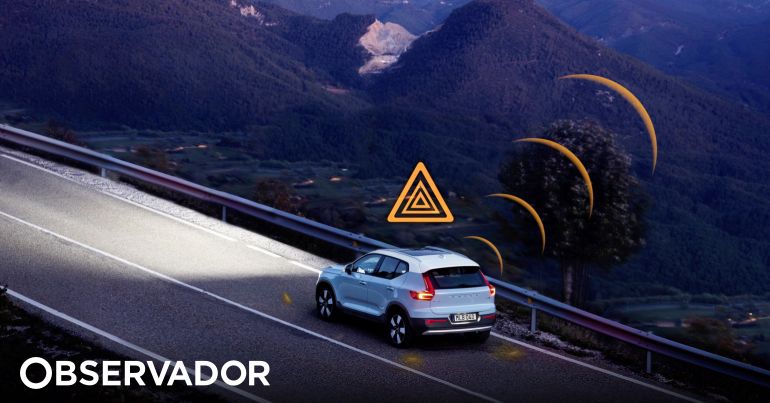 [ad_1]

Volvo wants its vehicles that detect problems, whether they are a sudden lack of adhesion due to the presence of ice, excess of water or oil, to inform the other models of the mark that circulate in the zone that there is danger. This is the aim of the Hazard Light Alert and Slippery Road Alert (HLASRA) system, which Volvo introduced from 2016, initially only on the 90 series models and exclusively in Sweden and Norway.
After the testing phase, the Swedish developer is now determined to extend this solution to other models, built on the SPA and CMA platforms, and to other countries, allowing their models to "talk" to each other, at the wheel where it is essential to be more careful.
The possibility of sharing information between vehicles in real time, through the internet, exchanging data on the conditions of the floor, either because it slides, or because holes or works make the place dangerous, is an excellent solution to increase the safety of drivers. And according to Volvo officials, it is indirectly that the brand drivers themselves are responsible for sharing information designed to increase safety, reduce accidents and save lives.
Compare up to four, among all the cars available in the market, side by side.
Try it now
function loginGoogle(){ gapi.load('auth2', function () { auth2 = gapi.auth2.init({ client_id: '439313482366-dvdj8tsff9tpi5csb410roen1r9g3m5q.apps.googleusercontent.com', cookiepolicy: 'single_host_origin', }); auth2.signIn().then( function (googleUser) { onGoogleSignIn(googleUser) }, function (error) { console.error(JSON.stringify(error)); })
}); } var reautorize = false; function loginFacebook(){ settings = {scope: ["public_profile","email","user_friends"],return_scopes: true}; if(reautorize){ settings["auth_type"] = 'rerequest'; } if(!document.getElementById("fbsdk")){ //If not loaded, load now, and return now var fbsdk = document.createElement("script") fbsdk.id ="fbsdk" fbsdk.src="https://connect.facebook.net/pt_PT/sdk.js#xfbml=1&version=v3.2&appId=1388666054753245&autoLogAppEvents=1" fbsdk.setAttribute("onload","loginFacebook()") document.body.insertAdjacentElement("beforeend",fbsdk) return; } //if the function did not returned early, it means the script is already loaded FB.login(function (response) { if (response.authResponse) {
var res = response.authResponse; var s = res.grantedScopes.split(","); if(s.indexOf("email") < 0 || s.indexOf("public_profile") < 0 ) { reautorize = true; $("form").find(".error-text.general-error").html('Para prosseguir é obrigatório partilhar o seu endereço de email. Volte a tentar'); } else { // Get and display the user profile data*/ onFacebookLogin(response.authResponse.accessToken); } }else { console.log('User cancelled login or did not fully authorize.'); } }, settings); }
[ad_2]

Source link