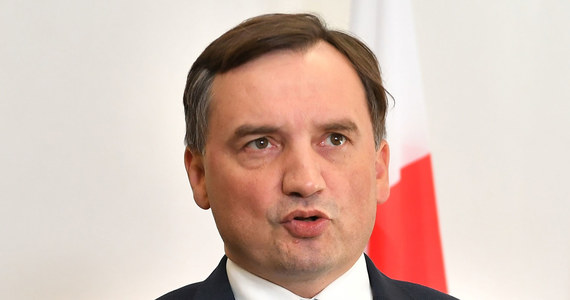 Former Prime Ministers Donald Tusk and Ewa Kopacz must "be certain" before the Court of State – said the Minister of Justice and the Prosecutor General and the Head of Solidarity in Poland, Zbigniew Ziobro. According to him, Tusk and Kopacz knew of the growing VAT deficit during their rule, but did not react.
Minister of Justice and Attorney General Zbigniew Ziobro
/ Maciej Kulczyński /PAP
Rib asked Sunday on TVP Info if former Prime Ministers Donald Tusk and Ewa Kopacz should appear before the State Court, he replied that "they should definitely stay." "As they were aware of the fact that over several years of long years of their regime, the difference in VAT increases year by year, and the only explanation for this situation was the criminal practice associated with deducted VAT," he said.
Ziobro reported that "the analyzes that were in the police reports, the Central Bureau of Investigation, confirmed that they (Tusk and Kopacz – PAP) knew this was happening and did nothing." The minister added that businessmen "already in 2011 wrote letters to Prime Minister Tusk and Finance Minister Jacek Rostowski, pointing to this pathology and nothing – there was no response, as if there was consent, as if there was protection from these criminal groups." . "They knew and did not react. They should answer for that" – emphasized.
The head of the Ministry of Justice also pointed out that Donald Tusk and Platforma Obywatelska did not introduce extended confiscation, ie, as he emphasized, "solutions that I have prepared in 2007 and that we now implement again in 2017 can be used."
He recalled a recent acquisition thanks to these 1.4 billion PLN solutions from a South American drug cartel. "It was possible to take that money during the PO government, but they did not want to," he noted. He noted that "all EU countries had already introduced a prolonged confiscation and for some reason did not want to do so. Similarly, they did not want to see the issue of VAT, and that is reason for reflection" – he said.
An amendment to the Criminal Code on prolonged confiscation, prepared by the Ministry of Justice and adopted in 2017, that is, to shift the burden of proving the legal origin of property to the accused is to attack "economic fraudsters who act against the principles of fair competition" and "prevent profits from illegally acquired property from being reaped". The change introduced, among others the possibility of confiscation of the company if a dangerous crime was committed with its help – money laundering or tax fraud.