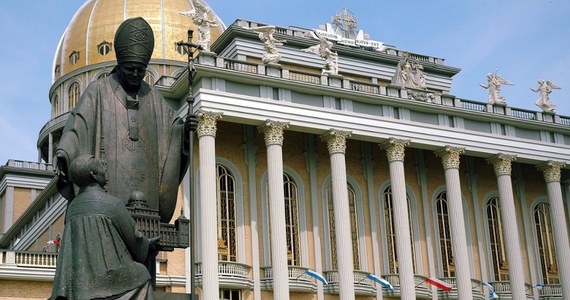 A statue of John Paul II was removed from the basilica at Licheń Stary, where there was also the figure of the former guardian of the shrine of Our Lady of Licheń. The priest's story was presented in the documentary "Just Do not Tell Anyone".
Monument in Licheń
/Przemyslaw Graf /news reporter
Information on the removal of the monument was announced on Tuesday by TVP3 Poznań. The monument represented John Paul II, who from the hands of the guardian kneeling, the shrine of Fr. Eugeniusz Makulski receives the model of the temple. The dedication and inauguration of the monument took place in 1999.
In the film by Tomasz Sekielski, "Just Do not Tell Anyone" cases of sexual abuse of minors by the clergy were presented. In the production appeared, among others, a story about the former guardian of the Shrine of Our Lady of Licheń.
In mid-May, after the film's premiere, the monument was covered by the sanctuary owners with white material. According to the website poznan.tvp.pl, the monument is to return to the location after removing the figured knee priest. Makulski.
In connection with Sekielski's film in May, the Congregation of the Marian Fathers issued a statement on the priest. Makulski, who in the years 1966-2004 was the guardian of the sanctuary. Referring to the accusations made against the priest, the Congregation assured that the reported cases were referred to the Holy See in accordance with the procedure established in ecclesiastical law.
"Father Makulski fulfilled the decisions of the Holy See and, with the decision of the religious superiors, he was removed from any pastoral activity," the Congregation said. "The suffering of the victims of pedophilia committed by the people of the church is filling us with deep pain, nothing can compensate them for this damage" – also stated in the statement.