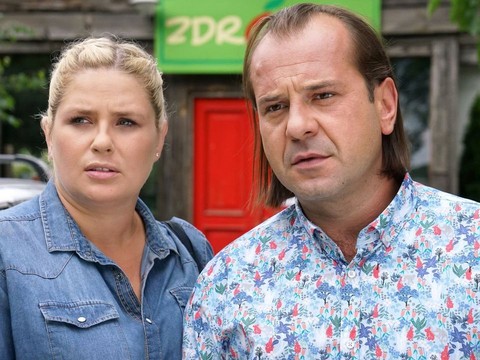 "We have an order to stop him in order to testify about the death of Adam Czapla!"
The case – and the hearing – will be led by Commissioner Dworczyk (played by Marek Szkoda), for whom Boris will be the prime suspect.
– The presence of pentobarbital was found in the body fluids and soft tissues of the denata … Are you saying that name?
– No, first I hear …
"And you do not know it's a substance used during the execution of the death penalty, or … gentle help in the transition to the next world?"
– what? Wait a minute, what do you suggest?!
"The witness says that for some time you were alone in a room with Mr. Czapla …"
– I just wanted to help desperately sick, suffering man!
– How to help?
"Colors of Happiness": What will happen in the series?
– Conversation! I wanted to convince him that he would live, find some meaning, even in this desperate situation …
"So you knew Mr. Czapla did not want to live?"
– Yes, I knew! Your wife told me about it, but so what?
"Perhaps Mr. Czapla asked you for such help?"
"I'm not a killer!"
– It is?
"You are suspected of active euthanasia, because you spent more than an hour with Mr. Czapla on the day of your death."
"He wanted to write a letter to your wife!" He barely spoke, it lasted!
"Without telling the truth, you only make matters worse." Please confess. You will receive a lower sentence.
Aldona will be terrified and the next day she will go straight to Regina (Kamila Kamińska) – surely her husband is innocent, and the murder is planned by Adam's wife.
"You have an alibi because you were not home. You put Borys in it! (…) Everything happened beautifully … Adam was left alone, Boris should come, and you found an excuse to leave the house … You invented!
"Do you really think I could do something like that?"
– Role of Oscar … You played beautiful and perfect wife!
"Boris would never do that!" You're an evil manipulator!
– Aldona, I'll help you, let's get the best lawyer! The court will certainly take exceptional circumstances into account.
– How can you ?! Go to the police and admit the guilt! Only you know the truth!
"It's hard to believe it was Boris, but he was the last person on Adam's. I'm sorry, Aldona. I did not want this.
"You do not put it on!" You will answer for what you did!
Regina finally discovers that Melania (Natalia Łandiewczyk) is one of the prosecution witnesses. A demand for revenge and ready for anything to let her stepmother spend the rest of her life in the cell. Even Boris's false accusation.
"I waited a long time for that day, when you finally pay for what you did to my mother and me!" (…) You're rotting in jail for inciting murder. It's only a matter of time!
Will Grzelak finally prove his innocence and regain his freedom? And who will be the true killer of Adam? We invite you to TVP2! In our gallery you can see photos from the series and watch the production trailer below.
Source link