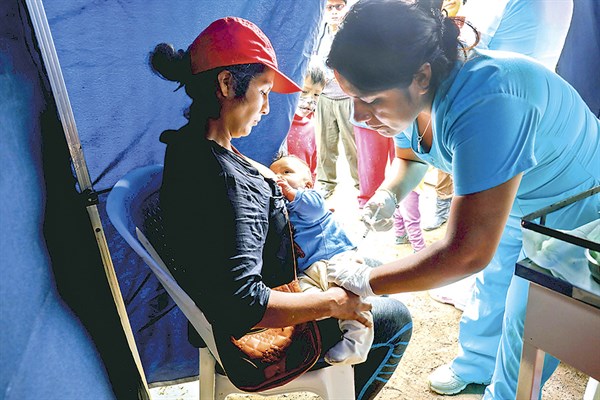 [ad_1]

06/22/2019
Report In the Villa Victoria Porvenir Health Center, in the district of Surquillo, the head of the Cabinet, Salvador del Solar, and the Minister of Health, Zulema Tomás Gonzáles, launch the National Vaccination against Measles, Rubella and Polio, house to house.
Only in Lima should one million 365,222 children under 11 years of age be vaccinated, representing 26.8% of the total number of children to be immunized in the National Vaccination against Measles, Rubella and Poliomyelitis, to protect them from these highly contagious diseases.
The head of the immunization board, María Elena Martínez, urged the population to allow properly identified health personnel to vaccinate their children in their homes against those diseases that can cause permanent disability to death.
"If your child has complete immunizations, he still needs a boost or additional dose to ensure protection and immunization," he said.
He said that this weekend will be vaccinated house by house in the country, especially in areas where not all children were immunized, so families are asked to wait for the arrival of the vaccination brigade, and if they do not, bring their children to health center to be immunized.
The goal, 100%
Minsa reported that the population to be vaccinated is 5 million 100,000 children between 2 and 10 years of age; That is the goal. To date, more than 61% of the target population has been immunized, thanks to campaigns in schools. Today and tomorrow, attention will be from house to house, to reach 100%.
Each year vaccination coverage is 85%, but the remaining 15% leave a cumulative population that would be at risk. Therefore, this year the coverage will be close to 100% to avoid a possible outbreak.
In this first fortnight, immunization focused on the captive population found in educational institutions and health units. In addition, vaccination posts were placed in hospitals; In addition, health centers are vaccinated on Saturdays and Sundays.
Reasons to Vaccinate
Dr. Carlos Castillo, an adviser to the Vice Ministry of Public Health of Minsa, points out that measles, rubella and poliomyelitis have been eradicated from the country; However, the virus circulates in the countries of the region and the chances of being "imported" to Peru are high, especially on the eve of the Pan American Games, which will be opened in Lima in July and mobilize a significant number of people. tourists
The health professional reported that measles is highly contagious and it is sufficient for a susceptible person to contract it, and this, in turn, spreads to others, so that a chain is formed.
Last year, there was an outbreak of this disease in Callao, which required a high cost and effort from the Ministry to control it and prevent it from spreading to other regions.
On the need to cover 100%, he said that in the 2006 campaign, 99% of the population was reached, and this year there should be no problems to complete coverage, since vaccination was addressed in schools and residences, and until 30 to health units.
"They have always told us that we are behind in health, but now we are approaching vaccination. Sometimes people do not care about prevention until they see the danger, and it is difficult to do so," he said. he.
There is more progress in Pasco and San Martín
Dr. Carlos Castillo said that the metropolis of Lima is the priority in vaccination, because here is Jorge Chavez airport, the gateway to the country of tourists, that could bring the measles virus.
The capital is followed by the usual tourist destinations for foreigners arriving in Peru, such as Cusco or Arequipa, among others.
However, as of June 19, the health directorates of Lima Centro and Lima Sur had the lowest progress in vaccinating their children under 11 years of age, with 33.7% and 34.6%, respectively. The national average at that date was 61.7%. On the contrary, the regions that advanced the most are Pasco and San Martín, with 92.2% and 90.5%, respectively.
Prevention
Measles is a disease that can be complicated by respiratory symptoms and can also cause death.
To consider that a child is protected against measles, rubella and mumps should have received two doses of the vaccine.
When the rubella virus infects a pregnant woman, the child is born with congenital malformations, such as deafness, blindness, and also with malformations in the heart, and these are deficiencies throughout life.
PAHO
The vaccines applied by Minsa are purchased from the Revolving Fund of the Pan American Health Organization (PAHO / WHO). This ensures that they meet the high standards of quality.
[ad_2]

Source link