In recent weeks, the Internet Archive Internet Archive has added over 2,500 new MS-DOS games to its archive. The games are free to play and run directly in the browser via a DOSBox emulator.
– Since their original release in 2015, we've added new games here and there to the collection, but this is our biggest update to date and includes everything from small, recent and independent productions to long-forgotten forgotten games from decades ago, writes the Internet File curator Jason Scott in a blog post. It was CNET that first mentioned the case.
Among the titles are classics such as North and South, Alone in the Dark, the first Wipeout version, Monkey Island Secret and more. Previously, games like Discworld, Phantasmagoria and Full Throttle also existed in the library, which must be said to contain something for almost every taste.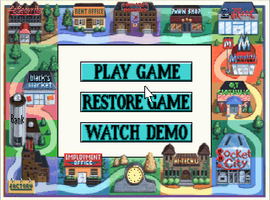 It's not always perfect
However, Scott warns that some of the games may be emulated more slowly than they should, especially on older machines. Some games have manuals, some do not.
Sometimes it can be a challenge to make keyboard commands work because the browser recognizes the command as something completely different.
And games initially released on CD-ROM that require hundreds of megabytes to load into memory can be a test of patience – one cannot always say that Internet Archive servers are the fastest.