Norway will be the first Nordic country to receive voice to text from Microsoft in its own language.
This is largely due to the National Library, which offers Microsoft free access to "thousands of hours of Norwegian transcribed speech," which should have made development much faster than it would have been without.
– Cooperation with, among others, the National Library was decisive for Norway to be the first country in the Nordic region to receive this service, Microsoft writes in a press release.
In Word and Outlook
Speech to text means that the term suggests that a machine can transcribe audio into text, and this must be done in real time. The feature will be integrated with Word, Powerpoint, Onenote and Outlook, reports from Microsoft. It will be free and will be released in October.
By default, the service uses a universal language model built on Microsoft-owned data in the cloud. For use in a specific environment, speech to text can be trained and adapted to acoustics, language and pronunciation to recognize ambient noise or a specific vocabulary, writes Microsoft.
Sayings in other languages ​​such as Swedish, Finnish, Danish and Dutch will follow during the winter.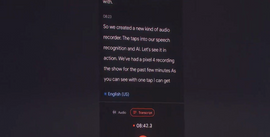 Google transcribes directly to your mobile phone
Speech to text seems to be in the wind for now. Google announced on Tuesday that its new Pixel phones will be able to transcribe audio in real time without using data or hardware in the cloud.
They should have adopted a new model for processing languages ​​that have reduced to such an extent that it can run directly on a smartphone. However, for now, the Recorder app can only transcribe English and is – at least for now – also reserved for Google's new Pixel 4 and Pixel 4 XL.