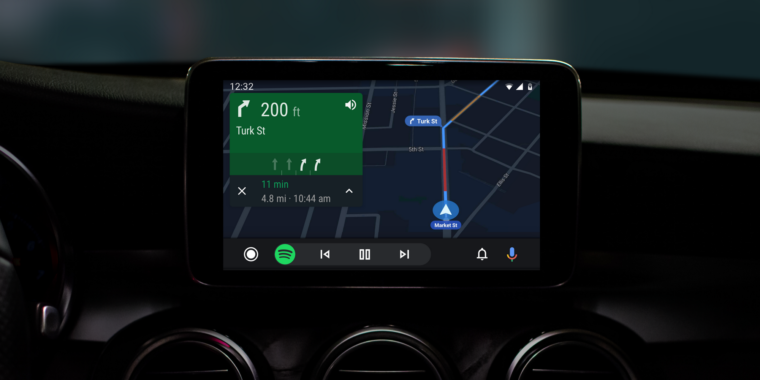 [ad_1]

The new Android Auto. The big change is the system bar at the bottom, which can now show small application controls. Here are the music controls.

With music open, you will receive step-by-step information on the bottom bar.

Google

For reference, Android Auto currently looks like this.

Google

This used to be the Android Auto home screen, but now it's under the "bell" icon.

Google

This is the new home screen, a grid of application icons.

Google

Here is an incoming call.

Google
Google I / O will start later today, but before the big show starts, Google has released an early announcement: Android Auto is getting a new look. The Google update will not arrive until "This summer", but we get screenshots today showing all significant new additions.
Google says "the new interface is designed to help you travel faster, show more useful information right away, and simplify common tasks while driving." In earlier versions of Android Auto, a system bar at the bottom of the screen housed five application icons: Maps, Contacts, Home, Music, and a "car" screen (which did not have much use). The new version removes application shortcuts from the system's navigation bar, and instead transforms them into a mini application bar. There is a "Home" button on the left, notification and voice buttons on the right, and an intermediate section that intelligently displays a small interface from the navigation or your media application. With the Map open, you'll get music controls in. With the song open, you'll see the information for your next turn.
With most application navigation skills removed from the system tray, Android Auto is switching to a tried and tested application grid for application navigation. This app grid is now the new home screen, and the familiar list of notifications and suggestions (the old Android Auto Home screen) now resides under the bell button.
The whole app gets a darker color scheme, and Google notes that it should be more flexible and stretched to fit in more car screens properly. Google also mentions that Android Auto will now start playing media when you first start the car and start the chosen navigation application.
Android Auto usually takes a long time between upgrades, and one big reason for this is the legal bureaucracy that comes with updating an infotainment system for cars. Google needs the approval of various government security agencies around the world before it can be implemented, so pressing any new code is a big nightmare.
Google is sharing these screen shots before Google I / O, which should have a bit more information about the new Android Auto UI. Although all this refers only to the Android Auto application, which requires a connected Android smartphone and a compatible car, we also expect to know more about the integrated version of Android Auto (sometimes called Android Automotive), which will be installed directly on the hardware Of car.
We'll keep an eye out for more Android Auto news and leave you with Google's new promotional video:
Listing image by Google
[ad_2]

Source link