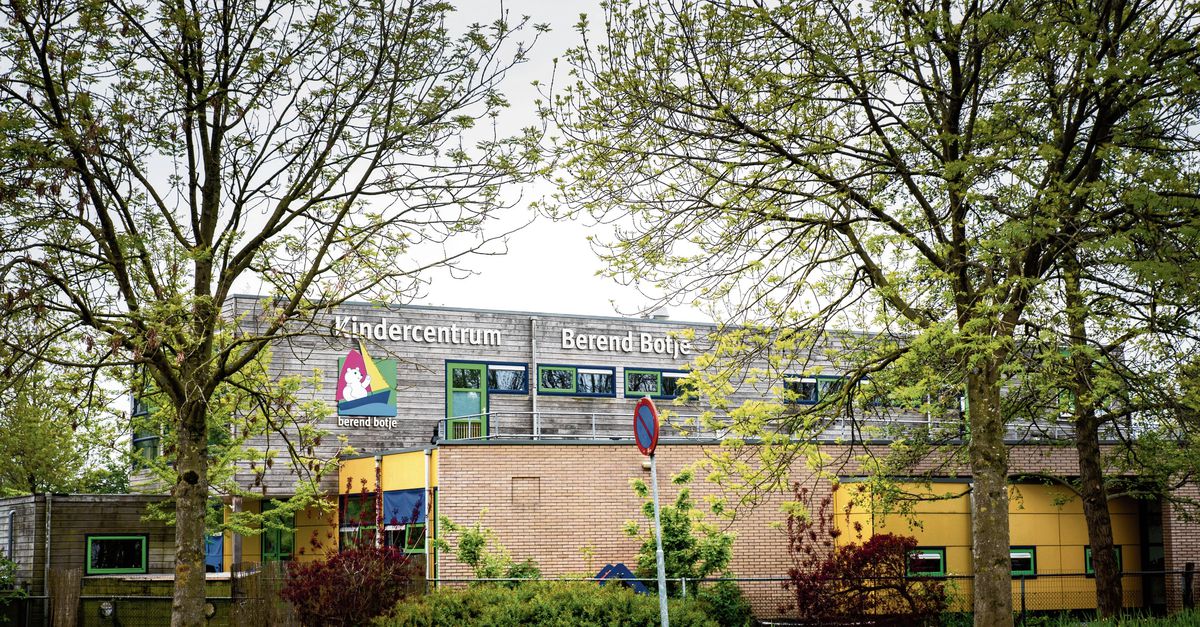 [ad_1]

It is very quiet at any time in the Berend Botje crèche in Edam. Most children and babies sleep around noon. The building is surrounded by shrubs with aromatic herbs, football is played in the distance. Lennard Steur, from Volendam, parks the car on the sidewalk. He is the only one who now comes to get his daughter, Mylène (almost 2). She was completely vaccinated. Since October she has come to this kindergarten. Her parents did not think about this vaccination, says her father. "We have just entered the mill."
This is convenient for Mylène: she can stay in the nursery. Because Berend Botje, with 3,100 children, announced this week that children who were not vaccinated against mumps, measles and rubella will be sent out as of July 1. They are no longer welcomed in places where children under the age of fourteen are. Only after fourteen months can babies have a chance at BMR. Before that, they are vulnerable to infection by unvaccinated older children.
"Measles is getting closer and closer, and the government is just waiting," explains Alien Alberts, general manager of child care Berend Botje. The shelter, therefore, decided to take care of itself. Parents were informed by letter about the new policy Tuesday night. About 10 parents are not satisfied with the news, Alberts says. "One parent wants to cancel, some will still vaccinate their children, and some will still not know." She says the vast majority of the answers are positive.
Decreasing vaccination rate
The number of measles infections is increasing worldwide, according to preliminary data published by the World Health Organization in April. The number increased 300% in the first three months of 2019 compared to 2018. According to the National Institute of Public Health and Environment (RIVM), there were 18 confirmed cases of measles until Monday, April 15. That's a lot: on average, there are 10 to 20 infections in a whole year.
According to the RIVM, a contagious disease such as measles can already spread if more than five percent of the population is not immune. When many people have been vaccinated against infectious diseases, the small group of (not yet) vaccinated people is also protected. This is called group protection. It only works if the vaccination rate – the number of vaccinated infants and children – stays above 95%. By 2014, the vaccination rate was 95 percent, but by 2017 that percentage had already dropped to 90.2.
Read too: Smart or unhealthy? There is also discussion about vaccination in the classroom


All children on the Edamse site are "safe," says assistant supervisor Joyce Brokman. She herself is in the vertical group, the class of children from zero to four years. There are also separate groups of babies and babies and there is after school care. "Children of all ages mingle here," says Brokman. "On a busy day, we have about one hundred and fifty children." Before deciding to deny unvaccinated children, parents were also requested when they registered to have their children vaccinated. "You want to check it out anyway. Diseases such as mumps and measles are very contagious, especially for children under fourteen months."
Last year, D66 introduced a bill that allows day care centers to refuse unvaccinated children. Private companies may, in fact, turn down children, the State Council said on the project. But they are limited by the right to equal treatment and protection of personal data. The limit is not yet clear, says Roland Pierik, an associate professor of philosophy of law at the University of Amsterdam and a member of the Health Council's vaccination committee.
Discrimination
In the letter to parents Gaby Alberts, Pedagogical Director of Childcare Berend Botje, writes that the decision was taken to protect children against the spread of disease. The chance of this would be greater now that the vaccination rate has dropped. According to Pierik, this motive is important for the legal justification. When a parent goes to the Dutch Institute for Human Rights, he or she will test whether the goal is legitimate. Alien Alberts, managing director, said he feared no legal issues. "We do not discriminate, we only value the protection of small babies." According to our lawyer, this is permitted.
Read also the interview with the philosopher Roland Pierik: "The discussion on vaccines is asymmetric, it frustrates me immensely".


But the reception does in fact discriminate, according to Anne-Marie van Raaij-Schouten of the Dutch Critical Pricking Association. She knows one parent will take legal action. "And there are other parents who filed a complaint with the Children's Ombudsman and the Faculty of Human Rights."
But do infants less than 14 months old not get sick faster when playing in a daycare center with older, unvaccinated children? Not according to Van Raaij-Schouten. "Children can be infected anywhere: for example, in the ball pit or when they go on a long journey."
BOinK President Gjalt Jellesma, the association for parents in childcare, considers the childcare measure "understandable". He would rather see the issue settled on a different battlefield. "That should be decided in the House of Representatives." He believes he must do everything in his power to increase the national vaccination rate to 95 percent. "We have to rely on science, not anti-vaxxers." With the current vaccination rate, children are still at risk of infection outside day care, says Jellesma. "Often children spend only two days in a day-care center, the other five days may incur something else somewhere, and you can easily become infected in schools."
[ad_2]

Source link