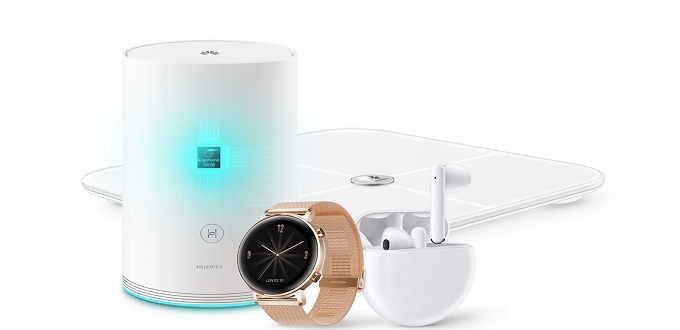 The range of Huawei products to be marketed in Morocco will offer an even more successful and intelligent user experience that will be articulated around the widespread use of AI.
Smart devices have become increasingly powerful tools, capable of providing users with increasingly attractive and successful experiences. With the advent of the intelligent era of "all scenarios", consumers are beginning to access ever more complete and immersive new experiences. In the "all-connected" era, Huawei has become one of the smartest smartphone providers that can deliver these experiences to its customers. To do this, the brand has a complete set of features including chips, devices, cloud services and network connectors. Today, Huawei is the only vendor in the industry to deliver end-to-end 5G systems. With these strengths, Huawei, as the true pioneer of 5G, can now deliver a particularly smart and inspired experience for consumers around the world.
Huawei's strategy, especially in the age of hyper-smart, connected hardware, is based primarily on providing smartphones, but also on wearable devices, smart homes, vehicle Internet, smart offices, cloud services. and immersion communications. In line with its global vision, Huawei Consumer Business Group aims to provide consumers with a smart experience at all levels, including in specific areas such as health and fitness.
Over the next ten years, the most tangible change that will take place on the technological front will be the "Internet of Everything", but also that of natural interactions. Artificial intelligence (AI) is also redefining the deep consumer experience. Huawei believes AI is the premier accelerator for tomorrow's world building that will be fully connected and intelligent. It must be said that the development of artificial intelligence technology has entered a new era.
Huawei's goal is to be able to produce an intelligent lifestyle in any situation that is based on artificial intelligence technology but also on creating an intelligent industrial ecosystem within an open platform.
The strategy requires the establishment of a digital world where everything will be connected, be it main (smartphones) or secondary portals (tablets, personal computers, portable systems, speakers, entertainment and entertainment systems). , etc.) and IoT devices (including lighting, security, audio and video, etc.).
Today, Huawei's smart solution for all scenarios extends to areas as diverse as mobile offices, sports, healthcare and travel.
Huawei's upcoming products in the Middle East and Africa will include a wide range of devices, including HUAWEI WATCH GT 2, HUAWEI FreeBuds 3, HUAWEI Smart Scale, and HUAWEI WiFi Q2 Pro.
HUAWEI WATCH GT 2: Your Smart Companion
The recently launched HUAWEI WATCH GT 2 announces Huawei's next generation of smart watches. The HUAWEI WATCH GT 2, powered by the Kirin AI processor, is able to provide users with a perfectly intelligent pulse experience and make the technology even more affordable.
Available in two sizes (42mm and 46mm), the HUAWEI WATCH GT 2 is Huawei's first smartwatch to be equipped with a 3D glass screen, offering a wider and more immersive screen. The new smart watches also incorporate features such as Bluetooth calling and music playback. In addition, the smartwatch has longer battery life (can last up to two weeks without recharging) with heart monitor features and call notifications enabled. For its part, the HUAWEI WATCH GT 2 42mm series battery is capable of continuous non-stop operation without recharging for one week. Both watches have seen their battery life significantly improved, even in sport mode and GPS tracking mode.
The HUAWEI WATCH GT 2 is equipped with technologies that can accurately read and examine the health and fitness of the person wearing the watch. The smartwatch has a feature called HUAWEI TruRelax ™ that reads HRV (heart rate variability) values ​​and provides feedback on the user's stress score. Thanks also to HUAWEI TruSleep ™ 2.0, it is now possible to analyze and monitor your own health according to the sporting activities you perform, as well as your heart rate frequency and sleep quality. . HUAWEI WATCH GT 2 is the perfect tool for a more balanced and intelligent life.
HUAWEI FreeBuds 3: Listen to songs like never before
Audiophiles around the world are very demanding when it comes to headphones. HUAWEI FreeBuds 3 utilizes advanced smart features to meet all these requirements while creating extremely subtle bridges between aesthetics and functionality. Thanks to Huawei's Kirin A1 processor, the HUAWEI FreeBuds 3 is small and housed in a round box, designed to fit comfortably in your pocket and easily fit in the palm of your hand.
In addition, the noise reduction algorithm enables HUAWEI FreeBuds 3 to effectively reduce ambient noise for a high quality listening experience. HUAWEI FreeBuds 3 are also the first TWS headsets that can support call noise reduction by accurately removing all other noise in real time. The FreeBuds 3 case features wireless charging and reverse charging (wireless) with compatible smartphones.
Thanks to its very low power consumption, the HUAWEI FreeBuds 3 is able to provide four hours of playback time on a single charge, but also a range of up to 20 hours when used with a charging box.
HUAWEI Smart Scale: The Smartest Way to "Follow Up"
Designed to help you maintain your health, HUAWEI Smart Scale is the smart way to keep track of all your body values. Able to read up to 9 body data in a single detection, the HUAWEI Smart Scale will help you track your weight, body fat percentage, basal metabolic rate, BMI, water body weight percentage, your weight, your muscle mass, your bone mass, your protein levels, etc. This is all possible thanks to the presence of a very high precision BIA chip (bioelectrical impedance analysis), but also 4 sensors at 360 ° for accurate and practical measurements.
In addition to helping users keep track of their body's evolution, HUAWEI Smart Scale also incorporates other features such as a smart alarm clock, personal trainer and various easy-to-use applications.
HUAWEI WiFi Q2 Pro, the new home Wi-Fi system, was recently unveiled. Home to cutting-edge technologies such as Huawei's Gigahome 5630 gigabit PLC chip, low-power SVN chip and innovative PLC Turbo technology, the HUAWEI Wifi Q2 Pro promises uninterrupted connectivity throughout the home. , with even faster transfer speeds, better connections and even lower latency.
In addition to increasing network performance, the HUAWEI WiFi Q2 Pro is also capable of boosting weak signals. Built on a plug-and-play system, this router constantly connects users to the strongest signal access point and frequency range, optimizing Wi-Fi channels to ensure consistently reliable and high-performance connections. the whole house.