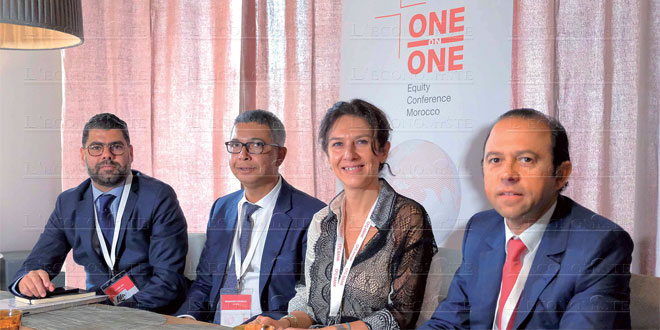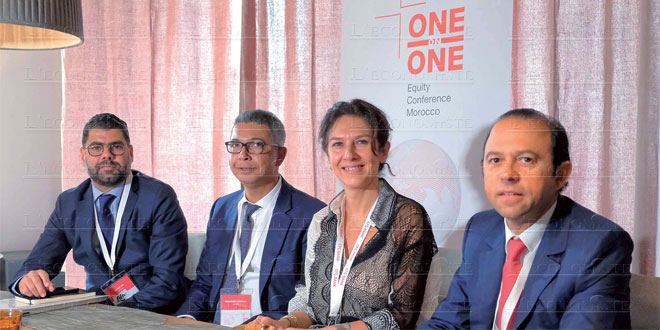 The CFG Marché and CFG Bank teams have mobilized to allow foreign investors to form an opinion on the strength of Morocco's listed companies and their growth prospects. Above left, right, Bachir Tazi and Mohamed Essakalli, respectively DGA and CEO of CFG Marché, alongside Souad Benbachir and Younes Benjelloun, Directors and CEO of CFG Bank (Ph. Mokhtari)
Successful challenge for the 6th edition of the CFG Bank Individual Share Conference. The promoter has scheduled 500 meetings in Marrakech in two days, putting several investors and issuers in touch with direct and detailed exchanges. A seduction operation that CFG Bank organizes every year to showcase the potential of the Casablanca Stock Exchange, Tunis and the West African Regional Stock Exchange.
As a reminder, CFG Bank enjoys a unique position with foreign investors who trust more than 40% of volumes processed in Casablanca's financial center. For the sixth edition of one-on-one, dozens of international finance representatives and listed companies, carriers and domestic investors responded to the call. In total, 45 of the largest investors made the trip to Marrakech and 30 Moroccan investors.
The meeting ahead attracted twenty Moroccan issuers, including Attijariwafa, Al-Maghrib Bank, BCP, CIH, BMCE Bank and also Maroc Telecom, Cosumar, Mutandis, Lesieur … From Tunisia, the CFG Bank submit three transmitters.
Delice Holding, Lilas and Unimed. In addition to their vocation to give foreign investors visibility on the Casablanca Stock Exchange as a hub in Africa, these individuals have the ambition to allow foreign investors to form an opinion on the strength of listed companies and their growth prospects, says Souad Benbachir. , ADG of CFG Bank.
Since the beginning of the year, the market has been stable, with valuation levels close to regulatory levels and profit growth prospects for 2019 and 2020, according to analysts at CFG Bank. And some values ​​have very interesting growth profiles, they say. Like HPS, Label & # 39; Life or Marsa Morocco. CFG analysts also remain very optimistic about the behavior of Attijariwafa bank and Maroc Telecom.
Badra BERRISSOULE
Source link