[ad_1]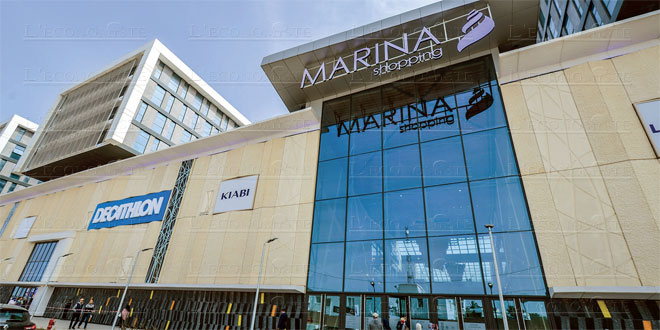 Located between Boulevard Almohades in the South and the Atlantic Ocean in the North, Marina Shopping aims to create a junction between the new living and working space that is the residential and business district of "Casablanca Marina" and the rest of the city with the ancient medina (Ph.F.Al.Nasser)
A shopping center, 4 office towers, food court, parking … The Marina Shopping Center officially opened its doors on Wednesday, April 17th. Casablanca is enriched by a new shopping destination, with no less than 147 banners, 34 restaurants, 1,400 parking spaces, all in the city center.
Convenient by car, bus, taxi, train (the Casa-Port station is not far) or simply walking, Marina Shopping is strategically located between the port and the Hassan II mosque.
It offers its visitors the choice between several signs of services, DIY, ready-to-wear, catering, leisure areas, SPA … not to mention the Marjane hypermarket. Marina Shopping is aimed at the public of Casablanca, as well as the surrounding towns and tourist clientele that passes through the economic capital.
By positioning the new mall is accessible to all socio-professional categories (including B and C). The visitor will find there a diverse mix of national and international brands known by Moroccans, to which are added brands that are being established for the first time in Morocco.
Visitors to Marina Shopping will find a wide variety of brands (including Electroplanet, Kiabi, LC Waikiki, Defacto, Virgin, Collin's …). It is also the first location in a mall in Morocco for Decathlon and Brico Déco. Added to this offer, for the first time in Morocco, international brands like Flo (shoes), 361 ° (sports articles) …
Lovers of culinary breaks will not be left behind with a food court (McDonald's, Burger King, Pizza Hut, Conico, Ciocolati Italiani, Barbera …) and terraces overlooking the sea. Marina Shopping required an investment of more than 1, 3 billion DH.
In addition to the commercial center (43,000 m²), the site has 4 office towers (20,000 m2), parking on 2 floors with a total capacity of 1,400 seats. Marina Shopping is the result of a joint venture between two national players in commercial and rental properties. They are Marjane Holding, a 60% stake in Marina Shopping, and Foncière Chellah, a subsidiary of CDG, which owns 40%.
The accessibility of the new shopping center, however, represents a problem. The construction of the Almohades funnel (with its many amusements) makes the traffic chaotic in the neighborhood. Visitors wishing to discover the new center this weekend will have to wait patiently. An effort should be made to smooth traffic in the area and improve signage. Especially because the traffic in the city center is not easy.
Aziza EL AFFAS
[ad_2]

Source link