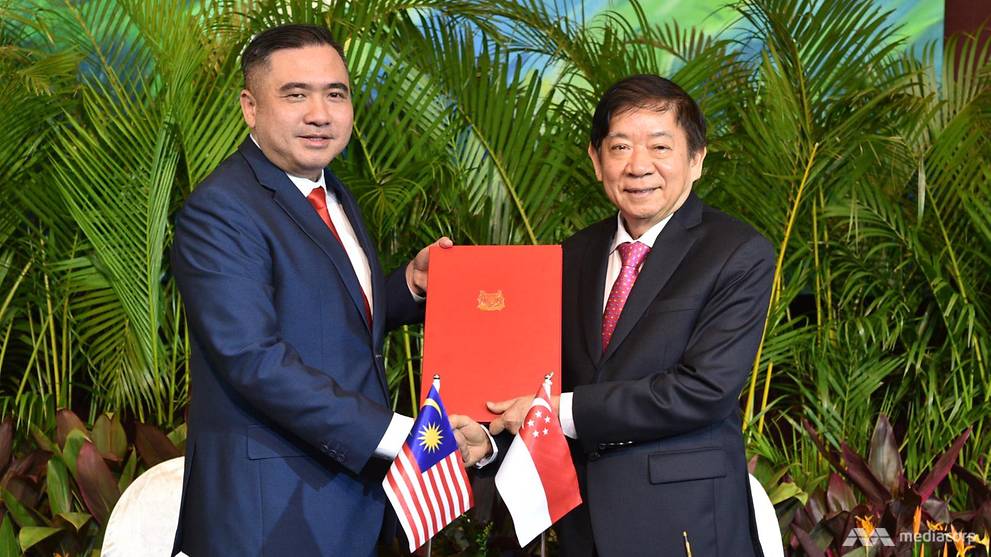 [ad_1]

SINGAPORE: Singapore has agreed to suspend construction of the Johor Bahru-Singapore Rapid Transit System Link (RTS) until September 30 at the request of Malaysia. Malaysia will also reimburse Singapore for its aborted costs – about $ 600,000 – due to the suspension, Singapore Transport Minister Khaw Boon Wan told a news conference with his Malaysian counterpart Anthony Loke on Tuesday. May 21).
The suspension and repayment were formalized in an additional agreement signed between the two governments on Tuesday.
Khaw said that after several rounds of discussions, the two sides reached a "mutually acceptable agreement" on the way forward.
During the suspension period, Malaysia will decide if it intends to proceed with the RTS Link project as it is. Malaysia may also propose changes to the project scope, and Singapore will give those changes due consideration, he added.
READ: Johor Bahru-Singapore RTS link & # 39; is not progressing well & # 39 ;, Malaysia missed deadlines, says Khaw

"We expect the RTS Link project to resume at the end of the suspension period – either in its current form as prescribed in the bilateral RTS agreement or incorporating any changes in the project scope that both sides agree upon during the suspension period," said Khaw. .
Otherwise, the project will be considered terminated by Malaysia, and Malaysia will reimburse Singapore for the costs incurred in fulfilling its obligations to RTS Link so far, he said.
Commenting on the abortion costs of S $ 600,000, Khaw said that these are costs incurred by Singapore that can not be recovered even if the project is restarted, such as the money spent on the Woodlands North construction site.
Mr. Loke has revealed that abortion costs must be paid by July 31.
If Malaysia decides to terminate the RTS Link project, Khaw said the cost incurred by Putrajaya would be about $ 66 million.
The RTS Link, which connects Bukit Chagar at Johor Bahru to Woodlands in Singapore, should carry up to 10,000 passengers per hour in each direction.
The project was scheduled to be completed in 2024, but is now behind schedule with Malaysia, repeatedly delaying confirmation from its joint venture partner.
At the press conference, Khaw said the suspension of the project would delay the completion date by "a couple of years".
Asked if Malaysia plans to cancel the project, Loke said Putrajaya does not want to "jump the gun now" and will use the next four months to discuss various options.
"We do not want to rule out any possibility and I do not want to say that we will close the project … We really hope that the project will continue," said the Malaysian minister.
However, he noted that the cost of the project is a "great consideration." He said that if the cost could be reduced, passengers could enjoy more affordable fares.
Mr. Loke also said that Malaysia wants to see how the private sector can play a role in the project from now on.
BOTH SIDES RECOGNIZE THE NEED TO RELIEVE CAUSEWAY CONGESTION
In a joint statement, both ministers said they recognized the "urgent need to alleviate traffic congestion at the Causeway of Johor Bahru-Singapore," which facilitates about 300,000 cruises daily.
"Malaysia and Singapore will also continue to discuss other affordable and sustainable solutions to address border traffic congestion. We will also explore new initiatives, including the use of new technologies for greater security and checkpoint efficiency," he said. the statement.
"Ministers noted the importance of both countries to establish efficient, sustainable and cost-effective transportation interconnectivity as it will foster closer ties between people and generate shared economic and social benefits," he added.
Posting on his Facebook page, Khaw said the suspension is a "temporary setback."
"I remain optimistic that the project can be resumed in due time. Cross-border congestion is real and only a decisive project like RTS can make a material difference to the current situation. "
READ: Singapore, Malaysia, affirms commitment to cooperative, future-oriented bilateral relations
Under a bilateral agreement signed in January last year, a joint venture formed by SMRT of Singapore and Malaysia's Prasarana of Malaysia should have been formed on June 30 of last year.
The joint venture company should also have been appointed as the RTS Link operator by way of a Concession Agreement with the Singapore Land Transport Authority and the Malaysian government until September 30, 2018.
Both landmarks were lost. Malaysia then requested an extension until March 31 to confirm its joint venture partner.
Earlier this month, Putrajaya said he requested a six-month extension from Singapore before taking a decision on the RTS. This will allow the Malaysian government to address a number of issues, including the cost of implementing the project, Loke said.
READ: Sultan gives consent to hand over land to Johor-Singapore RTS project
Singapore expressed its understanding for Malaysia's position and both attorneys general were tasked with drawing up a supplemental agreement to give effect to the suspension, similar to the suspension process of the Kuala Lumpur-Singapore high-speed rail link.
[ad_2]

Source link