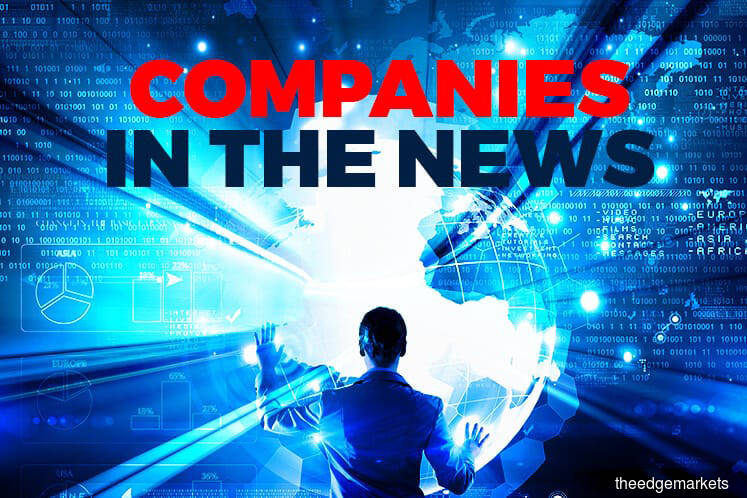 KUALA LUMPUR (Oct. 8): Based on today's corporate announcements and news flow, actions on focus on Wednesday (Oct. 9) may include: MSM Malaysia Holdings Bhd, Fraser & Neave Holdings Bhd (F&N) , Kluang Rubber Co (Malaya) Bhd, PRG Holdings Bhd, Axis Real Estate Investment Trust (Axis REIT) and Mi Technovation Bhd.
MSM Malaysia Holdings Bhd, a 51% subsidiary of FGV Holdings Bhd, is selling 4,453.92ha of land in Chuping, Perlis, to Fraser & Neave Holdings Bhd (F&N) for RM156 million. MSM said it will use the proceeds from the sale to repay bank loans and working capital.
The sale price is an 18% discount on the market value of the land.
MSM said it believes disposal is in the best interest of the group as land generates negligible revenues but requires unsustainable financial commitments due to the high operating costs of maintaining plantation activities.
Kluang Rubber Co (Malaya) Bhd proposed a special dividend of five sen per share for the year ended June 30, 2019 (AF19), in addition to a first and last one-year dividend.
The company said the dividends are subject to shareholder approval at the next annual general meeting.
They will be paid on January 6, 2020 to shareholders whose names are on the depositors' register at the close of business on December 12, 2019.
PRG Holdings Bhd, which is primarily engaged in the manufacture of belts, furniture components and other fabric items, as well as real estate, is now venturing into the timber export business as a way of diversifying its revenue stream amid an economic downturn.
The deficit group said its financial performance has been volatile due to declining sales of its elastic fabric and belt products, as well as a slowdown in Malaysia's construction and real estate construction industries.
Today, the group secured shareholder approval to buy two teak plantation lands located in Kelantan, measuring 364.79 hectares and worth RM89.2 million from Alifya Forestry Sdn Bhd.
Axis Real Estate Investment Trust (REIT axis) is buying a property in K-Plastics Industries Sdn Bhd's Nilai industrial area for RM50 million. The acquisition will be added to Axis-REIT's distributable revenue and will allow the fund to strengthen its portfolio of industrial properties.
The leased land, with a gross floor area of ​​246,500 square feet, houses a one-story factory with an attached two-story office. It is currently being used for the manufacture and sale of plastics and packaging products.
The proposed acquisition of the property is expected to contribute positively to the fund's results for the year ended December 31, 2019 (FY19), after the expected completion date of the end of 2019.
Mi Technovation Bhd proposed a bond issue of up to 250 million new shares based on a bonus unit for every two existing shares held, to reward shareholders of the semiconductor assembly equipment solutions provider.
The proposed bond issue is not expected to have an effect on Mi Technovation Group earnings for the year ended December 31, 2019 (FY19).
However, there will be a corresponding dilution in Mi Technovation Group earnings per share for FY19 as a result of the increase in the number of Mi Technovation shares in question resulting from the proposed bonus issue.
Source link