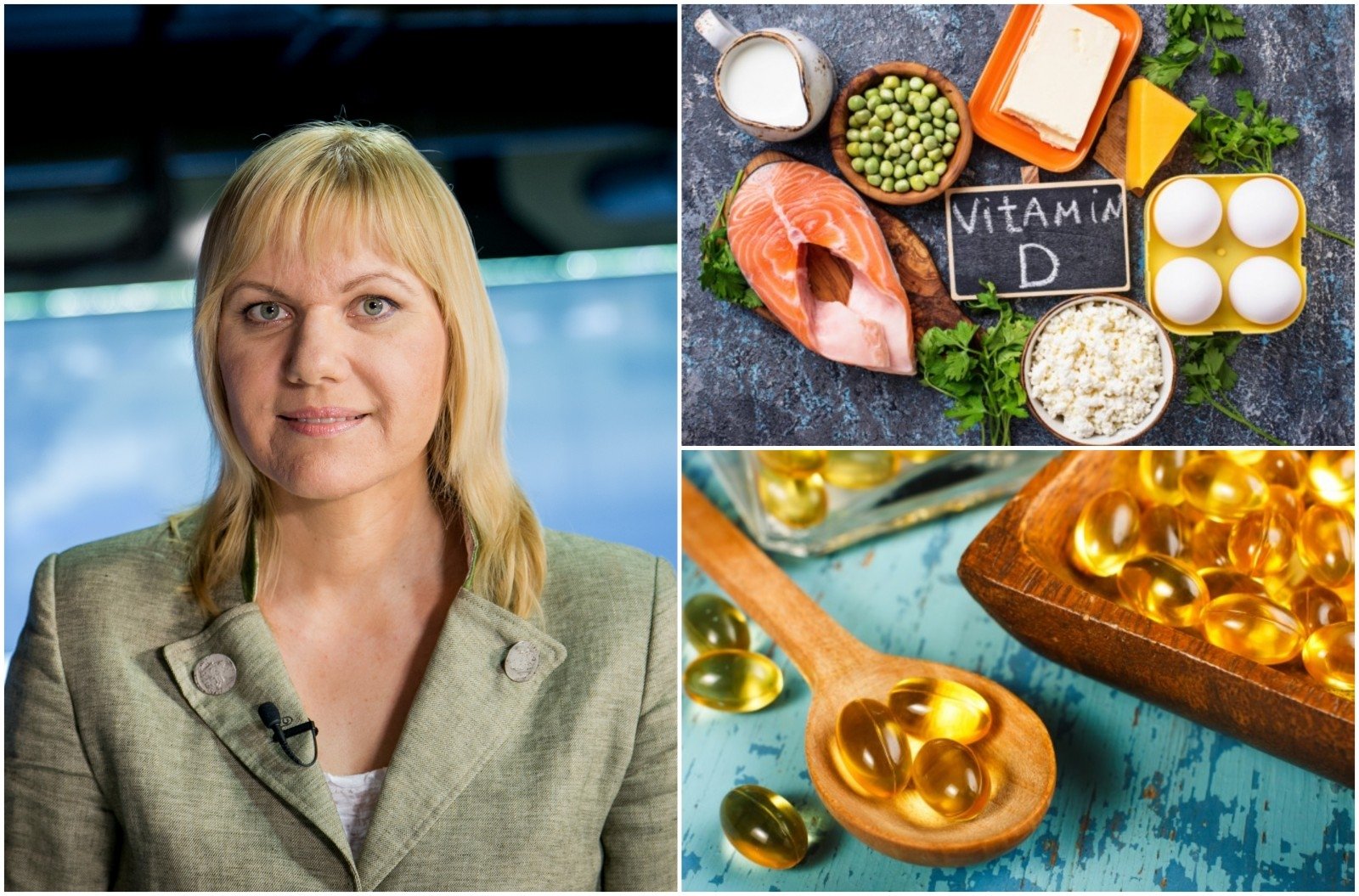 What? Dr. Dietitian of Kaunas Clinics said at the conference "Plant Nutrition – Challenges and Solutions" organized by the Dietitian Society of Lithuania. Ruth Petereit.
In Lithuania, at least 80 percent of the population feels
According to doctors' recommendations, the rate of vitamin D in the body is 75 nanomolar per liter. According to nutritionist dr. Rūta Petereit in Lithuania only about 20%. the population reaches this threshold.
"Research shows that people living in Europe usually find up to 49 nanomoles per liter in the blood, and in Lithuania about 80%. people have vitamin D deficiency, "says the doctor.
"It is important to achieve 75 nanomoles per liter. From what I see in practice, I can say that one in five patients has this rate, but only one in five. Most of the time, the vitamin D concentration is less than 50 nanomolar per liter. "
According to her, the elderly, as well as diabetics, suffer more frequently from vitamin D deficiency.
"The most risky groups are those over 50, overweight people, babies." Chronic diseases, osteoporosis also has a vitamin D deficiency, "- says Dr. R. Petereit.
Bone-related diseases are just the tip of the iceberg
It is widely known that vitamin D deficiency is a direct risk factor for bone diseases, such as osteoporosis. Less often we can hear about other areas. Vitamin D is essential for the proper functioning of the heart, cardiovascular function, quality sleep.
"We see blood pressure, uncontrolled diabetes, and chronic fatigue in the spring. All this may be related to vitamin D deficiency, we only notice the tip of the iceberg, says nutritionist dr. R. Petereit. – Research shows that vitamin D deficiency is directly related to the cardiovascular system, reduces smooth muscle proliferation (the process by which muscle cells multiply – DELFI), also affects high blood pressure, other diseases. <...> Often, low levels of vitamin D are also the cause of certain allergies and autoimmune diseases. "
"In practice, we often experience sleep disorders. We think the solution is the pill. We should not start treating insomnia with medication. Where are the reasons why a man does not sleep? Studies show that vitamin D deficiency is observed in all older patients. "
According to the doctor's nutritionist, the risk of many diseases, including oncological diseases, is greatly reduced, restoring vitamin D.
"Research has shown that restoration of vitamin D levels in patients with cardiovascular disease has declined," says Petereit. – We can say that if the rate reaches 75 nanomoles per liter and more, the risk of respiratory diseases is also much lower. The vitamin D content and oncological diseases are also linked. It is the prevention of these diseases that should reach 75 nanomoles per liter. "
Not enough to stay in the sun
Although vitamin D deficiency may or may not be felt, a large number of patients have several symptoms. Weakness, chronic fatigue, lack of concentration, various headaches, sometimes digestive problems. As a solution, they choose to spend more time in the sun. Dr. Petereit believes that this is not enough.
"Patients, especially older people, say they spend the whole summer outdoors. They are in the garden after 8 hours. We need to know that the effectiveness is only 15 minutes in the sun, and then the vitamin D synthesis is blocked – says the doctor. – First of all, you should know how much vitamin D in our blood is, so think of sources – sunlight. Obviously we have some food, but we also need to take multivitamins or supplements. Certainly we will not get the amount of vitamin D equivalent to 1,000 units of action. We will not eat 40 eggs. Maybe we could eat mackerel, but then again, it depends on what the fish is. "
Frequent error – start using anything and anytime
If you want to maintain a healthy vitamin D rate in your body, your doctor advises you to take supplements, but you need to do it responsibly. "Errors are committed by us and our patients. We do not know the quantity, we start to consume anything and at any moment, "admits dr. R. Petereit.
"We do not look at doses that we take very short, not every day. Patients admit that there are days when they forget to drink vitamin, "says the doctor.
The amount of vitamin D in the preparations is measured in international units. The doses of a preparation are 25,000. units of operation, other – 2 thousand. Frequently the question arises: why do these amounts differ and if a higher dose is safe?
"Today we have a Boncel preparation, there are 25,000 operating units, compared to previous preparations, it looks like a lot, but it takes two ampules a week, eight weeks and only three months to test your blood levels of vitamin D to take it, "says Dr. R. Petereit." Is it safe? "Daily intake of 2,000 unit dose or twice weekly for 25,000 units – after a few days, vitamin D levels increase and the patients feel better.The blood tests are also not different and the amount of phosphorus is normal.You really do not need to be afraid.A higher dose is also safe. "
According to the physician, caution should be used in the elderly, as well as in patients with kidney and liver problems.
"I recommend that doctors search first, do not abuse in any way, but make sure and then name the product," says Dr. R. Petereit.
It also affects physical activity
The importance of vitamin D to the human body is also emphasized by Professor Albertas Skurvydas of the Lithuanian Sports University. "The lack of vitamin D worsens our mental capacity, weakens the immune system and athletic performance is particularly bad," says the professor. "I pay attention to the elderly. For bones to be firm, muscles strong, no constant movement, proper nutrition, it is important to befriend our old satellite – the sun. "
Prof. A. Skurvydas emphasizes that there is no need to exaggerate.
"It's very important not to overdo it. If we spend an hour or so every day in the sun, there is a greater risk of skin cancer. That is why the sun is a systematic and slow source of health. "
It is strictly forbidden to use information published by DELFI on other sites, in the media or elsewhere, or distribute our material in any form without consent, and if consent is received, it is necessary to specify DELFI as a source.