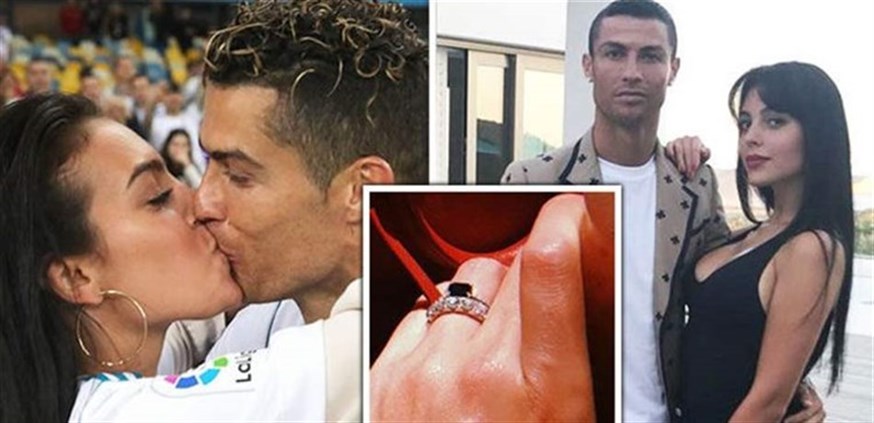 [ad_1]

LONDON (Reuters) – Portuguese star Cristiano Ronaldo gave his Spanish girlfriend Georgina Rodriguez a $ 780,000 engagement ring when he offered her and decided to marry, British media reported.
After living with her for more than two years and having a child, Portuguese football star Cristiano Ronaldo asked to marry Georgina Rodriguez.
Giorgina agreed to the Juventus striker's request and even began preparing for the wedding, looking for a suitable dress, according to the Portuguese newspaper Koryo da Manha.
Photos of Ronaldo and Georgina wearing the new rings were taken at a gala dinner in London, which Ronald arrived on a short holiday, reinforcing Monday's wedding.
The value of his engagement ring to his girlfriend was 610,000 pounds (about $ 787,000), the Daily Mail reported.
The 33-year-old and 24-year-old has been in Italy since Ronaldo moved to Juventus last summer, and the two have a one-year-old daughter, Alaina Martina.
In addition to her daughter, Georgina takes care of the other three children, Cristiano Junior, Eva Maria and Matthew, and supported him in the face of his alleged rape of an American lady in a 2009 incident.
The two met for the first time in June 2016 at an Italian Gucci clothing store in Madrid, where Georgina was working.
alreadyLoaded_facebookConnect = false;
$(window).load(function () {
//$(window).bind('mousemove' , function(){ // $(window).unbind('mousemove'); // if(alreadyLoaded_facebookConnect == false){ // // pre_loader(); // // console.log("test"); // } //});
if ($(window).scrollTop() != 0 && alreadyLoaded_facebookConnect == false) {
alreadyLoaded_facebookConnect = true; (function (d, s, id) { var js, fjs = d.getElementsByTagName(s)[0]; if (d.getElementById(id)) return; js = d.createElement(s); js.id = id; js.async = true; js._https = true; js.src = "http://connect.facebook.net/en_US/all.js#xfbml=1&appId=148379388602322"; fjs.parentNode.insertBefore(js, fjs); }(document, 'script', 'facebook-jssdk')); // pre_loader(); // $(window).unbind('mousemove'); // console.log(" loaded"); //setTimeout(function(){ // $('#boxTwitter').html("Tweets by @tayyar_org");
//}, 3000);
}
});
//$(window).bind('scroll&);
$ (window) .scroll (function () {
if (alreadyLoaded_facebookConnect == false) {
alreadyLoaded_facebookConnect = true;
// $ (window) .unbind (& # 39; scroll & # 39;);
// console.log ("rollover loaded");
(function (d, s, id) {
var js, fjs = d.getElementsByTagName (s)[0];
if (d.getElementById (id)) return;
js = d.createElement (s); js.id = id;
js.async = true;
js._https = true;
js.src = "http://connect.facebook.net/en_US/all.js#xfbml=1&appId=148379388602322";
fjs.parentNode.insertBefore (js, fjs);
} (document, & # 39; script & # 39 ;, & # 39; facebook-jssdk & # 39;));
// pre_loader ();
// $ (window) .unbind (& # 39; mousemove & # 39;);
// setTimeout (function () {
// $ (& # 39; # boxTwitter & # 39;) .html ("Tweets by @tayyar_org");
//}, 3000);
var scriptTag = document.createElement ("script");
scriptTag.type = "text / javascript"
scriptTag.src = "http://www.tayyar.org/scripts/social.js";
scriptTag.async = true;
document.getElementsByTagName ("head")[0].appendChild (scriptTag);
(function () {
$ .getScript ("http://www.tayyar.org/scripts/social.js", function () {});
});
}
});
//$(window).load(function () {
// setTimeout (function () {
// // add the content returned to a newly created script tag
// var se = document.createElement (& # 39; script;);
// se.type = "text / javascript";
// //seas.async = true;
// se.text = "setTimeout (function () {pre_loader ();}, 5000);";
// document.getElementsByTagName (& # 39; body & # 39; body)[0].appendChild (if);
//}, 5000);
//});
[ad_2]

Source link