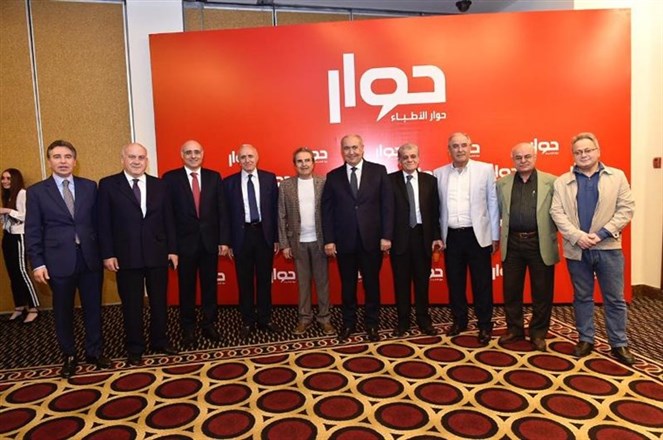 The "Dialogue of Doctors" in the "National Dialogue" held the annual dinner on Coral Beach in the presence of party leader MP Fuad Makhzoumi, head of the Makhzoumi Foundation, member of the National Commission for Lebanese Women, Ms. Mai Makhzoumi, Member of the Beirut Municipality, Ms. Huda Al-Asta Qasqas, General Director of the Makhzoumi Samer Al-Safah Foundation, Mahmoud Faour and representatives of health institutions in Dar Al Fatwa, Zakat House, Aisha Bakkar Islamic Center, Mohammed Khaled Institutions, medical professionals and health sectors at parties, and a multitude of doctors and media professionals.
Dr. Oweidat welcomed the doctors and dignitaries, noting that "his candidacy for the Medical Association elections through the" dialogue of doctors "in the National Dialogue Party, for believing that the work within the union to heal the gap and introduce good governance and transparency, to the level we all aspire to and worthy of the 21st century. "Uweidat presented his program, which is divided into two overviews and special, emphasizing" the possibility of bringing changes within the union. "He said: Our own experience in the Makhzoumi Group, depends on monitoring evolution in practice technology, and not just on the theoretical framework. "
"The union, which is the basic structure for doctors, urgently needs development, becoming a model in trade unionism, moving from the concept of political divisions to cooperation in terms of all its elements and institutions capable of supporting it, making them a creative trade union institution. "
For his part, Mr Makhzoumi stressed the importance of trade union work in protecting the rights of doctors and urged the Union of Physicians to activate the institutional mentality, not only in the work of the union, but also in the various national institutions, at a time when achievements and technological progress are accelerating. "We thank the Dialogue of Doctors and Dr. Awaidat for their efforts to bring together doctors and open the door to dialogue as a way to bring health and preventive policies to the level appropriate to Lebanon and its people."
alreadyLoaded_facebookConnect = false;
$(window).load(function () {
//$(window).bind('mousemove' , function(){ // $(window).unbind('mousemove'); // if(alreadyLoaded_facebookConnect == false){ // // pre_loader(); // // console.log("test"); // } //});
if ($(window).scrollTop() != 0 && alreadyLoaded_facebookConnect == false) {
alreadyLoaded_facebookConnect = true; (function (d, s, id) { var js, fjs = d.getElementsByTagName(s)[0]; if (d.getElementById(id)) return; js = d.createElement(s); js.id = id; js.async = true; js._https = true; js.src = "http://connect.facebook.net/en_US/all.js#xfbml=1&appId=148379388602322"; fjs.parentNode.insertBefore(js, fjs); }(document, 'script', 'facebook-jssdk')); // pre_loader(); // $(window).unbind('mousemove'); // console.log(" loaded"); //setTimeout(function(){ // $('#boxTwitter').html("Tweets by @tayyar_org");
//}, 3000);
}
});
//$(window).bind('scroll&);
$ (window) .scroll (function () {
if (alreadyLoaded_facebookConnect == false) {
alreadyLoaded_facebookConnect = true;
// $ (window) .unbind (& # 39; scroll & # 39;);
// console.log ("rollover loaded");
(function (d, s, id) {
var js, fjs = d.getElementsByTagName (s)[0];
if (d.getElementById (id)) return;
js = d.createElement (s); js.id = id;
js.async = true;
js._https = true;
js.src = "http://connect.facebook.net/en_US/all.js#xfbml=1&appId=148379388602322";
fjs.parentNode.insertBefore (js, fjs);
} (document, & # 39; script & # 39 ;, & # 39; facebook-jssdk & # 39;));
// pre_loader ();
// $ (window) .unbind (& # 39; mousemove & # 39;);
// setTimeout (function () {
// $ (& # 39; # boxTwitter & # 39;) .html ("Tweets by @tayyar_org");
//}, 3000);
var scriptTag = document.createElement ("script");
scriptTag.type = "text / javascript"
scriptTag.src = "http://www.tayyar.org/scripts/social.js";
scriptTag.async = true;
document.getElementsByTagName ("head")[0].appendChild (scriptTag);
(function () {
$ .getScript ("http://www.tayyar.org/scripts/social.js", function () {});
});
}
});
//$(window).load(function () {
// setTimeout (function () {
// // add the returned content to a newly generated script tag
// var se = document.createElement (& # 39; script & # 39;);
// se.type = "text / javascript";
// //seas.async = true;
// se.text = "setTimeout (function () {pre_loader ();}, 5000);";
// document.getElementsByTagName (& # 39; body & # 39; body)[0].appendChild (if);
//}, 5000);
//});