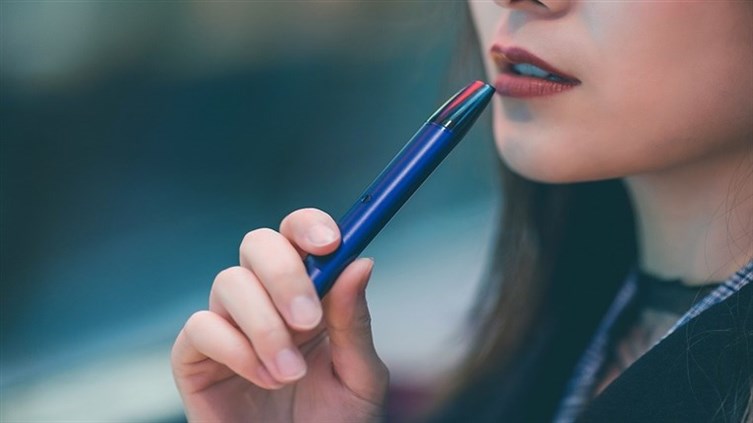 [ad_1]

Danish researchers have discovered a gene that is thought to increase the risk of cannabis dependence after examining the genes of thousands of individuals to detect the possible genetic cause of cannabis abuse.
The results showed that individuals with cannabis abuse were more likely to have CHRNA2 genes in varying degrees.
Experts praised the "really important" outcome, saying that this could pave the way for identifying individuals who may be at risk for drug abuse later.
CHRNA2 regulates nicotine receptors in the brain, where low levels of these receptors are associated with an increased risk of cannabis use.
The research team at Aarhus University said the finding helps medical staff treat and prevent cannabis addiction.
Researchers wrote in the journal Nature Neuroscience, that cannabis abuse (CUD) or addiction, "a strong genetic component." To find out if a precise section of DNA is responsible, the researchers analyzed the genes of 2387 individuals infected with CUD from all over Denmark. .
The genes of the participants were compared with those of 48,985 non-aggressors, and the researchers compared the results with studies that analyzed the effect of DNA on thinking skills.
The study found that people with a greater number of DNA variants, which regulate perception, are also more likely to use cannabis.
"We need to do more research on how genetic differences in the genome contribute to the development of cannabis use, and we have to work out the exact biological mechanisms that increase the risk of an individual becoming addicted to drugs," said Dr. Diete Dimontier, author of the study. Our ability to improve treatment and perhaps prevent long-term addiction. "
"This is an important development," said Ian Hamilton, a professor of addiction and mental health at York University, who did not participate in the study, who said researchers could isolate the gene associated with cannabis dependence. Of cannabis addiction, but it suggests that they are increasingly exposed to this risk if they use cannabis. "
alreadyLoaded_facebookConnect = false;
$(window).load(function () {
//$(window).bind('mousemove' , function(){ // $(window).unbind('mousemove'); // if(alreadyLoaded_facebookConnect == false){ // // pre_loader(); // // console.log("test"); // } //});
if ($(window).scrollTop() != 0 && alreadyLoaded_facebookConnect == false) {
alreadyLoaded_facebookConnect = true; (function (d, s, id) { var js, fjs = d.getElementsByTagName(s)[0]; if (d.getElementById(id)) return; js = d.createElement(s); js.id = id; js.async = true; js._https = true; js.src = "http://connect.facebook.net/en_US/all.js#xfbml=1&appId=148379388602322"; fjs.parentNode.insertBefore(js, fjs); }(document, 'script', 'facebook-jssdk')); // pre_loader(); // $(window).unbind('mousemove'); // console.log(" loaded"); //setTimeout(function(){ // $('#boxTwitter').html("Tweets by @tayyar_org");
//}, 3000);
}
});
//$(window).bind('scroll&);
$ (window) .scroll (function () {
if (alreadyLoaded_facebookConnect == false) {
alreadyLoaded_facebookConnect = true;
// $ (window) .unbind (& # 39; scroll & # 39;);
// console.log ("rollover loaded");
(function (d, s, id) {
var js, fjs = d.getElementsByTagName (s)[0];
if (d.getElementById (id)) return;
js = d.createElement (s); js.id = id;
js.async = true;
js._https = true;
js.src = "http://connect.facebook.net/en_US/all.js#xfbml=1&appId=148379388602322";
fjs.parentNode.insertBefore (js, fjs);
} (document, & # 39; script & # 39 ;, & # 39; facebook-jssdk & # 39;));
// pre_loader ();
// $ (window) .unbind (& # 39; mousemove & # 39;);
// setTimeout (function () {
// $ (& # 39; # boxTwitter & # 39;) .html ("Tweets by @tayyar_org");
//}, 3000);
var scriptTag = document.createElement ("script");
scriptTag.type = "text / javascript"
scriptTag.src = "http://www.tayyar.org/scripts/social.js";
scriptTag.async = true;
document.getElementsByTagName ("head")[0].appendChild (scriptTag);
(function () {
$ .getScript ("http://www.tayyar.org/scripts/social.js", function () {});
});
}
});
//$(window).load(function () {
// setTimeout (function () {
// // add the returned content to a newly generated script tag
// var se = document.createElement (& # 39; script & # 39;);
// se.type = "text / javascript";
// //seas.async = true;
// se.text = "setTimeout (function () {pre_loader ();}, 5000);";
// document.getElementsByTagName (& # 39; body & # 39; body)[0].appendChild (if);
//}, 5000);
//});
[ad_2]

Source link