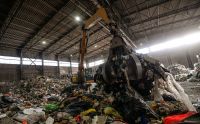 On October 26, it will be five years since the largest waste sorting plant in the Baltic, the Environmental Resource Center (VRC), began operating in the territory of the Getliņi landfill. The factory information shows that its balance sheet for one year of work contains almost 260 thousand tons of separated waste. Of these, recycling can distinguish between different types of packaging, ferrous and non-ferrous metals, and hazardous waste – batteries, tires, accumulators and even explosive items, which are especially relevant after the New Year's fireworks.
The work of the VRC allows to reduce the amount of waste disposed of in the landfill, however, the total amount of waste continues to increase. All residues generated by residents of Rigans and Pieriga, which are disposed of in unselected municipal containers, go to the sorting station. The factory is doing the work that residents are still doing – they are differentiating the material that can still be used for recycling, but the non-recyclable material is being prepared for landfill.
In five years of operation, VRC has already separated more than 1.2 million tons of waste, the company said. The largest amount of waste separated in the sorting unit is made up of biodegradable waste (BIO), in addition to various types of packaging and metals, which due to their specificity have limited recycling possibilities. However, along with unclassified municipal waste, batteries, car tires and spare parts, construction debris, electrical appliances and similar waste still end up at the VRC sorting lines, which should end at specialized collection points and sorting containers .
"2015. When car tires, even spare parts and bodies, were thrown away in municipal waste containers, a serious problem was created in 2006. First, tires are hazardous waste and should not be disposed of with household waste. Second, if employees failed to separate tires before reaching the common sorting line, they caused compaction in the equipment, causing unnecessarily frequent repairs and downtime, "emphasizes Kristaps Balodis, production manager at VRC.
"The disposal of flammable materials and liquids, which even ignite in presses and the" tips "of waste, have caused and continue to cause serious problems. Dangerous situations are caused by unused pyrotechnic articles thrown in municipal waste containers, which tend to catch fire during the classification process. As the sorting process is fully automated and no human manual work is carried out, we are able to prevent all hazardous situations in a controlled manner without harming the health of our employees, but each of these situations demonstrates how much responsibility we have for each waste. "
Over the past five years, VRC has increased its ability to distinguish between reusable materials and has developed innovative solutions for the further processing of separate materials. However, there is still a tendency for the total amount of municipal waste to continue to increase and an increasing proportion of waste to be landfilled.
"We buy more than we can eat. We pack each banana and apple in our plastic bag and then throw away the uneaten food and bags. Every year, the total amount of waste continues to increase, society still separates waste freely and a lot of money is literally thrown into municipal waste containers. We can only repeatedly invite residents to get involved in selective collection, request separately collected garbage containers and also sort in the vicinity of private homes. It is also the most effective way to reduce waste management costs ", says K. Balodis.