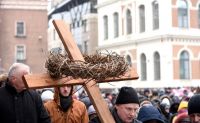 [ad_1]

Today the Riga Ecumenical Crossroad gathered about 1,000 people, LETA noted.
The Path of the Ecumenical Cross began in the square between St. Jacob's Cathedral and the Saeima, but will be closed at Dome Square. The stops will be at the Espirito Santo Tower, Palace Square, Jekaba Square, Bastejkalns, Freedom Monument, Livu Square and Dome Square.
The first cross-road station was entered by actress Rēzija Kalniņa and actor Ģirts Ķesteris.
People of all ages, including children and the elderly, attended the event. Tourists are also watching.
The procedure is supervised by municipal and state police.
The central theme of Cross Road this year is exclusion. The spiritual reflection of the road is led by Archbishop Zbignev Stankevich, Roman Catholic Church, Pastor Kristen Kalniņš, Sister Sofia, Father Arnis Maziļevskis, Pastor Linards Rozentals, Bishop of the Baptist Union Kaspars Šterns and Archbishop of the Latvian Evangelical Lutheran Church Janis Vanags.
[ad_2]

Source link