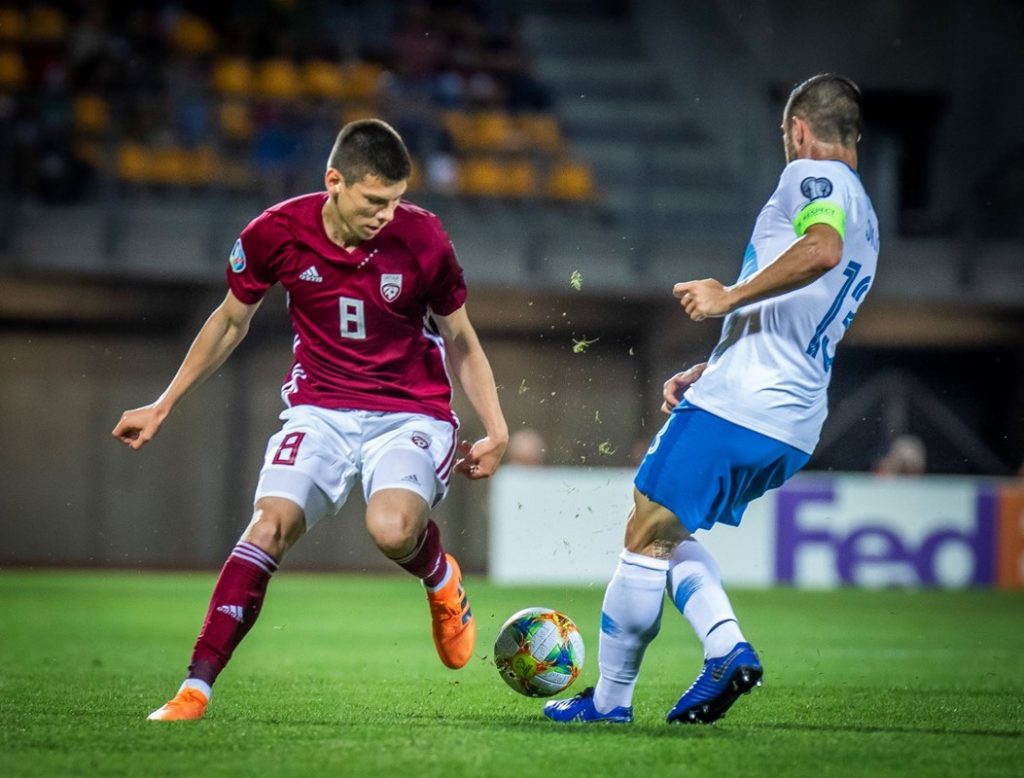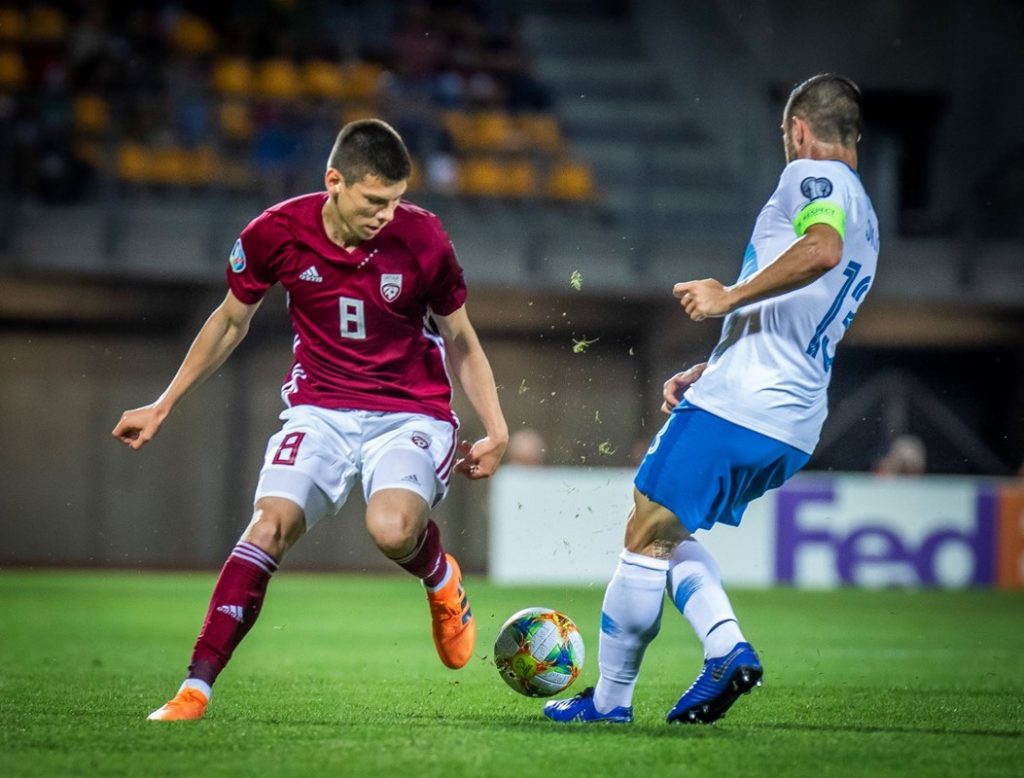 Latvia's national team will not be helped by midfielder Daniel Ontuzan in the European Championship qualifiers for November 2020, but two other midfielders Ingars Sarmis Stuglis and Alexei Grjaznov have received calls to the national team training camp, reports the Latvian Football Federation (LFF).
For midfielder Grjaznov, 22, Valmiera Glass / Vidzeme University College, this is his first call-up to the team.
Slavisa Stojanovic, coach of the Latvian national football team, has invited a total of 25 players to the final matches of the national team of the 2020 UEFA European Championship qualifying tournament, but their numbers may vary.
There will be 18 players from six different clubs in the Latvian Superleague championship, as well as eight foreign players from Poland, Switzerland, Ukraine and Slovenia.
Latvian soccer players will visit Slovenia next Saturday, but will finish qualifying for the UEFA European Championship 2020 three days later, welcoming Austria to their field.
The list of candidates remained virtually unchanged compared to the October Games. More players have been called up to the national team because Janis Ikaunieks will not be able to play in Slovenia due to the accumulated warnings.
Latvian soccer players, including the test games, have not won 16 games in a row, with 11 losses in this failed zone. Latvians celebrated their previous victory last June in the Baltic Cup match, but in international tournaments the last one was over two years ago.
The team known as "Eleven Wolves" lost in the qualifying cycle in all eight games. In March, Latvia defeated northern Macedonia with a 1: 3 visit, then acknowledged Poland in a respectable 0: 2 match. The next two games were played on the field, where poor performance was shown, leading to a loss. from 0: 3 to Israel and a loss of 0: 5 to Slovenia. In September, a guest 0: 6 crashed against Austria and lost 0: 2 at home to northern Macedonia. In October, Poland lost 0: 3 to Poland and visitors lost 1: 3 against Israel.
Latvia's national unit ranks low at 143rd in the International Association of Football Federations (FIFA), 65th in Slovenia and 25th in Austria.
In the Qualifying Tournament Subgroup G, Austria ranks second with eight points after eight rounds, Slovenia are fourth with 11 points and Latvia, who are looking for the first points, close the tournament table at sixth position.
In March, Serbian expert Slavisa Stojanovich was named coach of the Latvian team. Less than a year ago, Finnish expert Miks Patelainen decided to retire from the coaching team since May, or less than eight months.
List of candidates for the Latvian European Championship qualifiers for November 2020:
goalkeepers – Andris Vainin ("Zurich", Switzerland), Paul Steinbor (Gdynia "Arch", Poland), Robert Ozol ("Riga");
guards – Antony Chernomordy ("Riga"), Robert Savaļnieks, Vitaly Yagodinsky (both from RFS), Kaspars Dubra ("Oleksandriya", Ukraine), Marcis Oshs (Xamax from Neuchâtel, Switzerland), Raivis Jurkovskis ("Liepaja"), Igor Tarasov ("Spartacus" from Jurmala), Vitaly Maksimenko ("Olympia" from Ljubljana, Slovenia);
mediums – Ritvars Rugins, Oļegs Laizāns, Vladimir Kamešs (all – Riga), Alexey Grjaznovs, ikriks Punculs (both Valmiera Glass / ViA), Mārtiņš Ķigurs, Jānis Ikaunieks, Kristers Tobers (all – Liepāja), Andrejs Catsņik – RFS), Ingars Sarmis Stuglis (Ventspils);
attackers – Vladislav Gutkowski (Nizhny Novgorod Terminalica, Poland), Robert Uldrik ("Zion", Switzerland), Vladislav Fedorov ("Riga").