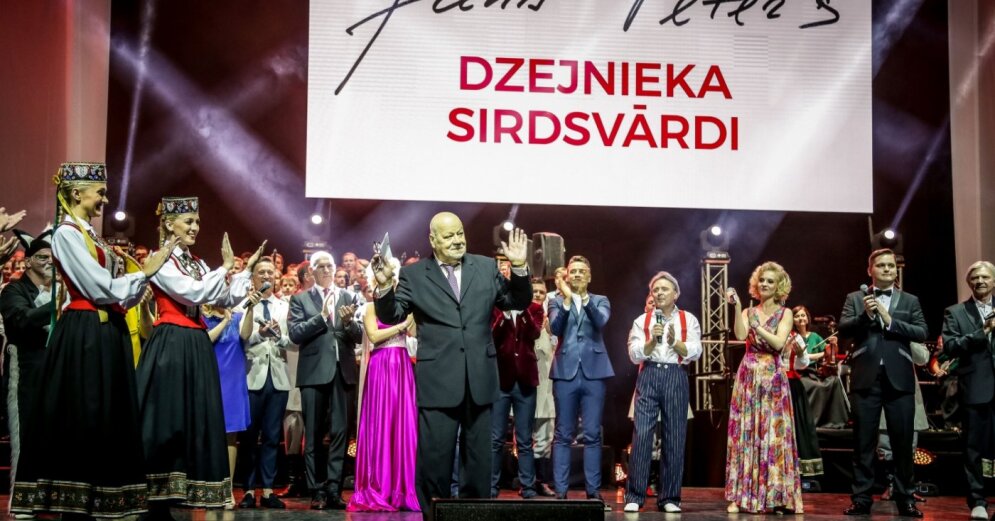 [ad_1]
With a four-hour concert "Poetry of the Poet" on Saturday, June 8, "Arena Riga" was the 80th anniversary of the poet Jānis Peters, "Delfi" informs the organizers of the concert.
The jubilee was hailed by the singers Juris Vizbulis, Normunds Rutulis, Viktor Lapčenoks, Samanta Tina, Ginta Krievkalna, George Siksna, Ieva Sutugova, Artūrs Biķernieks, Ingus Pētersons, Igo, Imants Vanzovičs, Ivo Grīsniņš-Grīslis, Juris Jope, Andris Bērziņš, Gunārs Placēns, Varis Vetra, Janis Paukštello, Edgars Lipors and Janis Kirmuška, "Dzeguzîte" ensemble (directed by Daila Martinsone), Riga Dome Boys' Choir (maestro Mārtiņš Klišāns), Pa Sun (maestro Jānis Ozols), composers Martins Brauns and Janis Strazds, as well as dance groups "Ackups" and "Dzintariņš".
The concert featured known film superhits, theater performances and concert programs, as well as the personally selected poems of the jubilee, including a debut poem "Atmoda in Antique Store" in the Copper Storm reading, which immediately reverberated with the public after its reproduction. The audience of the concert was also able to see unpublished cinematic images, which captured one of the first readings of the poetry of Jānis Peters by himself.
During the concert, Latvian President Raimonds Vējonis greeted the anniversary in person by presenting flowers and a letter of thanks, while Prime Minister Krišjānis Kariņš sent a letter of thanks to the poet for his significant contribution to enriching people's self-esteem and for the restoration of Latvia's independence. Among the guests were former state president Vaira Vike-Freiberga, the mayor of Riga Dainis Turlais, as well as many other well-known people and friends of the jubilee. The show was composed by Juris Millers, director Jānis Mūrnieks, choreographers Sanita Misika, Elita Treilone, Gunta Rudene and Evalds Ābelskalns, arranger Edgars Linde, conductor Janis Ozols, light director Reinis Smiltens and musician "Vintage" Rihards Bērziņš.
The poet John Peters is one of the most brilliant contemporary poets. His poetry has already been used in more than 1,000 songs, around 50 theatrical spectacles, in several cinematographic films, besides collections of poetry. It is invaluable for the poet John Peters to act in the time of the Awakening – he is considered one of the restorers of the independence of our country. For several years Peters worked in the diplomatic corps of Latvia – he was the Latvian ambassador to Russia.
The audience of the Grand Concert "Poet's Heartbeats" will see the LNT, ber radios – will be heard on Latvian Radio 2 on the anniversary of the jubilee – June 30.
[ad_2]
Source link