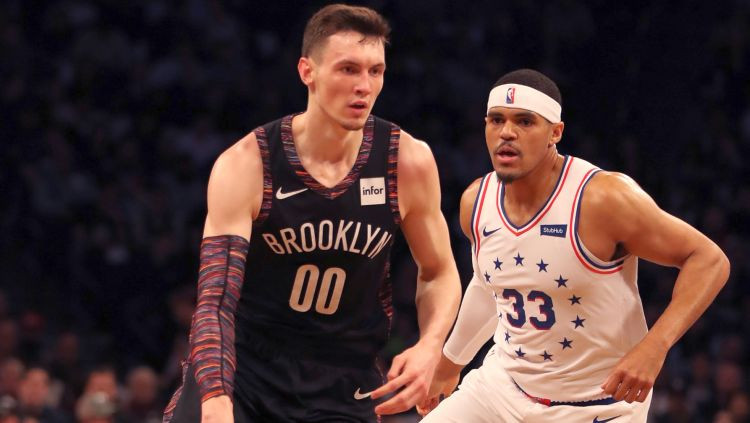 [ad_1]

Rodion Kurucs went to the Nets start-up and played for 19 minutes, winning three points in his third playoff game (1 1/2, 2 1/2, 3, 0-3) and collecting five rebounds. The Latvian striker also has a result and an error, but also the third worst score +/- in the team (-15).
Due to the knee injury, Philadelphia leader Joel Embide waited in the process, and the 76ers started with Greg Monroe. At the beginning of the match, Brooklyn managed several baskets within walking distance, but that trend did not continue, and Bruklin had to lose his fight under the baskets (rebounding 43:54).
Philadelphia took the lead in the first quarter at 32:24, and in the second quarter was on the way to retreat further, but in the Brooklyn game, Keriss Leverts was a reserve quarterback. He played 19 points in the second quarter and helped the Nets break with 59:65.
Kurucs scored his points in the third quarter, completing a rush and playing one of two penalty shots. At the moment, the Nets' deficit was very small, but Brooklyn failed to take advantage of its opportunities. The Nets did not lose the distance (only 39 were lost in 39), and this time there was no team attack – Kuruc's team made just 12 passes, while Philadelphia had 26 passes.
Four minutes before the end of the game, the Nets attempted tactics with special rules against Ben Simons, and Simons first made two penalties, but immediately rehabilitated the blockade of Kuruc's pass, and Philadelphia's victory was not seriously questioned. "76ers" won by 131: 115, in the second game at least 130 points in a row, which made it possible in 2-1 series.
Brooklyn Leverts and D Angelo Russell scored 26 points while Spenser Dinidium and Jared Alen completed 15. Brooklyn striker David Davis did not return to the field in the second half due to an ankle injury. Philadelphia, on the other hand, scored 31 points and nine passes on Simon's account, while Tobias Heriss added 29 points and 16 rebounds and hit all six of his long distances.
Eastern Conference
| Pair | First game | Game 2 | Game 3 | Game 4 | Fifth game | Game 6 | Game 7 | Series |
| --- | --- | --- | --- | --- | --- | --- | --- | --- |
| Bucks (1) – Pistons (8) | 121: 86 | 120: 99 | 21.04. | 23.04. | 24.04. | 26.04. | 28.04. | 2-0 |
| Celtics (4th) – Pacers (5th) | 84:74 | 99:91 | 20.04. | 21.04. | 24.04. | 26.04. | 28.04. | 2-0 |
| 76ers (3) – Networks (6) | 102: 111 | 145: 123 | 131: 115 | 20.04. | 23.04. | 25.04. | 27.04. | 2-1 |
| Raptors (2) – Magic (7) | 101: 104 | 111: 82 | 20.04. | 22.04. | 23.04. | 25.04. | 27.04. | 1-1 |
Western Conference
| Pair | First game | Game 2 | Game 3 | Game 4 | Fifth game | Game 6 | Game 7 | Series |
| --- | --- | --- | --- | --- | --- | --- | --- | --- |
| Warriors (1) – Clippers (8) | 121: 104 | 131: 135 | 19.04. | 21.04. | 24.04. | 26.04. | 28.04. | 1-1 |
| Rockets (4th) – Jazz (5th) | 122: 90 | 118: 98 | 21.04. | 23.04. | 24.04. | 26.04. | 28.04. | 2-0 |
| Trail Blazers (3rd) – Thunder (6th) | 104: 99 | 114: 94 | 20.04. | 22.04. | 23.04. | 25.04. | 27.04. | 2-0 |
| Nuggets (2) – Spores (7) | 96: 101 | 114: 105 | 19.04. | 21.04. | 23.04. | 25.04. | 27.04. | 1-1 |
Resources Used:
ESPN: the world leader in sports
[ad_2]

Source link