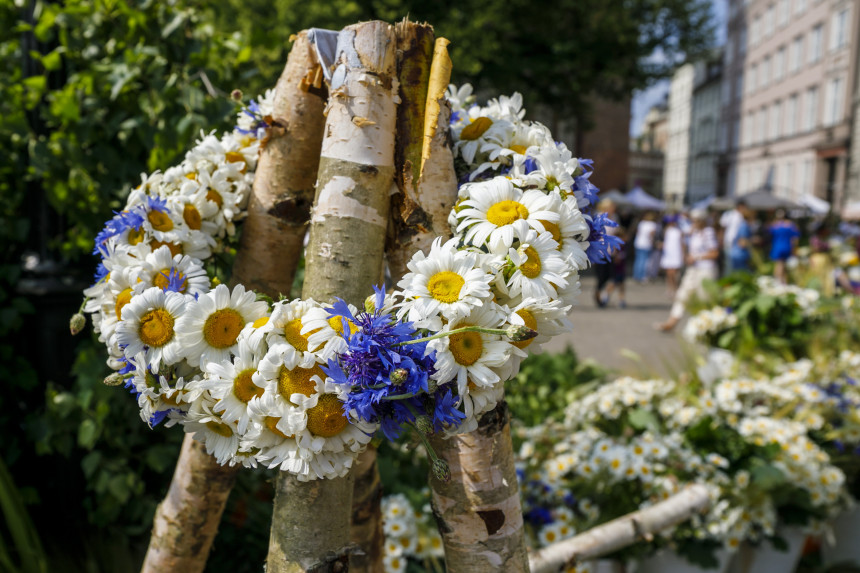 With concerts, party and various glamorous events, the Ligo Festival was held throughout Latvia. A large bonfire, wreath, cheese, beer and summer Solstice shashlik are an integral part of the commemoration in each contractor. In order to regain fitness and well-being after a good celebration, the doctor, graduated from the Turība School of Business Administration, Zane Revalde, makes a series of recommendations that will be useful to all contractors. As a basic rule, the doctor emphasizes quality sleep because the prolonged lack of sleep reduces the ability to work and affects our well-being. It also emphasizes the choice of menu, adherence to the regime and inclusion of sports activities on a daily basis.
After good hiring, quality sleep
If during the celebrations of Ligo, well-celebrated, eaten shashlik, drinking beer, dancot and sleeping is not meant, in the afternoon it is advisable to follow some rules so that the body returns to its usual pace as soon as possible. If sleepless nights are also included in the rich and joyful celebration, there remains a significant impact on the human body. The first and most important rule is a decent recovery and quality of sleep. Spending several nights without sleep will worsen and reduce concentration and the ability to work. If there is a chance, then the day after the celebration is best created as a day of relaxation, spending it in peace and relaxation. Let's remember that the time spent outdoors is much more valuable than sitting in the living room on the TV screen, but when you are under the hot sun, you should not forget the sunscreen so that the post-sun fatigue is not supplemented by sun-induced body burns.
Sports should be started with caution
Sports activities should be started gradually, assessing the feeling of well-being and physical ability. It is very individual for everyone – one can run the next day and go to the weight room, but another will have a quiet outdoor walk. Occasionally, a very fast start to sports may have a negative, not a positive, impression. It is important to realize that one day, all the calories you take at the party will not end, so it is not desirable to reprocess. It is best to schedule a good workout a day or two after the celebration, when the body regains some strength. I always emphasize that the sport helps to recover the well-being, but one day after the celebration I recommend to dedicate myself to the relaxation, going to sleep early to be able to do a qualitative training and to improve the health the following morning. Running, weight lifting or some other activity – is up to you.
More water and less sugar
After the celebration of Ligo, it is recommended to use large amounts of water. Traditional Latvian dishes, rich and salty, contribute to dehydration of the body. Including yogurt, kefir or products containing proteins that are easy to recycle are very valuable in the diet plan. Taking into account that during the holidays much shashlik is consumed, it is desirable to avoid meat products, with the exception of lean chicken. It is imperative not to use too much sugar that was consumed in Ligo's celebrations with tomato sauce, cheese and St. John's beer. Lots of water, foods containing protein, but less carbohydrates – the plan is not complicated, and with some basics, a good feeling can be recovered quickly. Of course, there is no specific formula that suits everyone, but the recommended product groups do not change.
Avoid excess
Scheduling a menu, joining a sporting activity and a relaxation regime will help you recover from the holiday and quickly regain the desired form and well-being, but too much can have negative consequences. Humans are rarely known that drinking water can cause the body to poison itself, so drink plenty of fluids, but within the limits of reason. Recovering forms is a gradual process that can not be accomplished in a day. Hanging kilometers or drinking bottled water will not improve as much as possible.
Be careful not only during the holiday season
After vacations, health problems are mainly related to injuries sustained during the holidays, usually due to negligence or recklessness. The lesions are different – burns after the frivolous action with barbecue or festive bonfire, joint dislocation and even fractures. Do not wait for the last moment and go to the doctor. If a holiday trauma, whose severity is not certain, is recommended, consult a specialist. Compared with other traditional celebrations, the Ligo Festival is very active until the morning light, thus increasing the risk of injury. As a doctor, I can say that we are certainly not the wisest celebrants, often excited by imprudence or foolish ideas. I would like to remind you that caution and health should be considered every day, not just during the holiday or the afternoon. Let's protect ourselves and remind our people to do it!
Learn to listen to expert opinion
Glad to see you become more aware over the years. There are also comments among doctors that people are becoming more and more interested in their actions and possible consequences. This applies to everyone – dietary habits, use of negligent drinks and caution during the holidays and the regime during the afternoon. Every year, before the celebration of Ligo, advertising campaigns are created, informative and educational video materials are prepared, where the consequences of frivolous actions are accurately represented. The more this type of information is available and visible, the greater the likelihood that the message will reach the public. Thinking is also changing among young people – if you used to smoke and used alcohol, the situation is completely opposite – it's smart to live healthy, play sports and be active! We need to learn to listen to the information provided by experts to create a safe and healthy environment around us.